Croatia World Cup Team Invites Nationalist Singer While Some Fans Celebrate With Battle Cries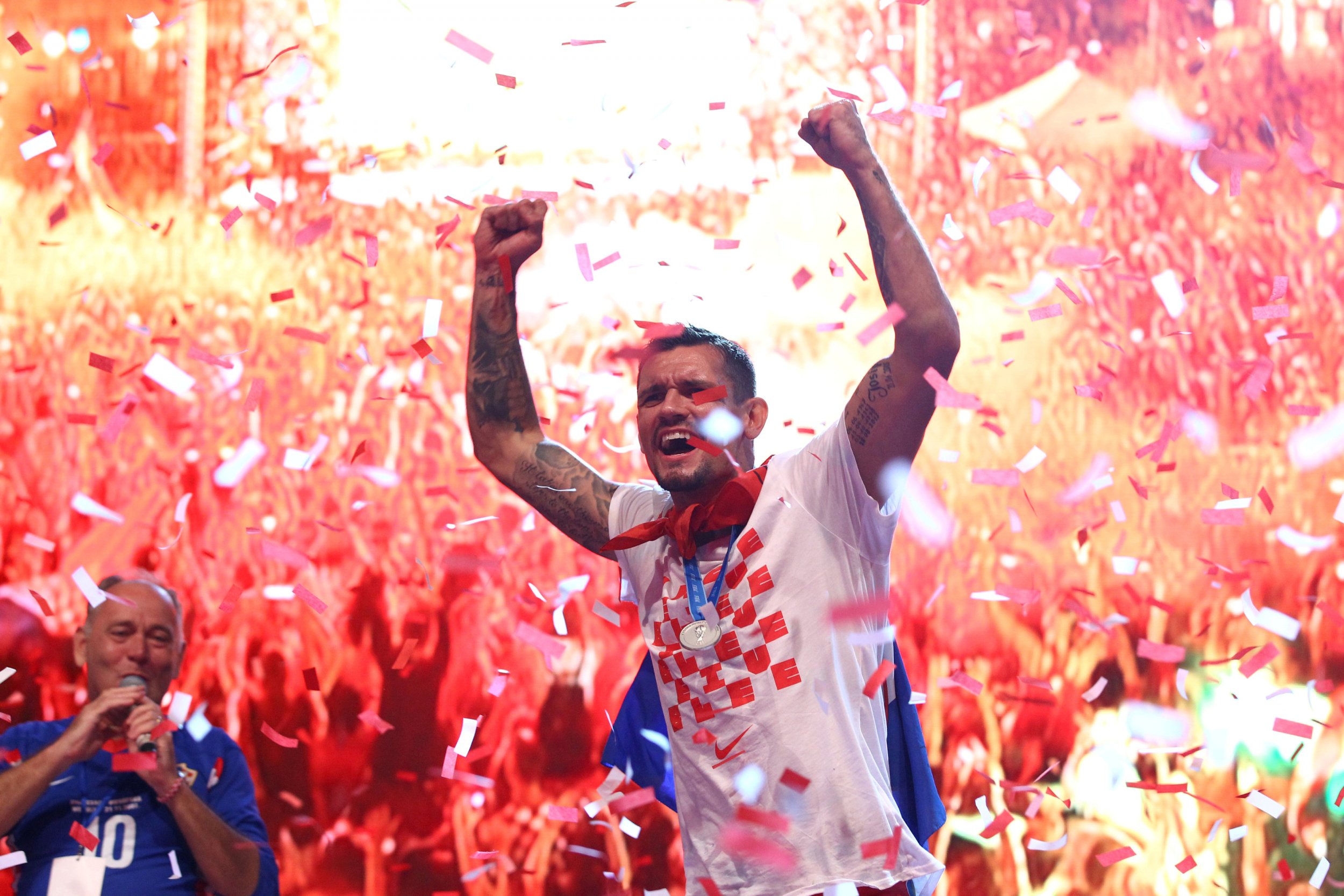 After Croatia's national soccer team returned home from the World Cup final, the players celebrated their second-place finish by inviting the far-right nationalist singer Marko Perković to perform for them.
Perković, also known as "Thompson," after the brand of machine gun he used during the wars in Yugoslavia during the 1990s, has been widely criticized for vocally supporting the Ustase, a fascist group that ruled Croatia during World War II and collaborated with the Nazis. Perković sometimes begins his shows with Ustase battle cries and slogans.
When playing for the Croatian national soccer team and an audience of around 500,000 spectators last week, he performed "Lijepa li si," or "You are Beautiful, "a song with lyrics steeped in nationalist rhetoric, sparking intense debate across the country where divisions remain over the legacy of the World War II–era regime. A photo shows some audience members holding pro-Ustase symbols.
"The Croatian Football Association divided a public which had started to come together around celebrating a genuinely historic moment, when it invited Thompson to join the team's ceremonial welcome in Zagreb and when players photographed themselves with him on their bus. But the turn to the right was already underway," Catherine Baker, a senior lecturer at the U.K.-based University of Hull and an expert on post-Yugoslav nationalism, told Newsweek.
"The more significant thing about Thompson's performance on Zagreb's main square was that it did not become the kind of mass spectacle it had been staged to be. Some spectators left rather than watch him; he had to sing his second song unaccompanied; and its directly political lyrics did not excite the crowd," Baker added.
The players in Croatia's national soccer team chose Perković to give their homecoming performance after the World Cup. The singer first gained popularity during the wars that followed the breakup of Yugoslavia, and some of his biggest hits describe the defense of his village during the wars. One of the songs he has performed glorifies the World War II–era Croatian concentration camp Jasenovac, where tens of thousands of Serbs, Jews, Roma and anti-fascists were killed, according to some estimates. The lyrics also describe sweeping Serbs "into the blue Adriatic."
Perković has denied that he supports fascism, and instead says he is a "patriot" whose songs promote love for the homeland. Still, his concerts have been banned in places like the Netherlands, Slovenia, Switzerland and Bosnia because of the sometimes unruly and dangerous behavior of his nationalist fans.
Even some cities in Croatia have banned Perković to avoid the controversy surrounding his performances. Still, some analysts said they were unsurprised by the decision to invite such a polarizing figure.
"Nationalism instrumentalized through sport, especially football [soccer], has been central to Croatia's emerging identity that was forged in its war for independence in the early 1990s. Indeed, it comes as no surprise the team made the disappointing decision to invite nationalistic singer Marko Perković to perform during its celebration in the aftermath of success as the runner-up in this year's World Cup," Tanya Domi, a scholar of the Balkans at Columbia University's Harriman Institute, told Newsweek.
"A seminal event in Croatia's recent history that Croatia observers point to is the Maksimir riots that took place in 1990, when the Red Star Belgrade Serbian club played its rival the Dinamo Zagreb club—when riots broke out between fans, and the match had to be suspended. These riots, for many, mark the symbolic beginning of the dissolution of Yugoslavia," Domi continued. "Nationalism and football in Croatia are ever so close. This is not a new development, but rather a return."
Indeed, Croatia's first president following independence from Yugoslavia, nationalist Franjo Tuđjman, claimed that "football victories shape a nation's identity as much as wars do." In 2013, Croatia defender Josip Simunic was banned from the 2014 World Cup after leading fans in the controversial chant "Za Dom Spremni," or "Ready for the Homeland," which was used by the Ustase during World War II.
Correction: An earlier version of this article said that Thompson started his performance with the battle cry of Ustase. He took the stage and sang "Ljiepa li si" or "You are Beautiful," which is considered the team's unofficial song. A reference to Nazi salutes, as seen in a photo, has also been deleted. In addition, the headline has been changed to more accurately reflect the content of this story. Newsweek regrets this error.