Crocodile Bites 6-Year-Old Boy's Head, Drags Him Underwater Near Beach
A 6-year-old boy remains in critical condition after suffering an attack from a three-meter crocodile near El Palmar Beach in Ixtapa on Tuesday afternoon.
The crocodile dragged the boy under the water and held him below the surface for roughly 10 minutes, the child suffered a number of bites on the head, arms, chest and legs.
The local boy, from the municipality of Zihuatanejo, wandered away from his parents on the beach with his sister. According to a Mexico News Daily report, the pair explored a nearby estuary, next to the Pacifica Resort, which has a fenced off area and a bridge above it. It's a known hotspot for crocodiles.
Witnesses saw the reptile grab the boy by the head and pull him into the water to attempt a death roll, a maneuver crocodiles use to spin and drown their prey. The boy suffered multiple bite wounds during the attack.
Tourists and a hotel lifeguard threw stones at the crocodile in an attempt to scare the creature away and get it to release the boy. Hotel medical staff arrived on the scene to attend to the injured child, who was quickly sent to the General Hospital where he is being treated for serious injuries.
Hotel staff allegedly feed the crocodiles, to entertain local tourists, at the same estuary where the boy was attacked, adjacent to Pacifica Resort and El Palmar Beach.
Crocodiles usually hunt fish, insects, small frogs, lizards, and small mammals. Some animal rights activists and locals believe that feeding crocodiles is both dangerous for crocodile and humans, as the creatures begin to associate humans with food.
Feeding alligators in Florida, for example, is against the law. "Alligators may become accustomed to handouts and grow dependent on humans—a risky proposition for both feeders and animals," stated the Animal Rights Foundation of Florida.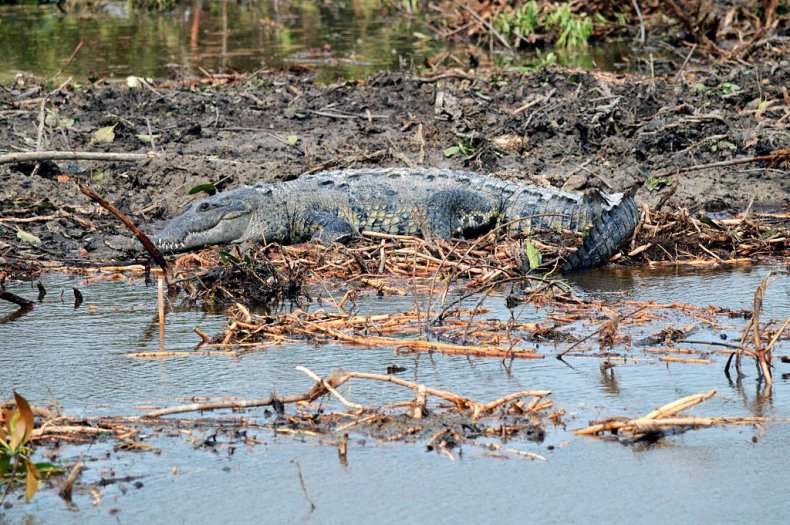 Some believe crocodiles have become more confident since the coronavirus pandemic, with species returning to their natural habitats on the beach as a result of fewer crowds and people in self-isolation. Ventanilla Beach, in Oaxaca, for example has seen more crocodiles than usual in recent weeks due to the absence of tourists.
There have also been sightings of jaguars and leatherback sea turtles in Cancun, both of which are scarcely seen by humans.
Mexico's river crocodile and swamp crocodile numbers have been increasing in recent years since PROFEPA, Mexico's environmental protection agency, implemented identification, prevention and monitoring for the crocodile population. The swamp crocodile population in Mexico is around 54,000 to 100,000. Not everyone, including hunters, agrees with protecting crocodiles.
Newsweek has contacted the Pacifica Resort for comment and further details on the attack.