Saltwater Crocodile Dubbed 'Croc-zilla' Spotted Lurking in Water at Australian Harbor
A saltwater crocodile was spotted lurking in waters of an Australian harbor earlier this week, earning it the title "croc-zilla."
The reptile, estimated to be up to eight feet long, has been reported to local authorities but its current location is unknown. Photos of the predator were uploaded to Facebook by the Port of Townsville Limited, a government-owned facility in Queensland.
"Croc-zilla in the port!" the account joked, noting the estuarine crocodile was seen in murky waters of the inner harbour of Townsville early Wednesday. Port officials said they would now be keeping watch for the animal and urged residents to report sightings of the predator to a state-managed wildlife project dubbed "CrocWatch."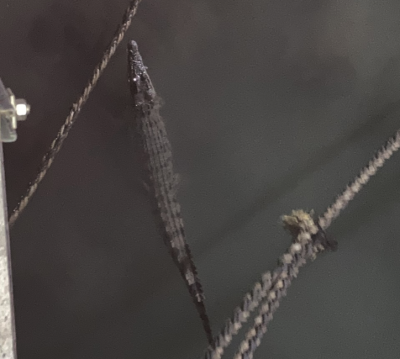 Both saltwater and freshwater crocodiles are common in Australia's rivers, beaches and islands, with the government's Department of Environment and Science warning that no waterway in northern Queensland "can ever be considered crocodile-free."
The average male estuarine crocodile can grow to more than 13 feet in length, while the females typically reach up to 11 feet. The gender of "croc-zilla" was unclear.
According to a profile on the species published by the Australian Museum, the saltwater croc is a top predator in its environment and could consider humans as prey. It says swimmers, people canoeing and those at "bending down at the water's edge" make up the bulk of attacks.
"A person seized in the water... has little chance of escaping without serious injury, if at all. Resulting wounds are usually horrific and likely to become infected," it says.
Not all attacks are fatal. In September, 33-year-old man was rushed to hospital after he was targeted by a suspected estuarine crocodile while snorkeling in waters off Lizard Island, which is located on the Great Barrier Reef in north Queensland.
The victim sustained wounds to his head and neck during the encounter but was in a stable condition when hospitalized, medical experts said at the time.
In October, a tourist traveling in Australia published video footage of a dog swimming in the ocean frantically fleeing from a croc, filmed at a coastal area of Queensland.
a government fact-sheet on the species says full-grown adults will feed on "whatever they can overpower" and wait at the waters edge to ambush animals that approach. If the crocodile is unable to swallow the animal whole, it will either drag it underwater and perform a "death-roll" or attempt to break pieces off by shaking its head.