Crocodile Discovered Decapitated with Tail Cut Off: 'What is Wrong with People?'
Officials have launched an investigation after a crocodile was discovered in Australia with its head and tail cut off.
An unnamed man found the butchered animal at Crystal Rapids near the town of Katherine in the Northern Territory, and shared the image on Facebook, Yahoo News Australia reported.
The images showed the decapitated animal lying on its back in the water. In another photo, the sliced-off tip of the reptile's tail can be seen on the ground. The powerful animals use their tails to swim and lunge from the water to catch prey.
One woman commented beneath the post: "What is wrong with people?"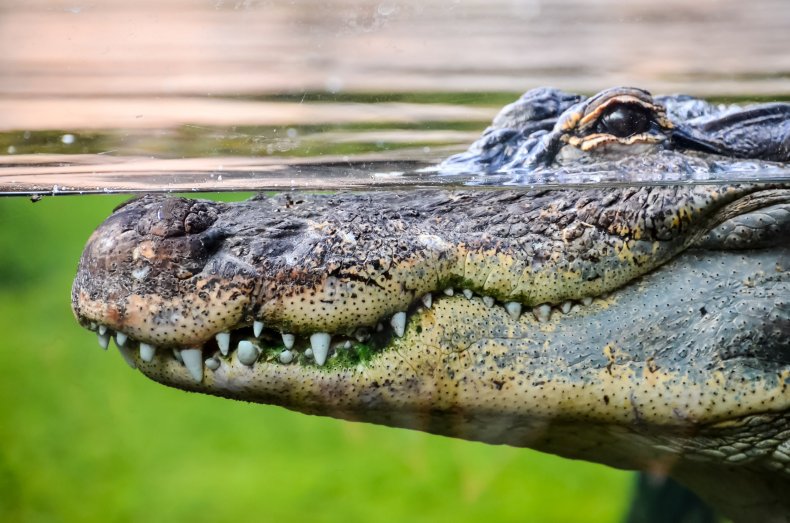 A representative of the Northern Territory's Department of Tourism, Sport and Culture told Yahoo News an investigation was underway. She said that rangers are aware of the incident.
Taking or interfering with protected wildlife such as a crocodile carries a fine of up to $77,500 or five years in prison, according to the Northern Territory authorities.
Adam Britton, a crocodile expert at Charles Darwin University, told Newsweek it is not uncommon for headless crocodiles to be found, with annual instances in the tens.
"This has been happening for decades. It tends to go up occasionally if there is a crocodile attack, sometimes people feel like they want to take revenge. Sometimes someone will start killing crocodiles until they get what they want out of it, and then it dies down again."
He explained people will come across a dead crocodile and cut off the head to keep as a souvenir. "It's possible they took it opportunistically, perhaps they found it dead or they killed it during fishing, rather than specifically setting out to kill it, but that is hard to say.
Regarding the tail, Britton suggested: "Cutting the tail off but leaving it at the scene is unusual behavior by any standards. Perhaps they left it behind by mistake?"
"Many go unpunished, but culprits are occasionally caught. Often, it's because they cannot help but brag about what they've done, or someone sees the head on display and dobs them in. This has certainly led to people getting into trouble in the past!"
Last year, three crocodiles were found decapitated in a Far North Queensland creek bed in as many months, Australian broadcaster ABC reported.
At the time, Michael Beatty, a spokesperson for the animal welfare organization the RSPCA told ABC: "they're an intrinsic part of the Australian wildlife and for somebody to just go ahead and do this is frankly a bit disturbing."
Crocodiles are protected under Northern Territory, Australian and international laws, according to the authorities.
A permit is required to "take or interfere" with crocodiles in the Northern Territory. These are usually given to ranges, or land managers "to trap or shoot problem crocodiles where there is a clear need to do so and there is no other alternative," the Northern Territory website states.
This article has been updated with comment from Adam Britton.