Aggressive 14-Foot 'Icon' Crocodile Captured Near Australia Swimming Hole
An aggressive, 14-foot crocodile has been captured in Australia near a swimming and fishing hole popular with children, authorities have announced.
Wildlife officers from the Queensland Department of Environment and Science (DES) were alerted to the presence of the saltwater crocodile after several calves went missing from the area in the last few months. The crocodile is suspected of taking them.
The crocodile was found in the Upper Mowbray River in the Port Douglas region—an area known as "Croc Country."
"During the site assessment, wildlife officers observed the crocodile displaying assertive behavior, and the animal was unconcerned by the presence of the wildlife officers," the DES said in a statement.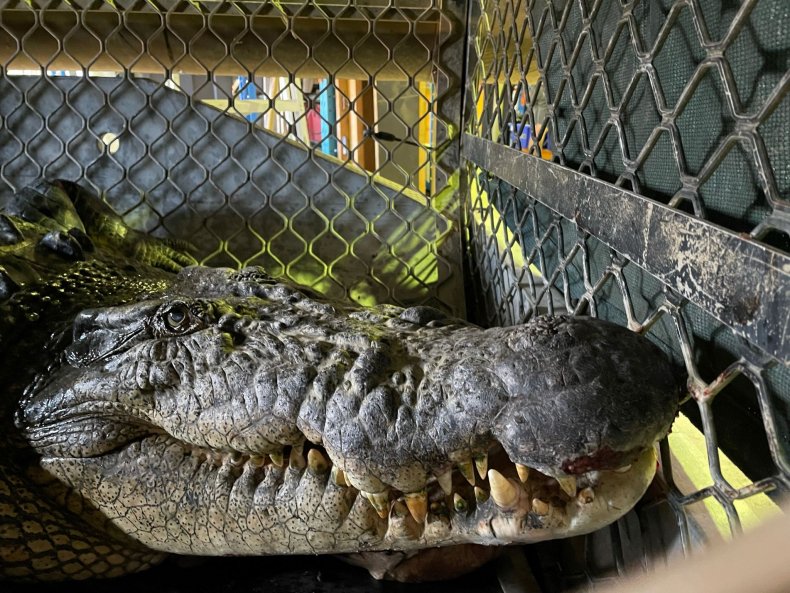 "Given the location was near an informal swimming hole and a fishing area used by local children, a decision was made to declare the animal a problem crocodile and target it for removal from the wild."
Saltwater crocodiles are the world's largest living reptiles. While females grow to around 10 feet, males can reach up to 23 feet. They can live to around 70 years in the wild.
Fatal attacks on humans in Australia are rare, but the DES warns people to be vigilant and to report all crocodile sightings to officials.
On February 14, police announced that human remains were found inside another 14-foot crocodile captured by Queensland authorities. The body was believed to belong to a 69-year-old fisherman who had gone missing three days earlier.
In August, a soldier with the Australian army suffered serious injuries to his head and chest after being mauled by a crocodile in the north of Queensland.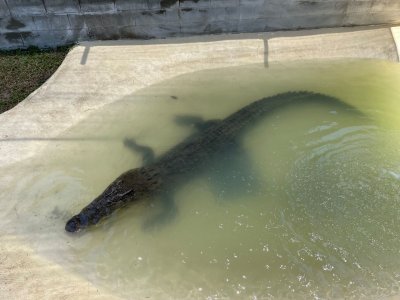 The latest crocodile to be captured measured 14 feet in length. It was caught with a baited trap and taken to a holding facility in Cairns. In Queensland, any crocodile over 13 feet must be dealt with as an "icon." This means the decision on what to do with the animal must be made in consultation with Traditional Owners.
This means the decision on where the crocodile will be placed and housed must be made in consultation with the relevant Traditional Owners—people who lived in the region before European settlers arrived.
The crocodile will likely be placed in a registered crocodile farm or zoo that intends to use it to promote crocodile conservation.
Saltwater crocodiles have been protected in Australia since 1970. At this time, hunting had led their population to plummet to as low as 3,000 in the wild. It is now thought there are between 100,000 and 200,000 across the country.