Crocodile Uses Pool Noodle to Cross Florida Keys Canal in Viral Photo
A photo doing the rounds on Instagram appears to show a crocodile crossing a Florida canal using a pool noodle.
The post, which was uploaded by vfpkeys, is accompanied by the caption "Crock (sic) on a float." It was put up two weeks ago and shows the crocodile riding a yellow pool noodle. Photographer Victor Perez has now been inundated by requests by media to use the photo.
Perez said he regularly sees crocodiles crossing canals but never out in the bay. A second photo was uploaded on his account showing a different angle of the crocodile riding the noodle. The crocodile was swimming just behind Perez's house, he confirmed on Instagram. The second photo was shared on Monday.
According to the Florida Fish and Wildlife Conservation Commission (FWC), crocodiles in Florida are reclusive and will rarely engage with humans. Crocodiles were endangered in the 1970s but populations have since risen five-fold—from less than 300 to about 1,500 adults. Subsequently, crocodile complaints are also on the rise.
The FWC say crocodiles have now become accustomed to people and may approach for food scraps, if they have received food in the past. Feeding crocodiles in Florida is illegal. Crocodiles are more likely to attack small mammals, such as pets. Pet owners who live near water are advised to fence off their property from the water.
"Often, the best course of action is to simply give the crocodile time to move on," the FWC say. "Depending on the crocodile's size, behavior, and situation the animal might be captured and moved."
The FWC did not immediately respond to a request for comment.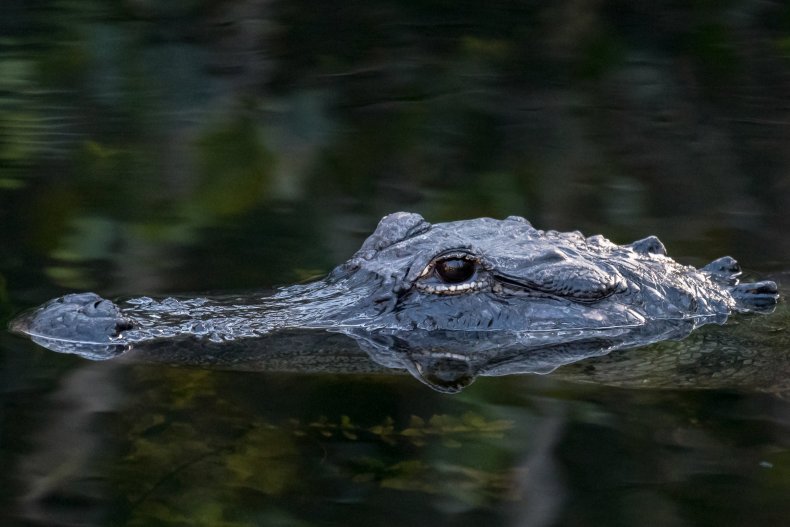 In June, an Australian man's pet crocodile devoured his dog, supposedly after years of torment from the golden retriever. Over the past decade in Adelaide River, Pippa the dog, who was also known as "Dumb Blonde," had been running at Casey the crocodile and scaring her back into the water. After ABC News reported on the dog's antics last year, guests sometimes even gathered to watch the pooch perform the dangerous trick.
In a video posted to Facebook, Pippa can be seen running towards the crocodile, but this time Casey chomped down on the dog and dragged her into the water, while bystanders could be heard screaming and swearing in terror.
Kai Hansen, Pippa's owner, was there when the incident occurred and said he isn't blaming Casey for attacking Pippa. "[She] did what crocs do," Hansen said. "It was something that had a high probability of happening sometime."