Crocs is Giving Away Free Shoes to Healthcare Workers on the Frontline of COVID-19
As the coronavirus outbreak impacts communities across the country, healthcare workers are on the frontline, helping those who are sick with COVID-19. Crocs is trying to make it a little easier on those healthcare professionals by giving away free pairs of their shoes in daily giveaways.
In a statement posted to Twitter, Crocs said, "Our goal has always been to keep people comfortable in their own shoes and now, in the face of adversity, there are certain individuals who need that feeling more than ever.
"Crocs is donating a free pair of shoes (with free shipping) to healthcare workers on the frontline of COVID-19. If you're a healthcare professional in need of our easy-to-clean, comfortable Crocs shoes, we've got you taken care of."
Crocs President and CEO Andrew Rees told FOX31 and Channel 2 that Crocs had received requests for shoes from healthcare workers as they need shoes that are easy to remove and clean.
Rees said, "I know many of those workers are terrified about coming home to their families and infecting their families. It's a real concern. Anything we can do to help that not be the case, I think is really important."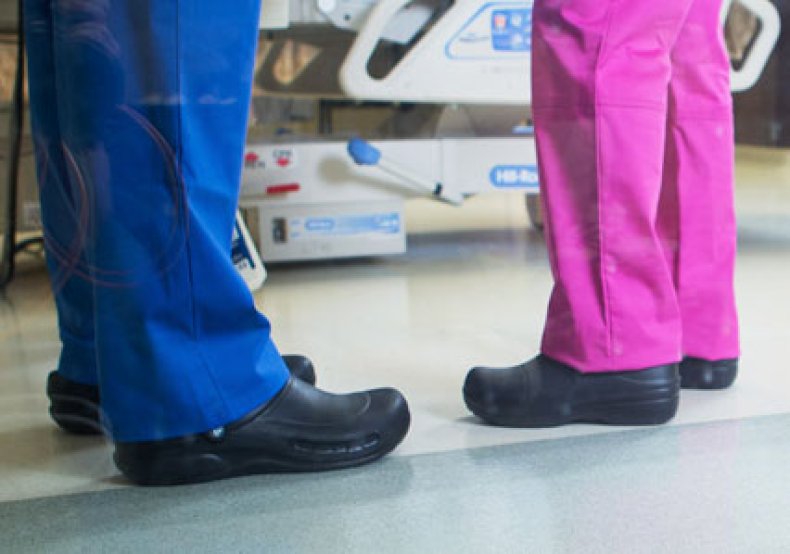 If you're a healthcare professional and you'd like to request a free pair of Crocs shoes, head to their website at 12 p.m. ET. As Crocs is experiencing a high volume of requests, they have daily limits on the number of shoes they can give away. Crocs says it can ship up to 10,000 pairs each day, so if the company has already met its limit when you check, head back to the website at 12 p.m. ET the following day to try again.
Crocs also has a range of medical footwear designed specifically for those who work in healthcare and hospitality.
In terms of who is defined as a healthcare worker and therefore who is eligible to receive a free pair of Crocs, Crocs told FOX31, "We understand there are many areas of healthcare. We simply ask for consumers to use their best judgment and only request their free pair of Crocs shoes if they are involved in an area of caregiver work where their job puts them at risk of coming into contact with or directly fighting the COVID-19 virus.
"We want to ensure these shoes are going to those who need the ability to easily clean their shoes after a long shift."
On March 19, Crocs shared a video on Twitter of @DrJCoftheDC doing the Oh Nanana foot shake TikTok dance and said, "To Our Friends in Healthcare, We want to thank you for everything you do, day in and day out, but even more so in these difficult times.
"A special thanks to @DrJCoftheDC, for always inspiring his patients and us."