The Croods: A New Age (aka The Croods 2) took the big risk of opening in theaters on Thanksgiving. Usually, the Black Friday weekend is one of the year's biggest times for cinemas, but with the coronavirus causing a wave of cinema closures over the last month, many families will have to wait until the movie hits video on demand before they will be able to watch it.
How to watch The Croods 2 online
Luckily, the film is expected to come to so-called premium video on demand (PVOD) in December. This means that the film will not be available to watch on streaming services like Netflix, Hulu or Disney+, but will be available to rent or buy from digital entertainment stores like Amazon, Google Play and Apple TV.
In the pre-coronavirus times, there was at least a 74-day gap between when a film came to cinemas and when it was released onto physical media (DVD and Blu-Ray) and PVOD, with the average gap being more like three months.
In response to the pandemic, however, Universal (the distributor behind The Croods 2) has shortened this window significantly by making a deal with major cinemas that allows them to put its films onto PVOD after just 17 days.
This means that the earliest that A New Age could be coming to video on demand is December 13.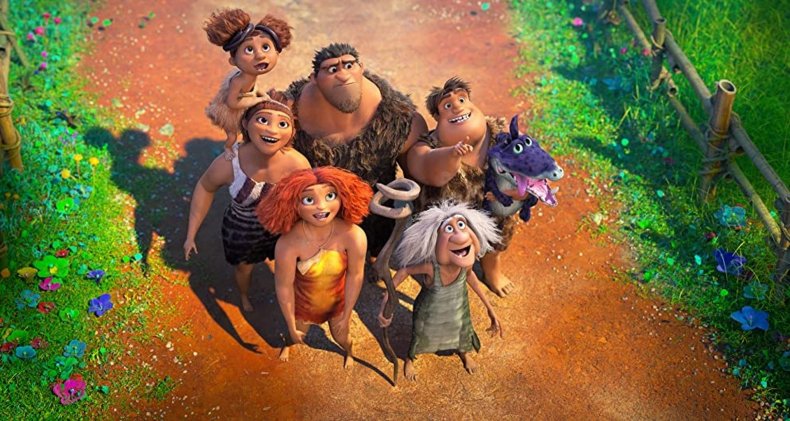 There are conflicting reports, however, of exactly when The Croods 2 will be available to watch online. Per IndieWire, it will be released on December 23, while The Cinemaholic has it that the movie will be available on December 25.
The former seems possible but the latter seems unlikely, as that would put the film into direct competition with another big-budget animated movie, Pixar's Soul, something that the big animation studios try to avoid—especially when Soul will be streaming free to Disney+ subscribers while The Croods 2 is expected to cost $19.99.
The reason that Universal has not given explicit confirmation of the movie's PVOD streamer may be due to some of the fine print of the Universal deal. Though the 17-day window would make A New Age available for PVOD release in mid-December, the deal has a clause whereby if a movie makes $50 million in its opening weekend, that window is extended to 31 days.
As such, Universal cannot give a PVOD release to the movie until they know how well it does over its first weekend, as if The Croods 2 makes $50 million in its opening weekend (unlikely but not impossible), then it would not be streaming until late December (the 27th to be exact).
The Croods: A New Age is in theaters now.