Man Tries to Tear Cross Down From the Roof of Church
The moment a man tried to rip off a cross from the roof of a church in London has been captured on camera. Video footage shared on social media shows a man repeatedly pulling at the wooden cross on the roof of the Chadwell Heath Baptist Church, Romford, East London.
Dressed in a grey top, the man places a hoodie over the cross and can be seen trying to rip it off the building. The incident is said to have taken place at 14.40 BST (9.40 EST) on Sunday, October 19, with the Metropolitan Police confirming that a man has been arrested on suspicion of criminal damage.
Barking and Dagenham Police said in a Twitter message: "We are aware of a video circulating on social media of a male causing damage to a religious premises on High Road, Chadwell Heath. A male has been arrested and the matter is being investigated."
The cross has been recovered and the main remains in police custody. It is believed that the cross will be reinstated by workers in the near future. Newsweek has approached Chadwell Heath Baptist Church for comment.
It comes after a group of people were arrested for trying to start a fire at a church in Glasgow while it was preparing to hold a funeral service.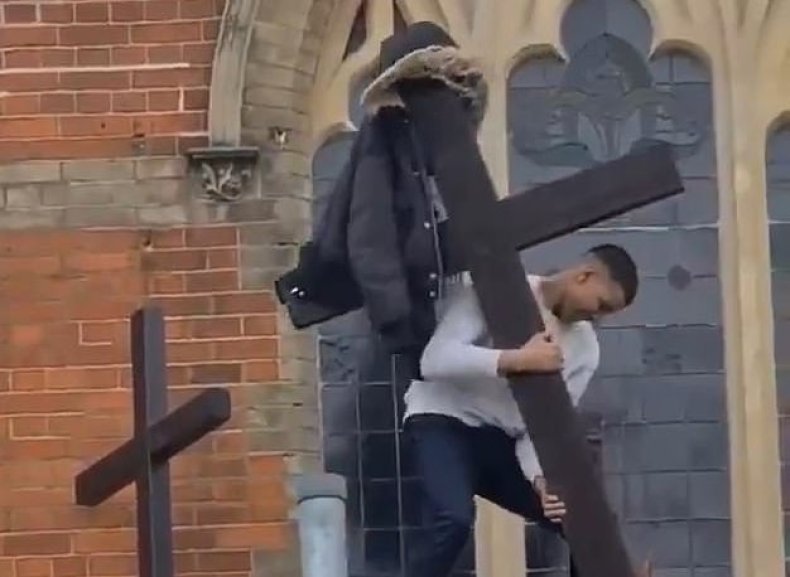 The incident took place at St Gregory's in Kelvindale before they were caught in the act and chased off by Father Allan. Meanwhile, Home Office figures revealed for the U.K. last week, show that the number of racially or religiously aggravated offenses in England and Wales rose in the months of June and July.*
There were 105,090 recorded hate crimes in 2019-20, compared with 97,446 in 2018-19. While race hate crime figures increased by 6 percent since 2018-19, religious hate crime fell by 5 percent to 6,822 offenses, down from a peak of 7,203 the previous year.
It was the first recorded drop in religious hate crime since 2012-13. In July, it was reported that U.K. ministers are considering bringing in tougher sentences for those who desecrate places of worship and burial plots.
The issue was raised by Andrew Bridgen MP who wrote a letter to Home Secretary Priti Patel in which he appealed for stricter prison sentences for attacks on places of worship including churches, synagogues, mosques, mandirs, gurdwaras and temples as well as burial grounds.
He wrote: "To my mind and I am sure of all decent thinking people, acts of desecration and vandalism against religious buildings or burial plots are both equally indecent and deeply offensive and can undermine community cohesion."
*Study methodology and notes
* The latest Home Office figures on racial and religious crimes can be found here.