What Has CrossFit's Greg Glassman Said About George Floyd?
Multiple companies and athletes are distancing themselves from the CrossFit fitness brand after founder and CEO Greg Glassman conflated coronavirus with the death of George Floyd, who was killed by Minneapolis Police on May 25, prompting ongoing protests against police brutality nationwide and around the world.
Responding to a statement by the Institute for Health Metrics and Evaluation, a research institute at the University of Washington in Seattle modeling the epidemiology of the ongoing coronavirus, Glassman tweeted on Saturday, "It's FLOYD-19."
With his "FLOYD-19" tweet, Glassman was reacting to the IHME's announced intention to "illuminate the public health impacts of systemic racism" and do more research into the health inequities, and uneven outcomes, caused or exacerbated by racism.
"Racism and discrimination are critical public health issues that demand an urgent response. Black Lives Matter," the IHME tweeted, linking out to a statement from director Christopher Murray.
Glassman's recent tweets indicate skepticism regarding shelter-in-place orders and other lockdown measures taken by government officials in response to the ongoing coronavirus pandemic. He has retweeted accounts comparing the coronavirus response to type 2 diabetes (confusingly positing a hypothetical multi-decade lockdown in response to the non-contagious disease) and Darth Vader. In this context, Glassman's "It's FLOYD-19" tweet seems to imply that IHME efforts to research racism in relation to public health will backfire, using Floyd's name to attack the statement supporting the Black Lives Matter movement.
Among those companies ending partnerships with CrossFit, Inc. is Reebok, who opted not to renew a 10-year deal naming the footwear company as CrossFit's main sponsor and apparel licensee.
"Our partnership with CrossFit HQ comes to an end later this year," representatives for Reebok said in a statement. "We have been in discussions regarding a new agreement, however, in light of recent events, we have made the decision to end our partnership with CrossFit HQ."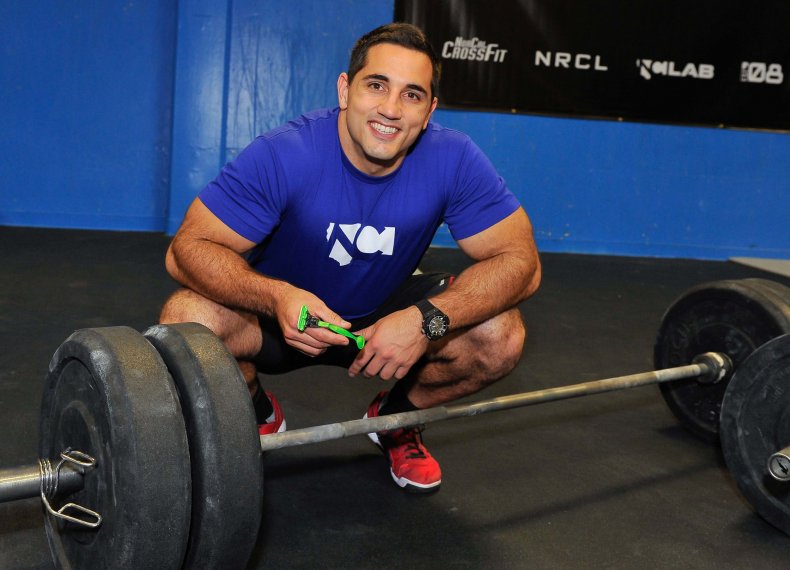 Voices within the CrossFit community have also spoken out against Glassman's words, including multiple CrossFit athletes and gyms like Rocket CrossFit in Seattle, Washington, which will be renamed Rocket Community Fitness. In response to an email from co-owner Alyssa Royse explaining their reasons for disaffiliation from CrossFit, Glassman wrote (in an email that Royse has since posted online), "you think you're more virtuous than we are. It's disgusting."
"You're doing your best to brand us as racist and you know it's bulls**t," Glassman wrote in the email, which he opened by claiming quarantine had damaged Royse's mental health.
"I have never had any contentious interactions with HQ in the past, so it was a little surprising," Royse told Newsweek in response to emailed questions, describing Glassman's email as "toxic" and "a clear example of what not to do as a leader, or a human being."
"Our membership is thrilled with our decision to disaffiliate and speak out on these matters," Royse said. "We have always been a mission-driven gym and would never stand for anyone being treated that way. We always had a tight and empowered community, but this has made it even more so."
A day after the "FLOYD-19" tweet, Glassman posted a follow-up, further connecting his opposition to quarantine measures against the coronavirus to the IHME's professed intention of conducting research into systemic racism.
"Your failed model quarantined us and now you're going to model a solution to racism?" Glassman tweeted. "George Floyd's brutal murder sparked riots nationally. Quarantine alone is 'accompanied in every age and under all political regimes by an undercurrent of suspicion, distrust, and riots.' Thanks!"
While Glassman's follow-up doesn't directly explain the meaning of the "FLOYD-19" tweet, it performs the same conflation of police violence and epidemiology to suggest scientific research into the health consequences of systemic racism will generate dubious results or bad outcomes.
Newsweek has reached out to Glassman via email for clarification regarding the meaning of his tweets, which he described as "not racist but a mistake" in a statement released to social media by CrossFit.
"Floyd is a hero in the black community and not just a victim. I should have been sensitive to that and wasn't," Glassman said in the tweeted statement. "I was trying to stick it to the IHME for their invalidated models resulting in needless, economy-wrecking, life-wrecking lockdown and when I saw they were announcing modeling a solution to our racial crisis, I was incredulous, angry, and overly emotional. Involving George Floyd's name in that effort was wrong."
To be clear, the IHME has not proposed, in Glassman's words, "modeling a solution to our racial crisis." The IHME auto-responded to a request for comment made via email, citing their current inability to respond to every request and providing links to previous press briefings.
While Glassman blames the IHME for lockdown measures in response to the coronavirus, the research group has elsewhere been criticized for being too conservative in their projected death toll.
In April, President Donald Trump and the Coronavirus Task Force cited the IHME model's earlier projection of between 61,000 and 70,000 deaths in the United States from the virus—a projection subsequently used by officials at the federal and state level to argue for lifting business closures and other restrictions designed to enforce social distancing and slow the spread of the virus. More than 116,000 people have now died of the coronavirus, according to the Johns Hopkins tracker. The IHME model, which makes frequent adjustments to accommodate new evidence, currently projects around 140,496 deaths by the beginning of August.