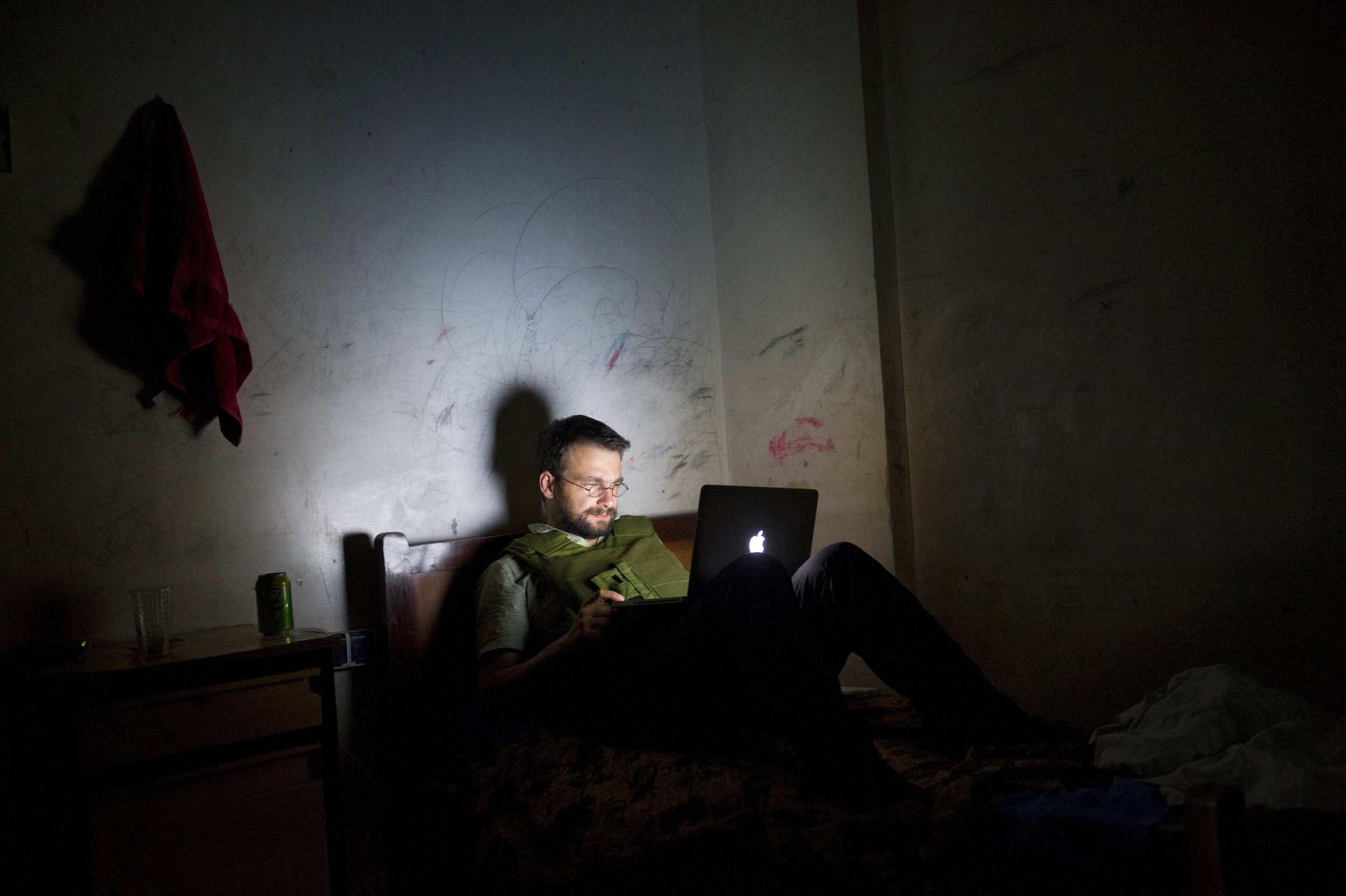 German journalist Wolfgang Bauer and Czech photographer Stanislav Krupař were undercover in 2014 when they boarded a boat carrying Syrian refugees who, after several failed attempts, were aiming to cross the Mediterranean Sea to Italy from Egypt.
After scrambling to get aboard amid screams from family members who were separated temporarily, there was a sense of calm: The group had finally made it and was heading to the relative safety of European shores. "Stanislav and I feel the same; by now, our feelings are practically indistinguishable from those of the refugees," Bauer writes.
They weren't at sea for long, though: The boat was stopped shortly after embarking and the refugees, along with Bauer and Krupař, were thrown overboard by smugglers who took charge of the vessel. Washed up on Nelson's Island, a small patch of land in Abu Qir Bay, off the coast of Alexandria in northern Egypt, the group of nine was arrested by the Egyptian Navy.
"Amar [a Syrian refugee] and I climb out of the trench, our hands up, dazzled by the light. We approach them slowly and suddenly they fire two, three warning shots with live ammunition," Bauer writes. "We fall to our knees as they yell commands I don't understand."
Bauer and Krupař's cover—that they were English teachers traveling from the Caucasus Mountains—was blown.
In Crossing the Sea: With Syrians on the Exodus to Europe, released in the U.S. on April 12, Bauer chronicles his journey between Egypt, Europe and Turkey, as well as the routes taken by Syrian refugees he meets along the way. His dramatic story includes a four-day kidnapping by people smugglers, who hold Bauer, Krupař and a group of men in a room with "two beds, a filthy kitchen and a toilet without water." One of the refugees finds luggage from men, women and children who were previously held in the apartment and wonders what became of them.
It also includes a second arrest in Austria—this time, Bauer was under suspicion of people smuggling as he was driving two Syrian refugees from Italy to Germany.
The police "make it very clear that they consider my crime on par with kidnapping, robbery and murder," Bauer writes.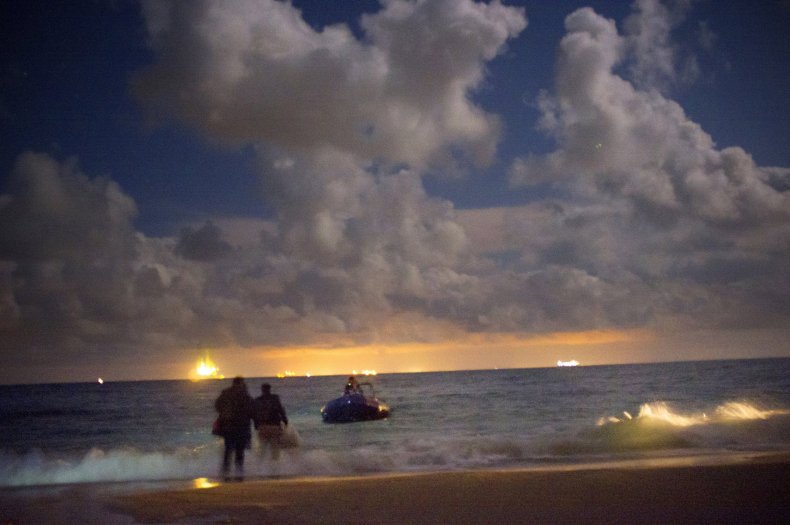 Bauer, a reporter for the German newspaper Die Zeit who is currently working on a book about the Nigerian militant group Boko Haram, has previously reported undercover from countries including Myanmar. He doesn't like doing it, but says he's knows it's necessary.
"I like to show my face and my identity, but from time to time I'm forced to be someone else," Bauer tells Newsweek from his home in Reutlingen, a town in southern Germany. "It's really exhausting and tiring. With this story it was absolutely necessary."
In the first two months of 2016, more than 132,177 migrants and refugees arrived in Europe by sea, according to the United Nations refugee agency (UNHCR). More than half of those arrivals were women and children and the majority are from Syria, Iraq and Afghanistan. In 2015, more than one million refugees and migrants arrived in Europe, which has created ongoing tensions across the continent over funding, refugee quota numbers and cultural differences, such as attitudes toward women and LGBT people.
Preparation for Bauer's undercover trip, which began in April 2014, took nine months and included interviews with refugees who successfully made it to Germany. Bauer says many warned him against traveling openly as a journalist, as refugees might suspect him of being undercover police. The two journalists were deported to Turkey after being caught on Nelson's Island, and while on the plane Bauer found himself in awe of the sudden ease of travel after his clandestine attempts to reach the sea.
"The Mediterranean, that for so many is an insurmountable obstacle, that for so many means death, we cross effortlessly and half asleep," he writes. "On this particular night, it feels truly obscene."
The book was published in Germany in 2014, and Bauer describes as "huge" the response in that country, where most refugees who arrived in Europe last year sought asylum. However, he says the readers in most cases are people "who are open and who get moved by the suffering of strangers, rather than those who have negative views concerning the refugee and migrant crisis.
"I'm really happy and overjoyed when at my public readings someone shows up and is sceptical of those topics," says Bauer.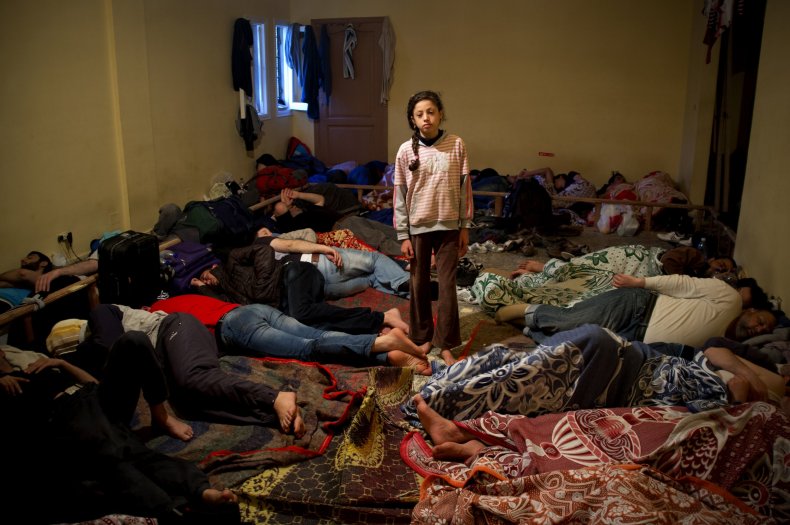 Bauer's book goes on sale in the United States a month after the shutting of the Balkan migrant route, the main path for migrants and refugees to reach northern Europe's wealthier nations. Austria's Interior Minister Johanna Mikl-Leitner said on Thursday the route would remain permanently closed after Macedonia closed its borders with Slovenia, Croatia and Serbia in order to curb illegal entries.
"The more they stop the refugees coming to the Balkans, the more they will be forced to take to the sea," said Bauer.
Many of the Syrians Bauer met on his journey eventually found refuge in Sweden and Germany; one of Krupař's photographs shows a smiling, relieved refugee family of five with more than a dozen pieces of luggage outside their new apartment block in Frankfurt. Mohamed, the brother of the two men Bauer drove across the Alps, died while attempting to cross the Meditarranean. Bauer remembers how Mohamed brought him socks when he was imprisoned; "In prison, those socks made me feel human again, stinking and unwashed as I was."
Bauer says it's important for countries to take refugees as soon as possible to allow for a better chance at integration.
"The refugees are in chains. Our economies will be much stronger if the refugees are integrated, if we as societies are really successful at integrating," says Bauer. "If we fail to integrate them properly, it could be catastrophic. If we really consider this now as a huge social challenge…we really might make it."
Having admitted 955 Syrian refugees since October 2015, the U.S. could be doing much more to help, Bauer adds, not only by resettling greater numbers of refugees but by supporting countries that are bearing the brunt of the European crisis, such as Germany and Sweden.
"It's a global crisis and at the end of the day, everybody will suffer from the consequences if it goes wrong," he says.
Crossing the Sea: With Syrians on the Exodus to Europe will be published in the U.S. on April 12 by And Other Stories.