Police Searching for Suspect Who Painted Crosswalk on Busy Intersection
Police in New Jersey are searching for whomever painted a makeshift crosswalk on a busy intersection.
Spray-painted lines suddenly appeared Thursday morning on the intersection of Vauxhall Road and Brookside Drive in the township of Union, New Jersey. Police say the persons responsible for the handmade crosswalk are guilty of criminal mischief.
"If by chance the spray painter reads this, please call our traffic bureau so we can discuss this," Union police wrote in a Facebook post.
But locals say the intersection has desperately needed a crosswalk for some time. "There's nowhere to walk, no stop signs on this area for blocks," resident John Diaz told CBS New York.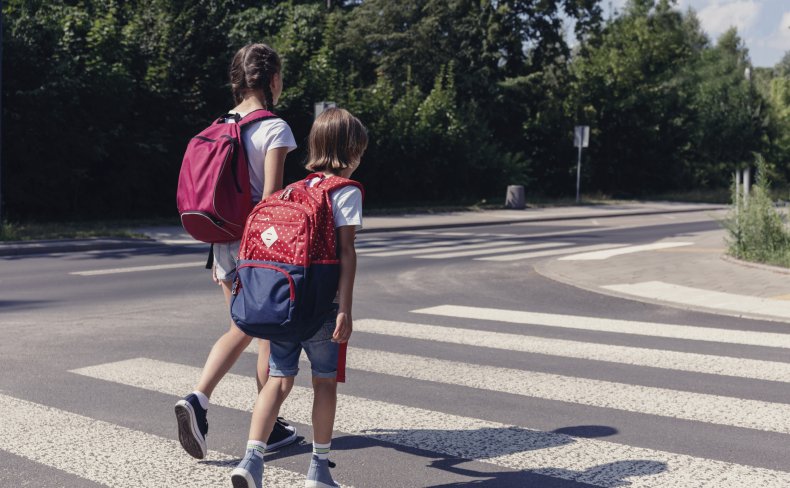 For students, walking or taking the bus can be especially dangerous. "It drops you off in the middle of the street and you have to run across to your house basically," one student told the station.
Nine-year-old Jordan Vasquez was so nervous about crossing the street on his first day of school this year that he wrote a letter to Mayor Michele Delisfort/
"This intersection is very dangerous and scary for me and other children to have to cross." Vasquez wrote. "The cars will not stop and they speed and don't follow the rules."
Police say pedestrians should cross the nearest legitimate crosswalk, which is about a quarter-mile away. But residents say that crosswalk also isn't safe to cross, either. "It's an intersection of, like, three roads and that makes it even more difficult." said one resident.
Authorities say the curb in the road is too close to put a crosswalk, a crossing guard or a speed bump at that location. By Friday, the ersatz pathhad been painted over by city employees.
According to the NHSTA, nearly 400 children ages 15 and under are killed each year when they're hit by an automobile, with hundreds more sustaining serious injuries.
Some municipalities have gotten creative with their crosswalks: Rainbow crosswalks have appeared in cities like Dallas, Atlanta, Sydney and Maplewood, New Jersey, about three miles from Union. The colorful pathways aid pedestrians and celebrate the LGBT community.
In Mansfield, Texas, the intersection at Fourth Street between Main and Diamond streets was given a temporary outer-space design in August. A new, permanent design will be installed in the weeks to come, at a cost of $45,000. The path will be made of 1,040 bricks salvaged from Columbia Avenue, the last brick street in the city, which was paved about five years ago.