Crowbar-Wielding Jan. 6 Rioter, Indicted on 13 Counts, Claims He Saved Officer Fanone's Life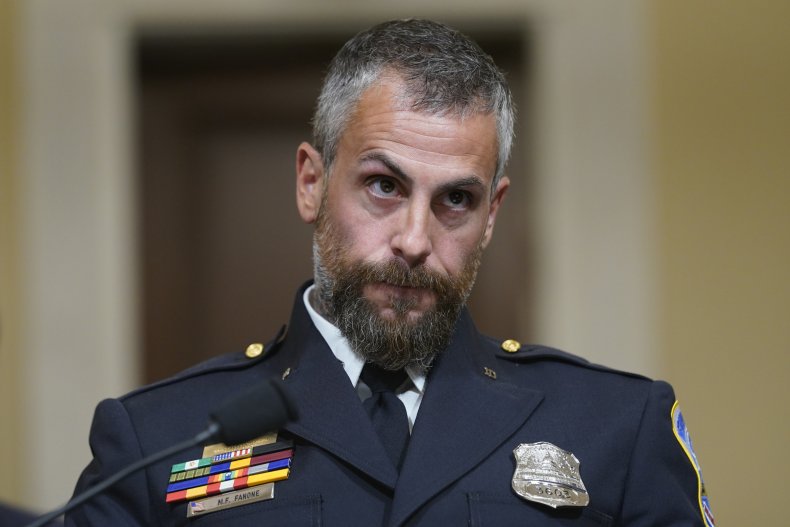 Capital rioter Ryan Nichols has claimed that he "helped save" the life of Washington, D.C. Police Officer Michael Fanone on January 6.
Nichols, a former U.S. Marine, was indicted on 13 charges related to participation in the Capitol riot. During a phoned-in interview to Newsmax's Greg Kelly Reports on Monday, Nichols complained that he and other riot participants had been "targeted" by the government and insisted that, instead of participating in violence as the government alleges, he heroically worked to rescue women and Fanone on January 6. Fanone has not indicated that he received any help from Nichols.
"We showed up in good faith on January 6 to protest the election results but never would have imagined we'd encounter the horrors we did on the west terrace and in the tunnel that day," Nichols said during the Newsmax interview. "We feel targeted and hated by our government and are being punished in this jail as pretrial detainees."
"When I saw women being beaten and in distress my rescue instincts kicked in and I knew I had no choice but to help rescue them," he added. "As soon as I saw Officer Fanone in distress, I pointed at him and took action to help rescue him also. So, my participation in Officer Fanone's event no doubt helped save his life that day."
Fanone experienced a heart attack, a traumatic brain injury, a concussion and post-traumatic stress disorder after being attacked by supporters of former President Donald Trump who were attempting to stop Congress from certifying President Joe Biden's 2020 election win on January 6. Fanone's subsequent comments also led to him being targeted by some Trump supporters after the riot, with the officer being sent abusive and threatening voicemails while testifying about the insurrection to Congress in July.
According to court documents, video footage taken of Nichols during the riot shows him wielding a crowbar and a bullhorn. In the footage, Nichols told the crowd that "if you have a weapon, you need to get your weapon" and described the situation as "the second revolution" and "not a peaceful protest."Nichols also allegedly brought pepper spray to the Capitol and used the chemical to attack officers before breaching the building.
"Patriots stood their ground today!" Nichols wrote in a Facebook post at the time, alongside a picture of himself and fellow defendant Alex Harkrider outside the Capitol. "We aren't done, either! You want to steal our election, and not hear us in court! Good! Now you'll hear our civil unrest!"
Nichols pleaded not guilty to all 13 charges following his January 18 arrest. He has remained in custody pending trial since.
Newsweek reached out to the Washington, D.C. Metropolitan Police Department for comment.