Crowd Chants 'F*** Trump' Loudly Behind Fox News Reporter After U.S. Women Win Soccer World Cup
Fox News correspondent Greg Palkot was nearly drowned out by a crowd chanting "fuck Trump" during a segment in which he was reporting that the U.S. Women's soccer team had just won the World Cup held in France.
Speaking from a sports bar in the French city of Lyon, where the final match was held, Palkot started his report with a crowd of soccer fans behind him. As he began announcing that the U.S. team had won, a man in the bar started the chant in the crowded pub, yelling out "fuck Trump" repeatedly. The others in the bar joined in quickly, with Palkot noticeably struggling to hear and speak above the noise behind him.
Although Palkot initially turned around and eyed the crowd, he attempted to ignore the loud chorus of anti-Trump sentiment behind him as he continued his report.
"We were going to be outside," the journalist explained. "We were going to be looking at a screen with the football game. But in fact it was cancelled by officials because they were worried about security measures. The American fans came over to this sports bar."
A woman wearing a white and red headband to the correspondent's side also raised both her hands to flip off the camera. Many in the crowd laughed as they chanted, obviously amused by the situation they had forced Fox News and the journalist into.
And the trolling didn't stop there, when Palkot turned to the crowd to ask their perspective on the soccer team's win, a man wearing a red hat with an American flag said: "Now we need to win in 2020!" before screaming "Democrats." Others joined in, yelling "Democrats! USA!." The man added: "Get that racist out of the White House!"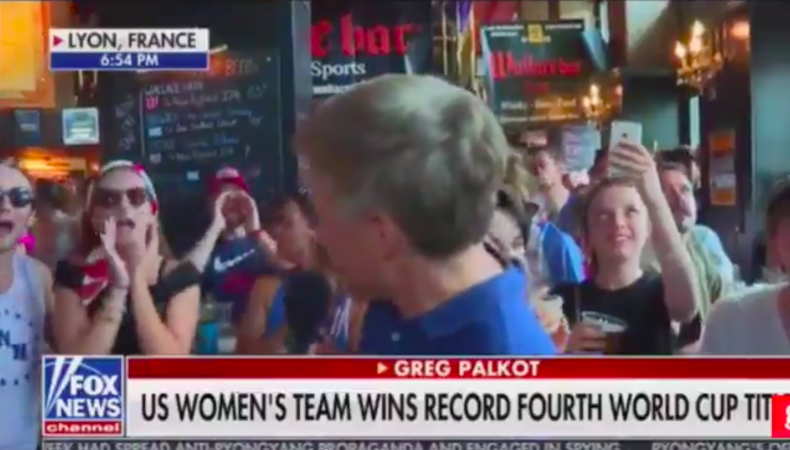 Palkot smiled in response, saying the women's team victory "was a bit of political thing too, as you can see. They are very happy about this team winning."
The U.S. team's co-captain Megan Rapinoe and some of her teammates have been vocal in their criticism of President Donald Trump and have spoken publicly on issues including racism, and anti-LGBTQ and anti-immigrant sentiment in the U.S.
Back in 2016, when former NFL quarterback Colin Kaepernick began kneeling during the national anthem to protest racism and police shootings of minorities, Rapinoe joined in and began doing the same about a month later.
The U.S. Soccer Federation then implemented a rule that players must stand respectfully during the national anthem. Since then, Rapinoe has stood but does not sing along or place her hand over her heart. As a result, she has drawn the ire of Trump and other right-wing critics. She also went viral when she was asked if she would go to the White House if invited by the president.
"I'm not going to the fucking White House," she responded.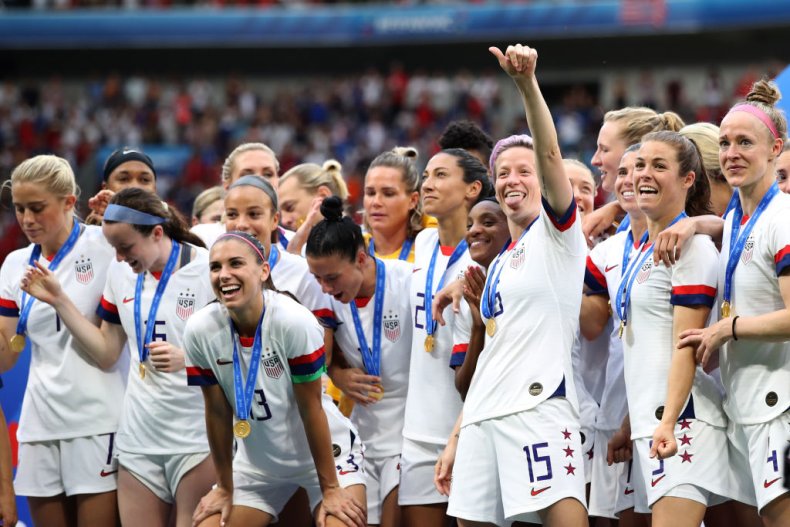 Ali Krieger, one of Rapinoe's teammates, shared similar sentiments, telling CNN last week that she refused "to respect a man that warrants no respect," referring to Trump. She later condemned the Trump administration on Twitter, specifically mentioning its treatment of "LGBTQ+ citizens, immigrants & our most vulnerable."
When asked if any of her teammates would go to the White House if invited, Rapinoe said she didn't think it would be many. "I haven't spoken to everyone about it, obviously not myself, not Ali Krieger, and I suspect not many, if any, of the other players," she said, according to Agence France Presse.
Trump tweeted his congratulations to the team after their big win: "Congratulations to the U.S. Women's Soccer Team on winning the World Cup! Great and exciting play. America is proud of you all!" he wrote.
The U.S. women's soccer team has now won the World Cup four times, more than any other country, defeating the Netherlands on Sunday 2-0. Germany is the only other female national team to have won the championship event more than once, having won it twice, in 2003 and then again in 2007. The U.S. won the tournament for the first time in 1991, then again in 1999, 2015 and now 2019.
The graphic below, provided by Statista, Illustrates how the USWNT has now won the FIFA Women's World Cup for the fourth time.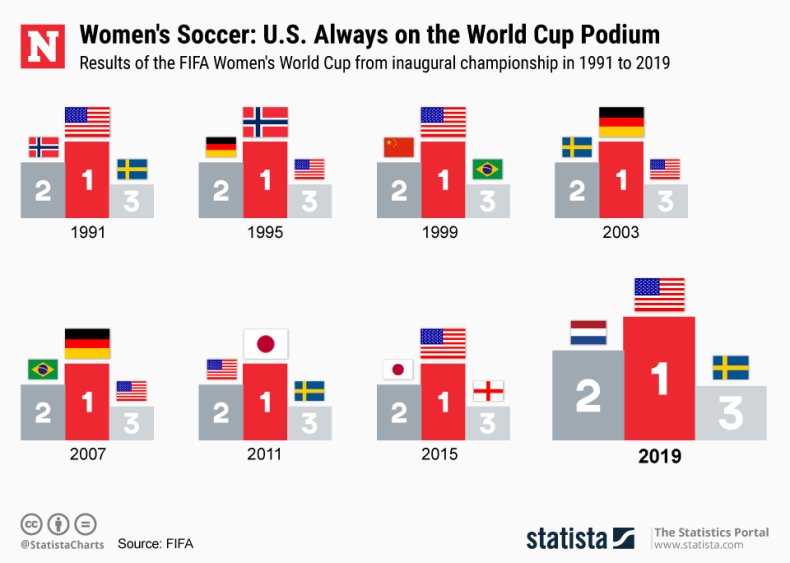 This article was updated to include an infographic.