Crowd Demands Resignation of District Attorneys in Ahmaud Arbery Killing as Father and Son Set to Face Judge
Hundreds of protesters gathered in front of Glynn County Courthouse in Brunswick, Georgia, on Friday to demand justice for Ahmaud Arbery on Friday.
The two men involved in the February 23 shooting of the black jogger were arrested this Thursday after the lack of investigation into Arbery's killing gained public criticism and calls to action. The father and son, Gregory McMichael and Travis McMichael will face a judge on the murder and aggravated assault charges at the courthouse later today.
Protesters are calling for the resignation of two district attorneys, George Barnhill and Jackie Johnson, who recused themselves from the investigation. District Attorney Tom Durden took over the case on April 13 and formally requested a grand jury investigation.
Both Barnhill and Johnson recused themselves due to "prior employment and/or familial relationships," Durden said in a press release.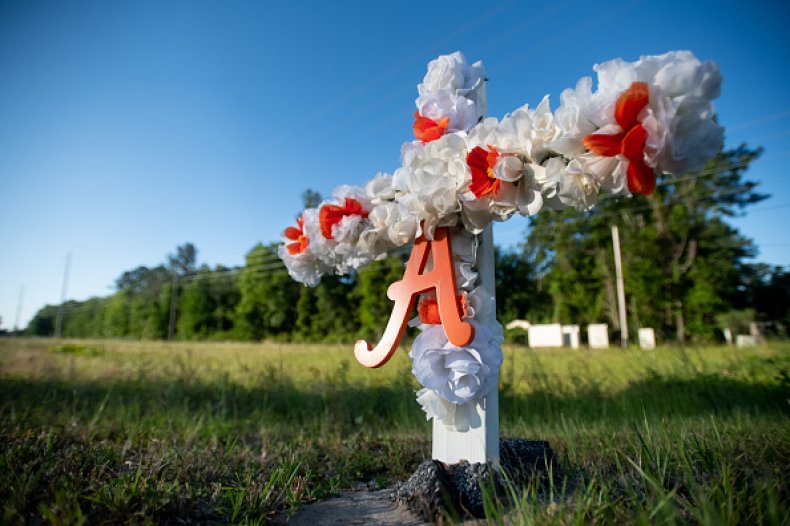 The rally organized by the Georgia chapter of the NAACP was held in honor of what would have been Arbery's 26th birthday.
"The slothlfulness and inaction of D.A. Jackie Johnson of the Brunswick Judicial Circuit and George Barnhill of the Waycross Judicial Circuit are a gross testament to the mismanagement of the judicial process in the Brunswick community," said James Woodall, state president of Georgia NAACP in a press release on May 5. "We will not rest until the murderers of Ahmaud are behind bars, and Jackie Johnson, along with George Barnhill, are removed from office."
Johnson recused herself from the investigation on the day of the shooting citing Gregory McMichael, a former law enforcement officer, as a former investigator in her office.
In a letter sent to the Glynn County police chief April 2, Barnhill said that it appeared to him that Gregory McMichael's and Travis McMichael's "intent was to stop and hold this criminal suspect until law enforcement arrived," which is "perfectly legal" under Georgia law.
Barnhill recused himself shortly after sending the letter.
The crowd chanted "No justice, no peace," while holding signs of support that read "Justice 4 Ahmaud" and "Thank you GBI, justice was delayed but not denied."
Vic Reynolds, director of the Georgia Bureau of Investigation, addressed the arrests Friday morning saying, "I feel comfortable telling you there is more than sufficient evidence."
Calls to action for an investigation into Arbery's killing came after a video of the incident went viral earlier this week. It showed an unarmed Arbery on a routine jog being gunned down and shot multiple times. The widely circulated clip has incited public outcry as no arrests had been made at the time of its release.
Another rally is planned to be held at Dual County Courthouse in Jacksonville, Florida, on Friday afternoon.