Crowd At Trump's India Visit Eclipsed Only By Dwight Eisenhower's In 1959
While it may not have been the millions Donald Trump said he was promised, the president's visit to India on Monday appeared to draw the largest crowd since President Dwight Eisenhower's trip more than a half-century ago.
Known for his fixation on and affection for significant turnouts, Trump was greeted by more than 100,000 enthusiastic attendees in the world's largest cricket stadium in Ahmedabad, India, along with a display of music and dancing women in colorful garments. Thousands more lined the motorcade route, according to the White House press pool.
The event, whose attendance and venue were reminiscent of an enlarged MAGA rally with no shortage of the Trump name appearing throughout the stadium on clothing and life-size cutouts, came far short of Trump's claim a few days earlier that as many as six million to 10 million people would be ready to greet him.
"Namaste, Trump!" Indian Prime Minister Narendra Modi told the enthusiastic crowd before turning the floor over to the U.S. president.
"The first lady and I have just traveled 8,000 miles around the globe to deliver a message to every citizen across this nation," Trump said. "America loves India, America respects India, and America will always be faithful and loyal friends to the Indian people."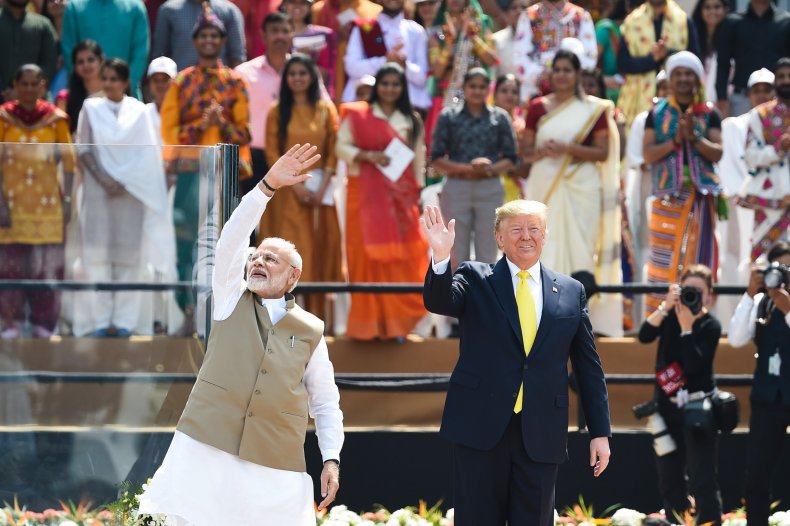 Trump's ability to draw such a sizable and supportive audience was representative of his overall approval in the South Asian country, which is higher than in almost any other country, including the United States.
But Trump is not the only American president to be greeted with such enthusiasm by the Indian people. His turnout was dwarfed by that for President Dwight D. Eisenhower in 1959. The former commander of Allied forces in Europe during World War II was greeted by a million people during his visit to New Delhi, according to an Associated Press report at the time.
Richard Nixon (1969), Jimmy Carter (1978), Bill Clinton (2000), George W. Bush (2006) and Barack Obama (2010, 2015) also made official visits to India during their presidencies.
Trump boasts a 56 percent confidence rating in India, according to Pew Research Center data compiled in the chart below by Statista, while just 29 percent worldwide have that opinion. Domestically, Trump's overall approval rating sits at just 43 percent, according to Real Clear Politics' average of recent major polls.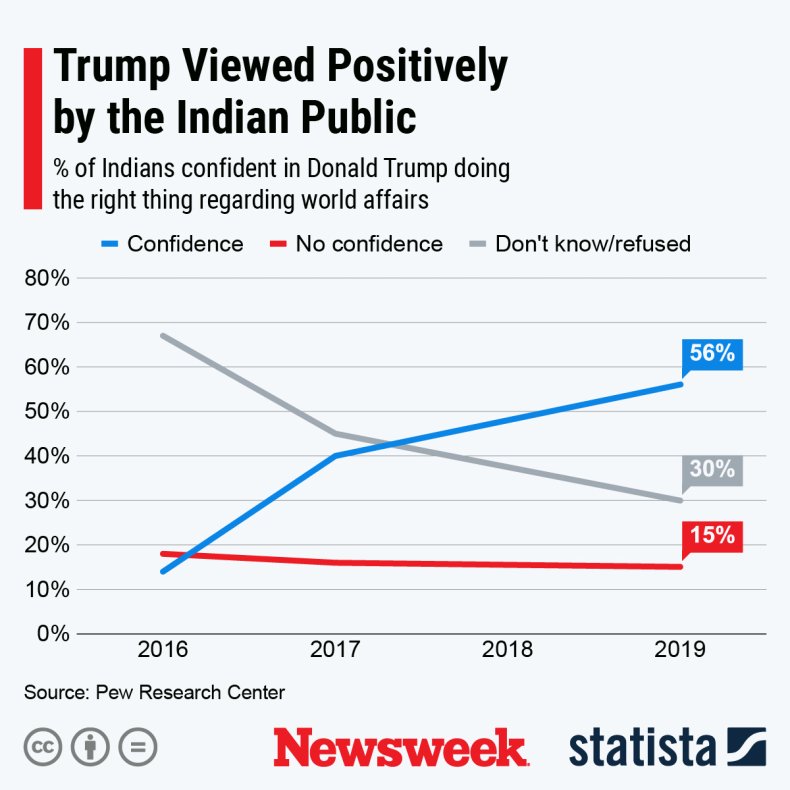 Trump's popularity in India is partly due to his similarity to Modi, said Richard Rossow, a senior adviser at the Center for Strategic and International Studies. Trump's "aggressive posture" toward China and his calling out of terrorism that emanates from Pakistan, among other things, has helped in "cementing a security relationship," Rossow added. Trump announced a $3 billion arms deal to supply India with American-made military gear.
"They do like his blunt talk," Rossow said. "The fact that he's called out countries, including China and Pakistan, for aggressive acts, which India has long wanted presidents to speak clearly about—what they perceive as threats in the region."
Another area of mutual respect between the two leaders is trade, despite the fact that some of Trump's policies might not be beneficial to India.
"They look at trade basically as a zero-sum game. If you see the language President Trump uses when he describes Modi, he says he's a tough negotiator but likes him anyway," Rossow said. "He always turns what should be something that divides the two leaders into something that almost endears, because President Trump has billed himself as the dealmaker around the world."
Visiting India during an American president's tenure is a recent phenomenon. Until Clinton, it was an "irregular thing," as Rossow described it. Trump's trip makes him the fourth consecutive president to do so. And like Obama, his predecessor, Trump visited during his first term.
Modi, who was once a cafeteria worker, was hailed by Trump, who noted "the limitless promise of this great nation" during his roughly 30-minute speech. "You are living proof that with hard work and devotion, Indians can accomplish anything."