Even if Republican voters turn out in significantly larger numbers than Democrats, it'll be tough for conservative radio host Larry Elder, the top GOP candidate in California's recall, to win the election if Governor Gavin Newsom is recalled.
Elder is leading in a field of more than four Republican candidates and a recent poll indicates that Republicans are twice as certain they'll vote in the September recall than Democrats. However, in a heavily blue state where registered Democrats outnumber Republicans nearly two to one, an election that has five Republican candidates on the ballot makes the uphill climb even steeper for the GOP.
An August 4 survey from the San Diego Union-Tribune found Elder leading the Republican field with 43 percent of GOP voters' support. John Cox received the second-most support, at 18 percent. The rest of the Republicans polled were split between other candidates or undecided.
The crowded ballot means Republicans are likely to split their votes, so the GOP's best strategy at winning the election would be to consolidate votes to one candidate. Assuming the GOP was able to rally voters around Elder, it would put him within striking distance of Democratic candidate Kevin Paffrath, who received 58 percent support from members of his own party, according to the poll.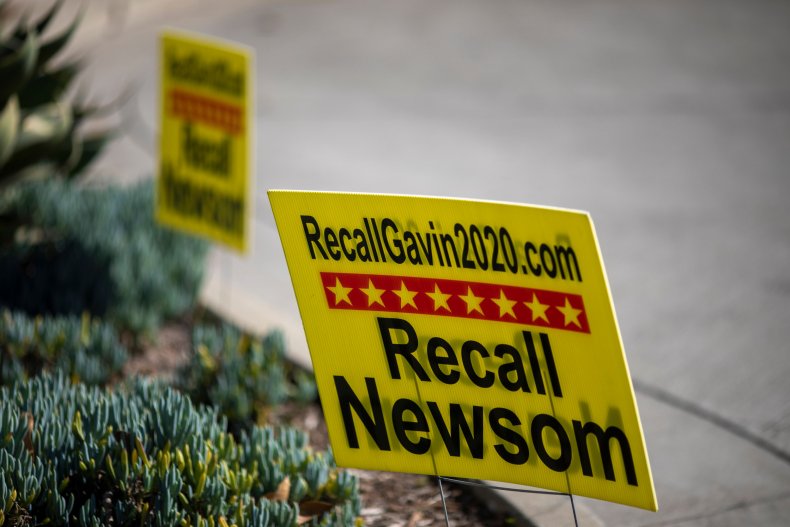 Paffrath, a YouTuber and financial analyst, is the only Democrat on the ballot, a move Politico reported Newsom's team helped manufacture. In an effort to avoid splitting the liberal vote on the question of whether to recall Newsom, the governor's team emphasized party unity and dissuaded other prominent Democrats from running.
If voters oust Newsom from office in the recall election, failing to have another Democrat on the ballot could put Paffrath on a path to the governor's office.
Elder did better among Independents than Paffrath—27 percent to 19 percent—although about a fourth of the voters remain undecided. If the GOP could condense their votes, Elder would still come up short, but be within 500,000 votes of Paffrath versus a gap of more than three million votes.
Ying Ma, a spokesperson for Larry Elder's campaign, told Newsweek they aren't concerned about the crowded field of Republican candidates. The spokesperson also criticized Newsom for not showing "interest" in debating Elder.
That's assuming every registered Democrat, Republican and Independent cast a ballot in the election, which is unlikely to happen. Special elections often have low voter turnout and only 38 percent of Democrats polled in the August 4 survey said they were 100 percent certain they'd vote in the upcoming election.
Democrats are concerned that low voter turnout will skew the election in Republicans' favor and Newsom's team has been encouraging voters to cast their ballots. He posted on Twitter that voters should vote "no" to the recall question, saying "there's too much at stake to sit this out," and leave the second question as to who should replace Newsom blank.
Republicans, many of whom are leading the charge in the effort to oust the governor, were significantly more confident they'd make it to the polls and 73 percent said they were 100 percent certain they'd vote. Even if that disproportionate percentage of Republicans voting plays out, GOP registered voters would still be outnumbered by about 80,000 Democrats, making the need to consolidate votes even more important.
When looking at only those voters who are certain they'll vote in the election, Elder could eke out a win if Republican voters unify around him. If Democrats, Independents and Republicans who are "likely" to vote are factored in, Elder would likely still come up short.
Despite it being a potentially winning strategy, it's unlikely that the Republican race to be the next governor of California slims down. California's Republican Party decided not to endorse a single candidate in a Friday vote with 90 percent of delegates supporting the motion.
"Today's overwhelming decision by our delegates to offer no endorsement speaks to the strength of our field of candidates and the outstanding position our party is in going into the recall election. We are squarely focused on putting California back on track by recalling the worst governor in California history," chairwoman Jessica Millan Patterson said in a statement.
Patterson was confident that voters would opt to oust Newsom from office at the September 14 election and "finally restore good governing to California."
This article was updated with comment from Ying Ma, a spokesperson for Larry Elder's campaign.