'The Crown': Did Princess Diana's 'Uptown Girl' Performance for Charles' Birthday Really Happen?
The ninth episode of The Crown's fourth season opens with Prince Charles' 37th birthday celebration. Charles (Josh O'Connor) and Princess Diana (Emma Corrin) attend a performance and gala event at the Royal Opera House. At one point, Diana slips away to powder her nose during the show.
However, much to Charles' surprise (and embarrassment), Diana returns, and appears onstage with ballet star Wayne Sleep (portrayed by Jay Ebb). The pair danced to Billy Joel's "Uptown Girl," and the routine was filled with kicks, jumps and plenty of leg. The crowd claps along to the song and showers her with applause, while Charles appears angry, watching his wife soak it all in.
So, did this performance, showcasing Diana's dancing skills actually happen? To the delight of many Crown fans, it did! In 1985, the Princess of Wales planned it as a surprise for Charles at the Friends of Covent Garden event that year.
She reached out to Sleep directly to arrange the performance, he told Telegraph in an interview ran Sunday. "She rang me and said, 'I want to dance with you at Covent Garden this Christmas for the big Christmas gala party that they do as a thank you to all the supporters of the opera house.'" Whether in real life it was a Christmas gift or birthday gift, however, remains unclear.
Royal biographer Tina Brown noted that Charles did seem unimpressed by Diana's stunt, similar to in The Crown. His reaction was seen as "frigid disapproval of Diana's lapse in royal etiquette," Brown noted via Classic FM.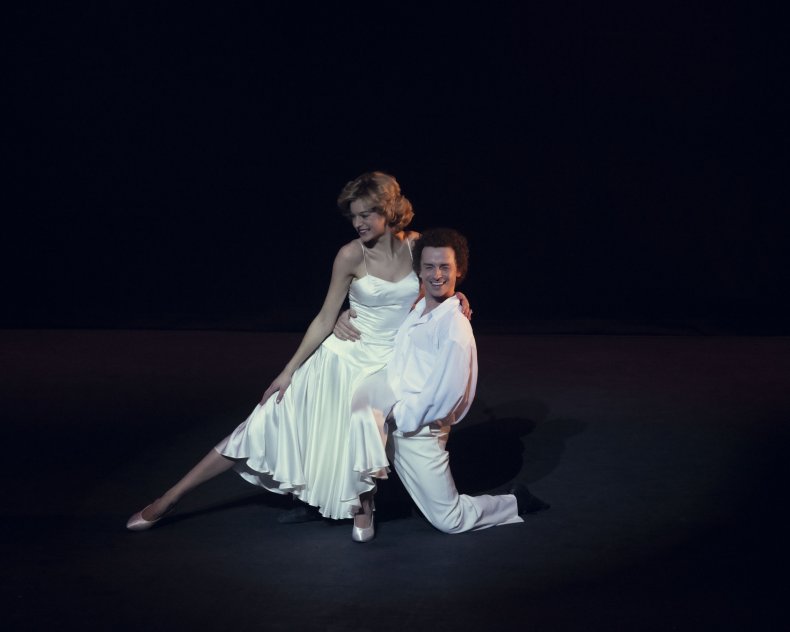 In real life, Diana was very passionate about dance, and took ballet and tap classes from a very young age. She was also an accomplished pianist.
Unfortunately, there is no video footage of the legendary performance. There was only one in-house photographer to capture the moment, since it was a surprise.
In The Crown, Ebb's Sleep mentions that only four people knew about it, which was slightly true. Diana's detective and lady-in-waiting knew about their meetings, but didn't know about the dance, Sleep recently told Vulture.
Sleep also dished to Vulture about the infamous performance itself, which took place 35 years ago. Unlike on The Crown, the dancer revealed that "the audience didn't all shout at the beginning, because the whole audience was in shock." He said that they thought it was a Diana look-alike, but after she flashed her "signature smile," the audience realized who it was.
"Everyone's mouths gaped open. There was an intake of breath like they couldn't believe it. The noise got bigger and bigger. We did eight curtain calls. I had to bow every time and I was like, You got to bow to the prince. And she said, No, I'm not bowing to him, he's my hubby. You won't get your OBE [Order of the British Empire] with those comments."
He also said that he was more nervous than she appeared. "I was shaking in the wings. What if she doesn't like it? What if I dropped the future queen of England?" Sleep remarked.
The fourth season of The Crown is available to stream on Netflix.