'The Crown' Season 4: The One Character the Queen's Ex-aide Said Was 'Convincing'
Queen Elizabeth II's former press secretary has given his damning verdict on The Crown Season Four — and only one actor comes off well.
Fans of the show have been watching the torturous breakdown of Princess Diana and Prince Charles' marriage while he sneaks off to see lover Camilla Parker Bowles.
And the queen's tense relationship with British Prime Minister Margaret Thatcher also takes center stage as the show moves from the late 1970s up to 1990.
However, Dickie Arbiter, who worked for Elizabeth from 1988 to 2000, heaped criticism on show creator and writer Peter Morgan's portrayal of royal life.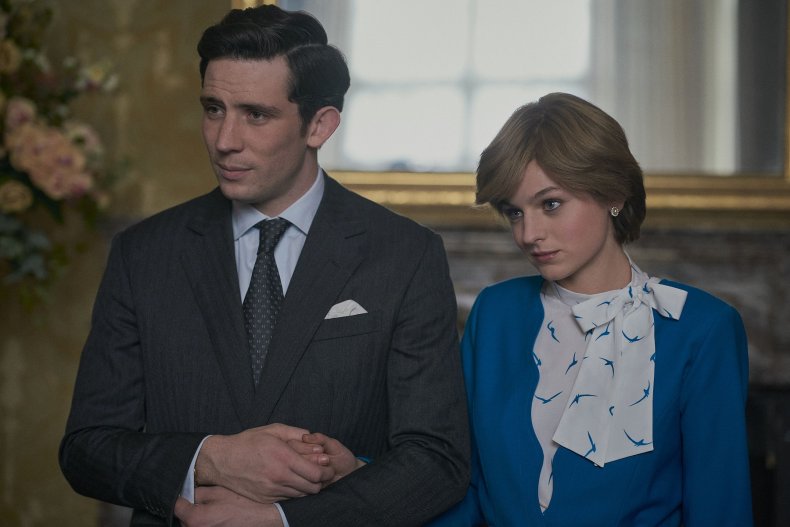 He wrote on Twitter: "Not sure what I've done to deserve bingeing on #TheCrownseason4 - #PeterMorgan has gone completely OTT on dramatic license.
"#OliviaColeman is as unconvincing as ever as HM and #GillianAnderson is not a patch on #MerylStreeps Mrs Thatcher — dreadful is a word that comes to mind.
"#JoshOConnor is a wimpish #PrinceCharles, nothing like the man I worked for for five years.
"But there is one redeeming player — #EmmaCorrin is a convincing #Diana.
"#TheCrown should be viewed as, at most, fiction and entertainment, nothing more for it IS nothing more."
Season Four introduces Princess Diana to the show for the first time, initially as a 16-year-old school girl who bumps into Prince Charles at her family's Althorp Estate while he is dating her sister.
It then shows the royal family persuading him to marry Diana while his true affections lie with Camilla, then Parker Bowles, now the prince's second wife the Duchess of Cornwall.
Emma Corrin depicts Princess Diana's charm and humour as she ingratiates herself into the royal family, her battle's with bulimia as she realizes Charles loves his mistress and her attempts to confront both her husband and the wider royal family.
Ingrid Seward, author of Prince Philip Revealed, told Newsweek: "I thought it was gripping but I've never been a particular fan of any of the males roles. I don't like Philip.
"Philip's got so much more character than that and he's so much stronger. No one's nailed Philip at all.
"I think Olivia Coleman is good because she's Olivia Coleman but she's not the Queen.
"On the other hand, Emma Corrin is just brilliant. Gillian Anderson as Thatcher is a pastiche."
Season Four shows a difficult start to the queen's relationship with Thatcher as the two clash over class, work ethic and compassion.
Some of the details are taken from real life, including the former Prime Minister's tendency to turn up to the queen's Scottish retreat, Balmoral, with the wrong footwear.
However, their dialogue in their conversations is largely a product of artistic licence.