'The Crown' Season 4: What Prince Charles Told Princess Diana About His Affair
Princess Diana claimed she asked Prince Charles about his affair with Camilla and was told every Prince of Wales has a mistress—in the real life drama behind The Crown.
Season Four of the Netflix series charts Diana's journey into the royal family from meeting her future husband for the first time, aged 16, to asking Queen Elizabeth II's help mending the cracks in their marriage.
Even before the wedding, a reluctant Prince Charles (Josh O'Connor) is depicted longing for his lover Camilla Parker Bowles, now his second wife the Duchess of Cornwall (played by Emerald Fennel).
Emma Corrin brings to life Princess Diana's loneliness, acting out her attacks of bulimia as she suspects her husband's infidelity.
In real life, Princess Diana told her speech coach Peter Settelen she confronted Charles about the affair.
Diana said: "I remember saying to my husband, you know, 'Why, why is this lady around?' and he said, 'Well I refuse to be the only Prince of Wales who never had a mistress.'"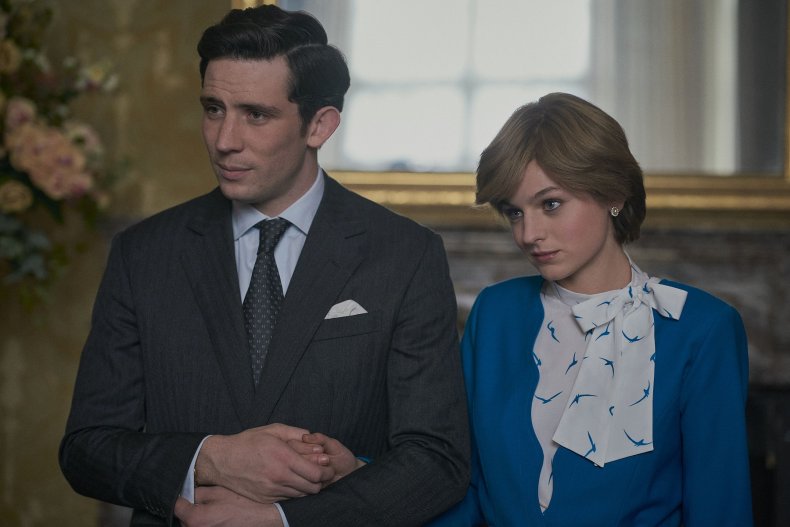 Her discussions with Settelen, in the early 1990s, were recorded and the footage broadcast after her death, first by NBC and later by Channel 4 in the U.K.
Princess Diana also retold the story of her loveless marriage in 1991 in tape recordings which she leaked to journalist Andrew Morton for his book Diana: Her True Story.
In those tapes, broadcast by National Geographic, Diana said she confronted Camilla, 14 years older than her, about the affair at a 40th birthday party for Camilla's sister, Annabel Elliot, in 1989.
The princess said: "I could feel upstairs all hell breaking loose, 'What is she going to do?'
"I was terrified of her and I said, 'Camilla, I'd just like you to know that I know exactly what's going on.'
"And she said, 'I don't know what you're talking about.'
"And I said, 'I know what's going on between you and Charles and I just want you to know that.'
"And she said to me, very interestingly, she said to me, 'You've got everything you've ever wanted.'
"'All the men in the world fall in love with you. You've got two beautiful children. What more would you want?'
"And I didn't believe what she said anyway. So I said, 'I want my husband.'
"And she said, 'Well,' and she looked down the whole time. And I said to Camilla, 'I'm sorry I'm in the way. I obviously am in the way and it must be hell for both of you.'"
Charles and Diana separated in 1992 and divorced in 1996, the year before the princess died in a Paris car crash.
The prince married Camilla in 2005, when she took the title Duchess of Cornwall.