'The Crown' Season 4: Fans Give Verdict on Prince Charles Affair With Very Angry Memes
The Crown appears to have left fans furious at Prince Charles for cheating on Princess Diana with Camilla.
Season 4 depicts the Prince of Wales sneaking off to see his mistress, then Camilla Parker Bowles (played by Emerald Fennel), while his lonely wife battled bulimia behind closed doors.
The show is based on the real-life breakdown in the marriage, and Diana's real mental health problems, but also contains many scenes and passages of dialogue that are fictional.
Josh O'Connor, the actor who plays Charles, today told the BBC: "We're actors and we're not real and it's not a real story."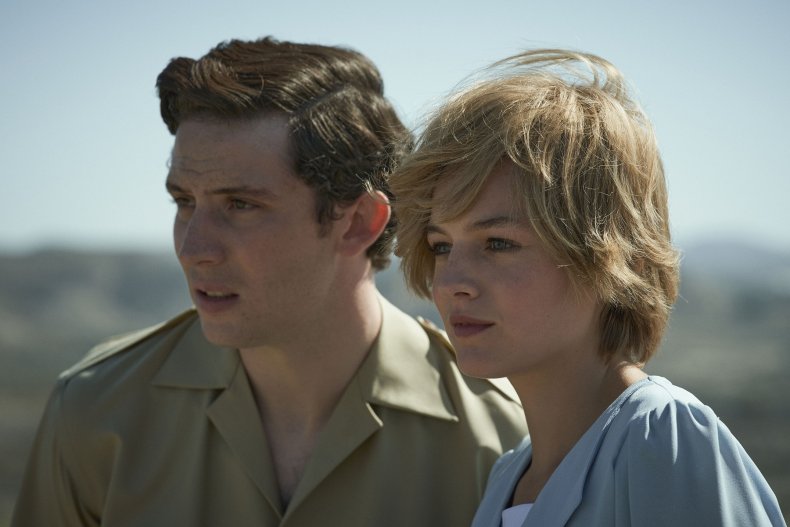 However, many viewers of the Netflix series had already made up their minds on the prince's behaviour, as depicted in the show.
Award-winning author Saeed Jones told his 184,000 followers: "Just when I forget how much I hate Prince Charles, he reappears and reminds me. WHEW. #TheCrown."
Among the many posts were memes showing just how angry fans were getting at the affair and its impact on a young Diana (played by Emma Corrin).
One Twitter user wrote: "Prince Charles calling Diana pathetic?? Say that one more time #TheCrownNetflix."
Detox, star of RuPaul's Drag Race, wrote: "Ok, quick update. Still in bed. Up to ep 6 of @TheCrownNetflix.
"Have burst into ugly tears every episode about something, but mostly the Diana moments.
"(I dunno if it's bc I'm depressed or was so obsessed w/her as a child, but I am literally guttural sobbing through some of it)."
Podcaster and writer Ashley C. Ford told her 212,000 Twitter followers: "My grandma used to get so mad about prince Charles her top lip would curl up in anger at the mention of him lol."
Nadirah Simmons, social media manager at The Late Show, wrote: "Princess Diana was 20 and Prince Charles was 32 when they got married.
"She never had a boyfriend before getting engaged. and then she dealt with years of torture and torment by that family. oohhh i'm so mad lol."
O'Connor told BBC Breakfast: "I feel like ultimately what The Crown survives on is the understanding that the audience have the intelligence to understand, the kind of the intrigue and the understanding, that this is fiction.
"It is always tricky, isn't it, that you don't want it to be ruffling feathers.
"You want to be as clear as possible that this is Peter Morgan's imagination and his world being created."
He added: "But ultimately there's a fascination in the royals and sometimes people will want to believe that this is what happens and it's just always worth checking in and remembering that we're actors and we're not real and it's not a real story."