'The Crown': What Actually Happened When Margaret Thatcher Visited Balmoral?
In the second episode of The Crown's fourth season, Prime Minister Margaret Thatcher (played by Gillian Anderson) is put to the test. She and her husband, Denis (Stephen Boxer), visit the Windsors' Balmoral estate in Scotland for a weekend. It's tradition for Queen Elizabeth II (Olivia Colma) to invite the sitting prime minister for a visit to Balmoral, where she and her family go to unwind and escape public life.
Thatcher had a notoriously tense relationship with the queen, and her stay at Balmoral was no exception, according to The Crown. The episode, aptly named "The Balmoral Test," depicts that, upon her arrival, Thatcher is shocked to find she and her husband have their own separate rooms in the castle. She also arrives early for before-dinner drinks in a ball gown, with her husband in a full suit.
The prime minister is completely out of her element, and seems to be the butt of jokes from Queen Elizabeth and Prince Philip (Tobias Menzies).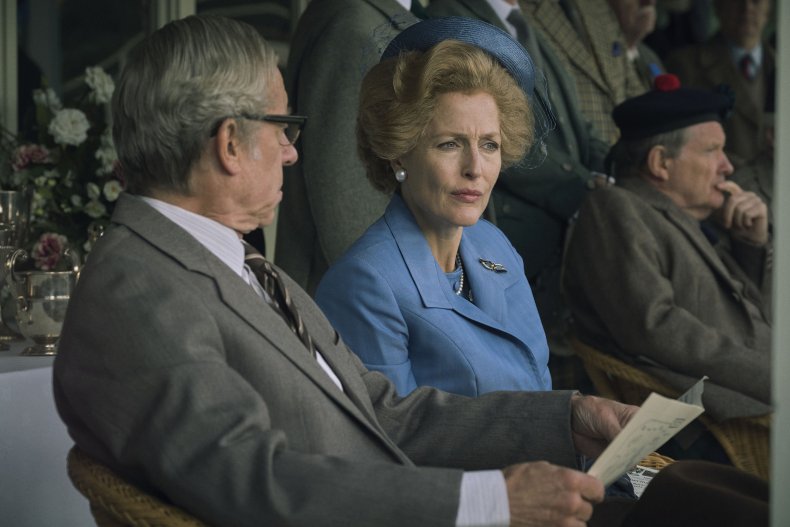 At one point, the queen invites Thatcher to go stalking with her, since the royal family are on the hunt for a stag. The prime minister didn't arrive prepared for such activities, so she has to borrow the queen's boots (while dressed in a full blue skirt ensemble).
When Thatcher suggests that she would rather go back and change, the queen appears displeased, but agrees to let Thatcher return to the castle. The prime minister ultimately goes back to work instead of rejoining the queen or embracing her time off.
Thatcher's middle-class tendencies, inability to hold her own during parlor games and lack of outdoorsy-ness set her apart from the royal family. Toward the end of her stay, she can't rush out of Balmoral fast enough, escaping the upper-class protocol and royal lifestyle.
So, how much of the Balmoral visit on The Crown really happened?
According to the queen's biographer Ben Pimlott, Thatcher referred to Balmoral as "purgatory," via Town & Country. The Queen and Mrs Thatcher: An Inconvenient Relationship by Dean Palmer also notes that Thatcher called Balmoral a "different world."
The Guardian reported that Thatcher did not arrive with shoes for spending time outdoors, and needed to borrow Wellington boots. One Whitehall official claimed that during one of their visits, Thatcher was incredibly awkward during a barbecue in which Prince Philip cooked.
"Monarch and consort cooking sausages for the disconcerted premier and her husband on a windswept hillside, each couple trying desperately to be informal," they told Pimlott. The official also noted that Thatcher arranged to leave at 6 a.m. the following day.
Thatcher's biographer, Charles Moore, however, told The Telegraph that while certain parts of her visit as they're shown on the Netflix series are "surely wrong," the "broad impression has the ring of truth."
All 10 episodes of The Crown season four are available to stream on Netflix.