'Cruel Summer' Ending Explained: What Happened at the End?
Cruel Summer has now aired its finale, with Episode 10 airing on Freeform on Tuesday, June 15 before streaming on Hulu on June 16. In the 1995 timeline, viewers finally got to see the court case between Kate (played by Olivia Holt) and Jeanette (Chiara Aurelia).
While their lawyers battled it out, viewers finally got to learn exactly what happened the night that Jeanette saw Kate in the bunker—but one final twist is sure to get viewers confused about exactly what is and is not true.
Cruel Summer ending explained
In Episode 10, titled "Hostile Witness," Jeanette and Kate are facing off in court, with Jeanette accusing Kate of slander after she said on TV that Jeanette had saw her captive in Martin Harris' (Blake Lee) but did not tell anyone.
Against their lawyers' best wishes, the pair actually met to find out exactly what happened on the night at the heart of the case.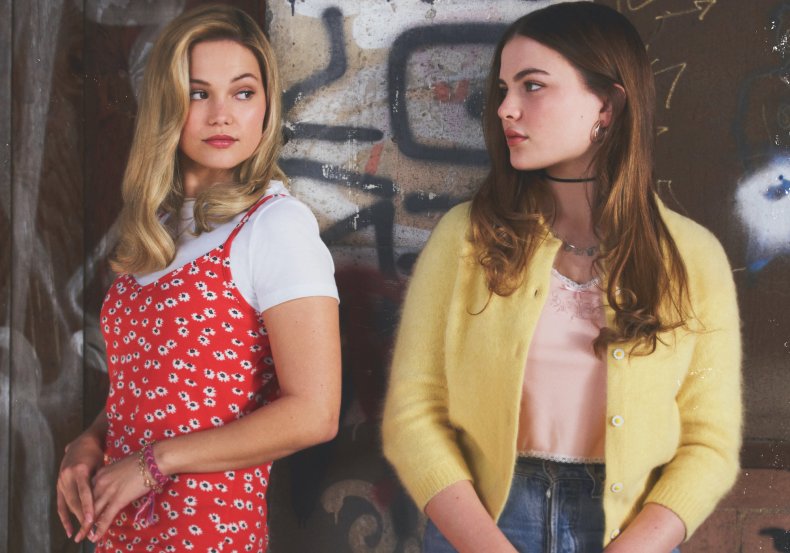 Per Kate, she managed to escape that night, and called her boyfriend for help. While she was free from the bunker, she noticed that someone else was in the house to steal a paperweight, but did not see who it was. What she did see, however, was that this shadowy figure did see her, and that this figure had the same bike she had previously seen Jeanette riding.
Jeanette's version of events was slightly different. She had been the one who stole the paperweight as part of the series of dares she and her friends were doing, but had left the house as soon as she heard someone (who she did not know was Kate) was there with her. She tells Kate that she did not see her face, so had assumed she was Martin returning home.
With Kate's mention of the bike, however, Cruel Summer fans got a better idea of what happened that night. The bike was not actually Jeanette, but belonged to her friend Mallory (Harley Quinn Smith).
Later in the finale, we get Mallory's side of the story, where she explained how she could be friends with Kate despite effectively leading her to die in Martin's basement. She explained that although she did see someone in Martin's house, she assumed it was a girlfriend or family member of his, as she did not get a good look at Kate's face.
Per Mallory's story, she only realised who she saw that night after Kate was found by police and the story appeared on the news. Then, Mallory claimed she did not say anything because she knew the fact that she saw Kate in the house contradicted the official story that Kate had been in the basement the whole time.
We also got to find out exactly how Martin died on the night of Kate's escape. The pair had been dating before the incident, but that relationship became bitter and controlling, until Martin locked his girlfriend up to keep their secret (he was, after all, the school's vice principal) and so he could control her.
One night, he came down to the basement. Initially, it seemed that he had come to murder Kate, but as he kept talking it seemed he wanted to kill himself. After he started attacking a wall in anger at what he had done, however, Kate got hold of the gun, and killed him. To protect her going through further pain, the police covered it up and said he died during a shootout.
At this point in the finale, things seem to have come to a close in a positive way for nearly everyone. Jeanette is exonerated, Kate forgives Mallory for her harmful decision making, and the pair share a kiss that could be the first step of their friendship becoming a relationship.
Two of the final scenes, however, reveal that not everything is as settled as it seems. First, the journalist on whose show Kate first made the slanderous accusation has Jeanette on in order to apologize to her. Mirroring Kate's accusation, Jeannette says she forgives her – but in the exact way where you can tell she definitely does not forgive her, and is out for revenge.
Then, in a final scene, it is revealed that Jeanette told Kate a selective version of the truth, and that Kate's statement was not actually slander—Jeannette did know that Kate was in the basement of Martin's house, but did nothing.
Though Jeanette may not have seen her on the night in question, this final scene reveals that she did hear her voice in that house at another time. Fans will have to wait and see if Season 2 gets ordered, however, to see exactly how Jeanette will exact her revenge, and what else she could be lying about.
Cruel Summer is streaming in full now on Hulu.