'Cruel Summer' Is a Single on Taylor Swift's New Album, Fans Theorize
Taylor Swift delighted fans with a new music video on Monday. "You Need To Calm Down" is cameo-filled, which is dedicated to Pride month. One of the many celebrity appearances included daytime talk show host and comedian Ellen DeGeneres. She's shown getting a tattoo on her forearm that reads, "Cruel Summer." While some netizens took it as a nod to Bananarama's 1984 hit, others assumed it could have been a hint to her next single.
#YNTCDMusicVideo was the top-trending Twitter topic Monday morning, followed by "Cruel Summer." By 9:30 a.m. ET, it had more than 2,000 mentions as fans speculated the symbolism of DeGeneres' tattoo. (It may also be worth noting that the tattoo wasn't real.)
In contrast to "Look What You Made Me Do" and the darker message of the Reputation album, Swift revisits her bubblegum pop legacy with "You Need to Calm Down." She's been teasing her rainbow-themed album for months.
In the biggest celebrity cameo, Swift quashed her beef with fellow pop star Katy Perry. Perry donned a hamburger suit, while Swift dressed as fries and they embraced. On Instagram, Swift posting a picture of the embrace and captioned it, "A happy meal."
Above all, Swift doubled down on her message of anti-hate. At the end of the video, she shares the following PSA: "Let's show our pride by demanding that, on a national level, our laws truly rad all of our citizens equally. Please sign my petition for Senate support of the Equality Act on Change.org."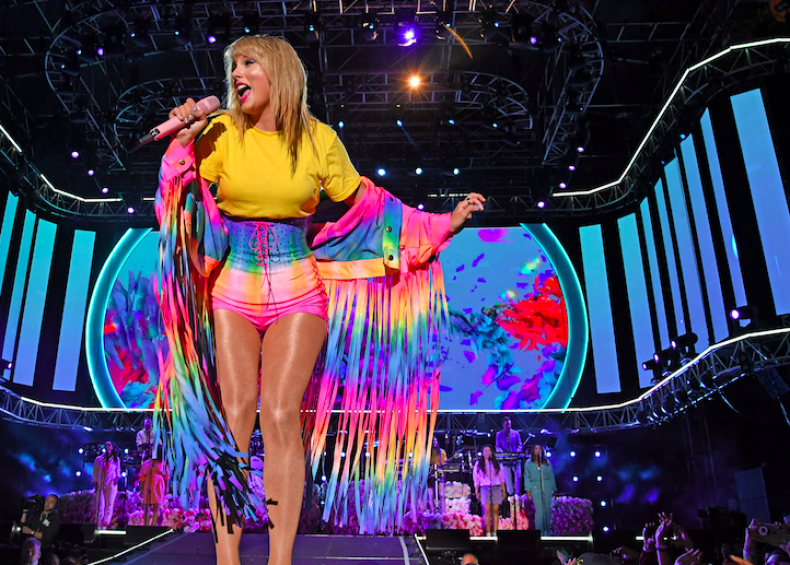 Swift, 29, teased the music video on Thursday. "This album in tone, it's very romantic—and not just thematically, like it's all love songs," she said. "I think the idea of something being romantic, it doesn't have to be a happy song. You can find romance in loneliness or sadness or going through a conflict or dealing with things in your life ... It looks at things with a very romantic gaze."
In an interview with Good Morning America's co-anchor Robin Roberts in April, Swift said she wanted to make music that was uplifting: "I think that with a pop song we have the ability to get a melody stuck in people's heads, and I just want it to be one that makes them feel better about themselves, not worse."
Lover is slated to debut on August 23. It will contain 18 tracks, including "You Need To Calm Down" and "ME," featured Panic at the Disco's Brendon Urie. Lover is her seventh album following 2017's Reputation.