Cruise Line To Impose Heavy Fines, Restrictions On Unvaccinated Passengers
Royal Caribbean Cruises announced their plans, Thursday, to enforce a different set of requirements for vaccinated and unvaccinated guests, on cruises leaving from Florida, including heavy fines and restrictions on those without proof of vaccination against COVID-19.
"Guests eligible but not fully vaccinated or able to show proof of vaccination will be subject to testing and additional health protocols at their own expense," the company said. "Children not eligible for vaccines will be subject to complimentary testing and health protocols."
Royal Caribbean cruises embarking from U.S. ports outside of Florida, however, will require all adults to be vaccinated. The distinction comes after a battle with Florida's Republican Governor Ron De Santis over the issue of coronavirus vaccine mandates on cruises. DeSantis signed an executive order banning companies from asking people for proof of vaccination, and he has threatened cruise lines that require vaccination to pay a fine of $5,000 per passenger.
Royal Caribbean has planned one Floridian cruise, that will begin and end before the date when De Santis' fine will go into effect, which will require vaccination. After July 1, they will allow unvaccinated passengers but will implement their system of fines and restrictions on them.
New on-board rules state, "Our unvaccinated guests must undergo additional COVID-19 testing at their own expense, and follow the health protocols described below, which are based on guidance from the CDC. If you do not wish to undergo or pay for additional testing, or adhere to these health and safety protocols, we are happy to provide you with a refund."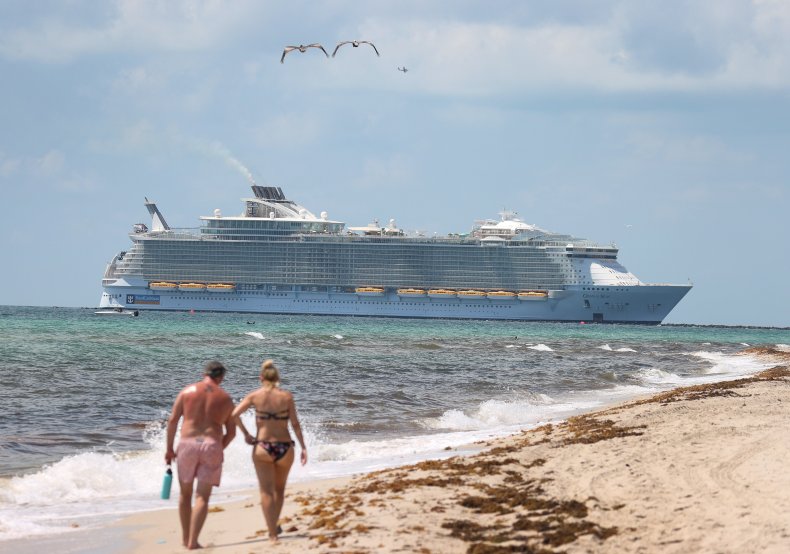 The regulations for mixed-vaccination status cruises include:
Charging unvaccinated guests over 16 years of age $136 per person for on-board COVID-19 testing.
Restricting some events, shows and venues to vaccinated guests only.
Disallowing unvaccinated guests for making dinner reservations in advance, and instead, providing them with specifically allowed dining times.
Requiring facemasks indoors for all passengers, unless it's a vaccinated guests-only event.
Royal Caribbean said Monday that it is "strongly recommended" that guests on cruises setting sail from Florida are fully vaccinated. They said they expect 90 percent of the guests to be fully vaccinated, "based on our guest surveys."
Royal Caribbean Cruises also have ships that leave from ports in Texas, where 12 years of age and older must be fully vaccinated. Similarly, ships leaving from Seattle, Washington will require guests 12 years of age and older to be fully vaccinated as of August 1. Ships departing from most of the company's international locations require COVID-19 vaccinations of all adults.
Newsweek reached out to Royal Caribbean Cruises for comment.