Cruise Liners Add Luxury Suites to Their Decks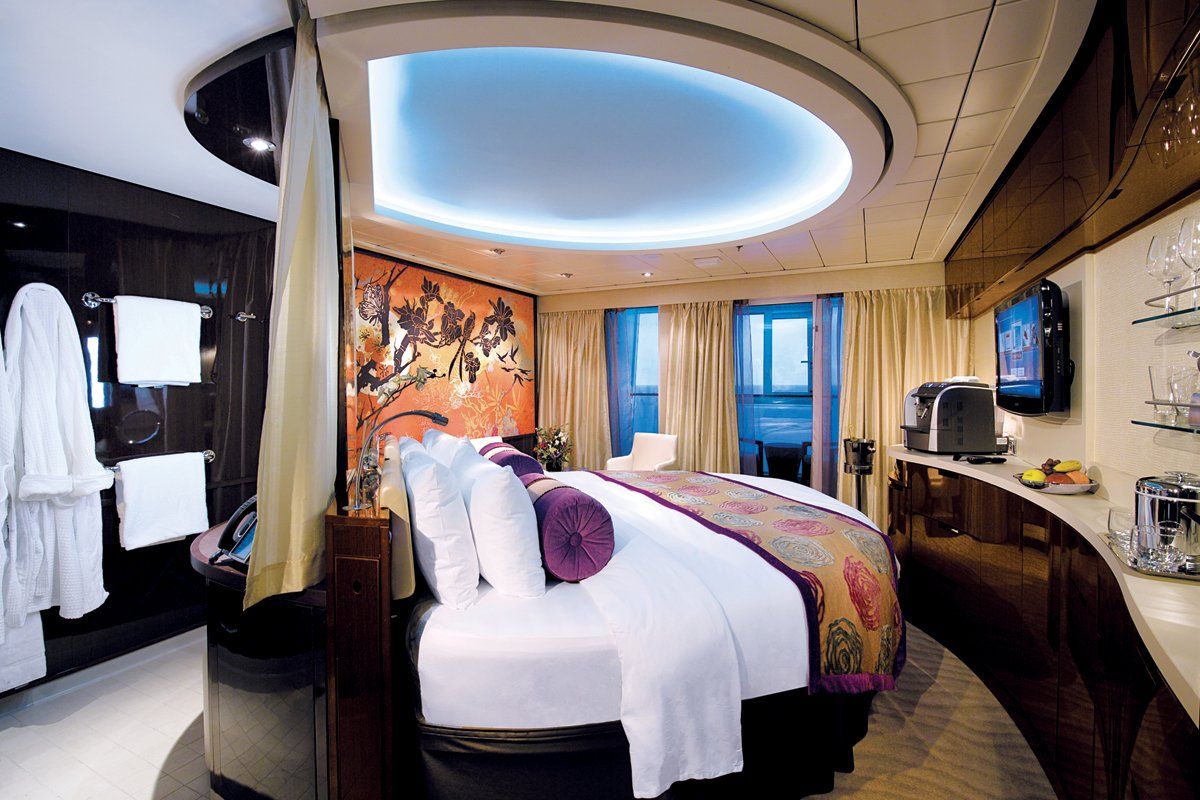 The idea of going on a cruise with some 4,000 strangers makes me slightly seasick. I am not cut out for cramped cabins, crowded Jacuzzis, long buffet lines, and shore excursions aboard a tour bus—never mind the threat of rotovirus, otherwise known as the stomach flu, which has been reported in outbreaks aboard some of the behemoth ships. "You'll never catch me on a big cruise ship," I've always said. "Too many people."
I much prefer the benefits of personalized service with, say, a private butler. Who wouldn't? As a traveler who doesn't like to fold clothes yet loves a neat drawer, how can I resist someone else unpacking my bags on arrival? Luckily, cruise ships are beginning to realize I'm not the only one. Many megaships are now adding roomy junior, duplex, and penthouse suites to their cabin offerings. Typically, they are clustered in exclusive hideaways with butlers and concierge service off-limits to almost every passenger except a privileged keycard-carrying few. Smaller lines with 500-passenger capacity like Silversea and Regent Seven Seas have already mastered the five-star service and offer swank all-suites cruises.
In fact, this more sophisticated and upscale version of cruising is becoming so widespread that the industry calls it the "ship within a ship" experience, with VIP decks accessible only to other suite passengers. Almost all are booked months in advance. The Villa Complex on Norwegian Cruise Line's newest and largest 4,100-passenger ship, Epic, includes 13 penthouses—with one measuring up to 2,200 square meters—where guests order from a special room-service menu and enjoy private courtyard, pool, lounge, and fitness areas. The November arrival of Royal Caribbean's Allure of the Seas, with a passenger capacity of 5,400, has eight different types of suites, including three loft categories that vary in size, with a Concierge Club lounge and reserved prime seating for shows. The AquaClass status on the 2,850-guest Celebrity Eclipse buys guests accommodations in one of the 130 staterooms on Deck 11 that include, among other amenities, access to Blu, the specialty restaurant designed exclusively for AquaClass guests.
The inauguration this month of Cunard's new Queen Elizabeth includes a category called Queens Grill, with grand duplex suites of more than 730 square meters, members-only restaurants and priority disembarkation. "It completely changes the way you experience the ship," says Barbara Muckermann, head of corporate marketing for MSC Cruises, which last year launched aboard its new ship Splendida the MSC Yacht Club, an exclusive area complete with 99 suites. Among the most luxurious: two suites spanning the corners of the ship. Suites guests have a pool deck all to themselves on 18, seating at the chef's table in the main dining room, and a private elevator to whisk them to the spa, concierge desk, and the 24-hour Topsail Lounge with panoramic views above the bow.
To see if club membership has its privileges, I booked a suite aboard the Splendida for a seven-night Mediterranean cruise in September. I admit that once you get past the overwhelming number of people on a megaship, the dining and entertainment options far outweigh those on smaller ships. Norwegian's Epic, for example, has featured the Blue Man Group and Cirque du Soleil.)
But for this trip I wanted simply to relax in peace with the sea. And to my surprise, I succeeded. Though the 4,000-passenger ship was sold out, I never saw more than 50 people at a time spread out on the two members-only lounge floors, beginning on deck 15. It never even got crowded on the sundeck. Each morning I was able to push aside several empty wicker tanning chairs to make room for yoga in front of the pool.
The public spaces, where the rest of the ship's 3,800 passengers lounged, didn't allow for the same leisure because there was never a dull moment—what with all the jazz music, talent shows, dance classes, and 4-D interactive cinema. Down there it felt more like you were part of a small private college. Though the energy was more alive, it bordered on suffocating. When families with children couldn't find seats together in the main lounge area, teenagers and small children sat on the spiral staircase as their parents decided what to do next.
At night, while I was occasionally tempted to ease into the 1,600-seat theater for the old-time charm of a Broadway show, I was mostly ready to retreat back to deck 15, where two butlers are assigned to each suite and the gracious host at the concierge desk apologizes if you have to wait a few minutes to ask a question. Inside the elevators there's an MSC Yacht Club keycard identification system that, when activated by a passenger, allows the elevator to bypass all other floors and run express to 15—even if people are already in the elevator when the club passenger gets on. I never used it but was in the elevator when others did, prompting the regular passengers to press buttons in panic as they tried to figure out what was going on.
The main entertainment for me was eating at the Mediterranean restaurant L'Olivo, which was designed for Yacht Club members; other guests pay à la carte for the 50-bottle wine list and food from 14 different countries. My first couple of days I spent time talking to the sommelier, Leonardo Spreca, about a cold I had caught that wouldn't go away. He fixed me his "mother's secret recipe": a glass of hot red wine, honey, and nutmeg. I felt much better the next day, and happily realized that it's possible to get a small-ship feel inside big-ship space.