Video Shows Giant Cruise Ship Heading for Pod of Feeding Humpback Whales: 'There He Goes Steaming Right Over the Top'
An investigation has been launched into an apparent near miss in Alaska between a cruise ship and a pod of humpback whales.
Footage posted to Facebook shows the Holland America Line cruise ship Eurodam passing by the whales en route to Juneau.
A voice on the videos, which were filmed from a nearby vessel, says they tried to warn the ship twice about the whales' proximity.
"There he goes steaming right over the top of where they just surfaced. Hasn't even bothered to slow down yet," the voice says.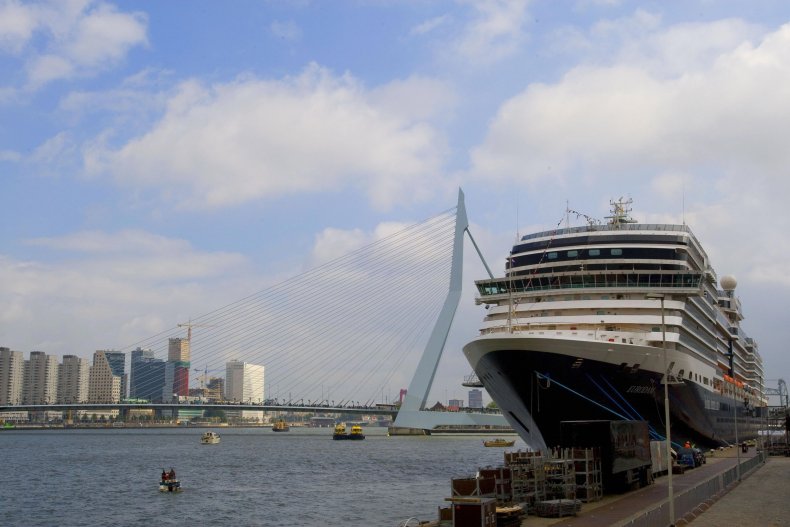 "You can see the whales right next to the ship, he is steaming right past them at full steam ahead. He was warned twice, he's practically running over the top of them".
Another voice in the video remarks on how many passengers had their windows open, suggesting that people were watching the close shave between the mammals and the vessel.
Brett Kidd Palmer, who put the videos up on Facebook, said it showed "absolute disregard for the Marine Mammals' Protection Act! Or the safety and well being of the whales!"
Vessels must keep at least 100 yards from humpback whales in Alaska, roughly the length of a football field. They must also operate at a slow, safe speed and not disrupt the normal behavior or prior activity of a whale, according to the NOAA Fisheries website.
Julie Speegle of NOAA Fisheries said her agency would investigate the incident.
"[We] have received the video and are reviewing it, and... have made contact with the cruise company," Speegle told ktoo.org.
Holland America Line is a subsidiary of Carnival Corporation, which has been contacted by Newsweek for comment.
In a statement to Ktoo.org, Holland America Line said crew did spot the pod bubble feeding ahead of the ship around 6:40 a.m. near Kingsmill Point.
"Following proper protocols, the captain altered course by 10 degrees to create more distance between the ship and whales, allowing them to safely pass," the statement said.
The Eurodam left Seattle on Sunday and arrived in Juneau on Monday. It will call on Glacier Bay Sitka, Ketchikan, Victoria and British Columbia, before returning to Seattle on Saturday.
A number of cruise ships have struck whales in recent years. Two years ago, the Grand Princess struck a humpback whale in Alaska. In 2016, Holland America's Zaandam struck an endangered fin whale and carried the dead whale into port on its bow, Cruise Law News reported.