Cruise Ship Arrest: Child Sexual Assault Suspect Detained Boarding Luxury Pacific Trip
Detectives in Sydney, Australia, arrested a 59-year-old man Monday on suspicion of sexually and indecently assaulting children, authorities reported.
Police apprehended the man just before he boarded a luxury cruise ship headed to the South Pacific, The Australian Associated Press said.
Detectives arrested the man at a Sydney passenger terminal with the help of the Australian Border Force at about 2.15 p.m. local time (10.15 p.m. Sunday ET), according to the New South Wales Police Force. They found USB drives and electronic devices on the man.
The man allegedly indecently and sexually assaulted a 12-year-old girl and an eight-year-old girl in the Lake Macquarie region in January of this year. Officers at a nearby police station charged him with two counts of indecent assault of a person under the age of 16 and one count of aggravated sexual assault of a victim under 16 years old, the NSW Police Force stated.
According to the AAP, the unnamed man—who was known to the family—was headed for a 10-day cruise of the Pacific. The man was due in court Tuesday.
This is the latest in a string of recent cruise ship-related scandals. Authorities in Aruba recently investigated the possibility that a 52-year-old U.S. woman who fell from an upper deck of a ship was murdered. Passengers reportedly saw the woman engaged in a struggle with a "muscular" man who was seen choking her.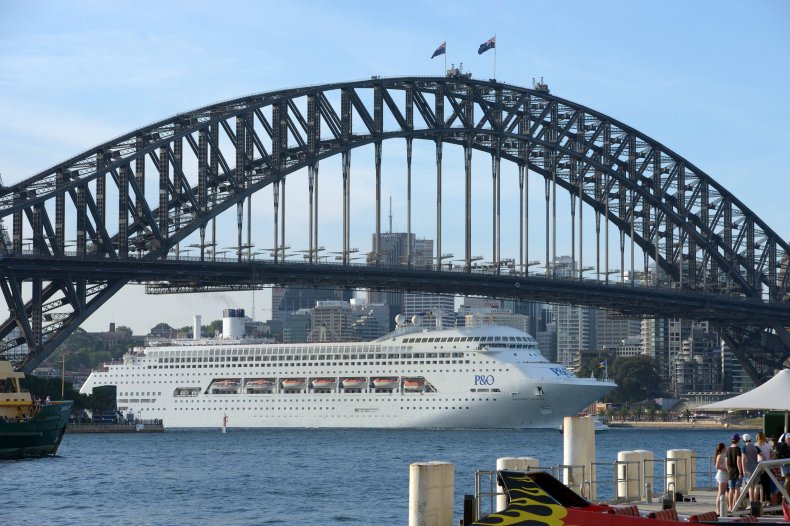 An elderly passenger died after falling into the sea from a tender deck on a Holland America Line cruise ship that was sailing near the Cook Islands. The woman was pulled back onto the ship alive, but fell unconscious soon after.
A Florida man died in October after falling on a cruise ship during his bachelor party. His fiancee wrote in a Facebook post: "With a heavy, heavy broken heart, it kills me to write this as it all seems surreal but I should tell you all my sweet sweet Chris was in a tragic accident and has passed away. I'm at a loss for words, that man was my true love and my best friend. Please keep us all in your prayers."
Thousands of passengers aboard a cruise ship bound for Barbados, St Kitts and St Lucia, were left stranded recently when it suffered mechanical problems while docked in Puerto Rico. The final seven days left of the 10-day voyage were canceled.