Video: Cruise Ship Passengers Clap Late Arrivals Who Held up Their Departure⁠—'Hurry Up!'
Footage, captured by a cruise ship passenger in Bermuda, has shown the moment late returning vacationers were clapped and cheered by those waiting for them as they returned to the vessel.
The video, posted by passenger Laszlo Bagi, is remarkable because of the incredible volume of the passengers as they cheer on the late arrivals. They can be heard off-camera whooping whistling and clapping, with one individual shouting "hurry up!"
The clip, which was shot as the cruise ship, the Norwegian Escape, departed the Royal Navy Dockyard, begins with images of the iconic port on Bermuda's Ireland Island. Already the clapping and cheering can be heard off-camera.
The camera then zooms in on two passengers running down the causeway to the ship. Just ahead of them, though not in the center of the shot, is a third passenger who is also late.
Perhaps embarrassed, or perhaps concerned about missing their ship, the pair start a light jog to make it back to the Norwegian Escape on time. The two later passengers appear to be a man and a woman⁠—he is wearing dark shorts and a yellow pastel shirt, while she sports a cyan top and a bright white hat.
Against the backdrop of applause, which would not be out of place at the end of a marathon, they almost catch the other passenger. The applause ends, the ship's horn blasts and the three of them are ushered on board by ⁠harbor staff.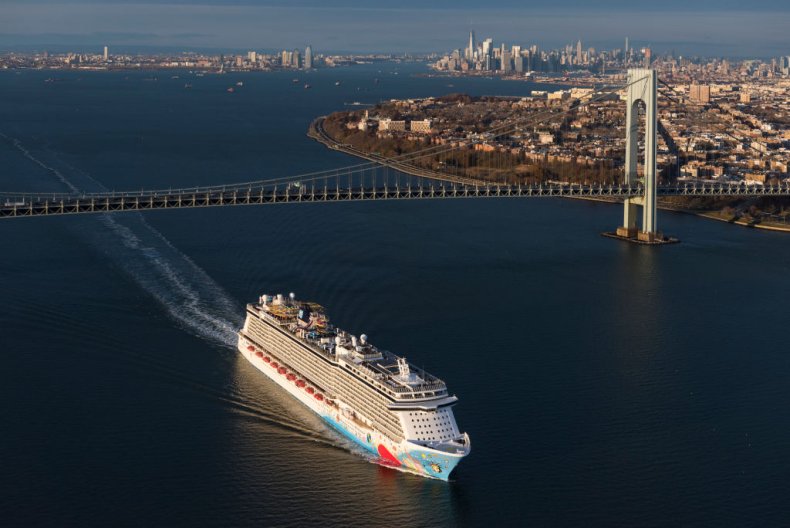 Amusingly, off-camera, one passenger can be heard filling in a companion about the action she seems to have missed. "They ran all the way from over there," the first passenger can be heard to say. "Aaawww," the second passenger replies.
The video was filmed on June 14 as the Norwegian Escape, a cruise ship owned by Norwegian Cruise Line, began its return journey to New York City. According to logs for that day, the vessel had been due to lift anchor at 15:00 local time. It is unclear how late the ship was because of the late returns.
The Norwegian Escape operates a seven-day itinerary. It takes the ship two days to sail to Bermuda from New York, with passengers then getting to spend three days on the British island territory in the North Atlantic.
Ireland Island, where the cruise ship docks, is the most northwestern of Bermuda's principle three islands, which include Boaz Island and Somerset Island.