Cruise Ship Broke Down Then Crashed Before Cancelling Itinerary so This Couple Is Suing: 'It Was Just One Thing After Another'
A couple is taking legal action against a cruise ship company after the engine on one of its vessels failed and it undertook a different itinerary than planned.
Tonya Pool says she is unhappy with being offered credit instead of a refund after the Norwegian Epic ship crashed into the dock in Puerto Rico in February as it was docking for repairs.
Although no one was injured in the incident which was posted on social media, the cruise never got back on track with its planned schedule.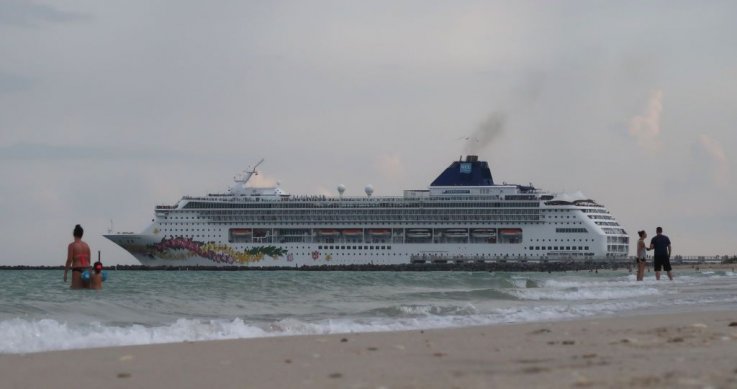 "We got in the middle of the ocean and started moving very, very slow. Then we were notified that the engine had failed," Pool told WPRI. "We were told we weren't going to go to the next island because there were still issues with the engine. Then they made another announcement that we weren't going to go to the third island. It was just one thing after another."
The Epic is one of Norwegian Cruise Line's largest vessels and has a capacity of 4,100 passengers. It explained the crash in February as being due to "prevailing winds [that] caused the ship to veer towards the pier, damaging two mooring points at Pier 3 East," The Orlando Sentinel reported.
It was on a seven-day cruise in the Eastern Caribbean, and was not originally scheduled to stop in San Juan. The vessel skipped planned calls at Tortola in the British Virgin Islands and St. Thomas in the U.S. Virgin Islands.
Norwegian Cruise Line originally offered a 50 percent credit toward another cruise, and then upped its offer to 100 percent credit. But this did not satisfy Pool.
"Who's to say that we wanted to cruise with them again? How come we can't have our money back and make that choice if we want to cruise with them or not?"
Newsweek has asked Norwegian for comment. In a statement run by WPRI, it justified the offer of the credit because refunds were only given if the cruise was cancelled, and technically it had completed an itinerary, albeit an altered one. It added that it had paid for the cost of a hotel stay and airline change fees.
"We recognize the disappointment and inconvenience our guests experienced and we offer our sincerest apologies. Our team worked diligently to assist all guests while onboard as well as after disembarkation."