Viral Video Shows Cruise Ship Cabin Fill With Smelly 'Sewage' Water, Forcing Family to Use Public Spa Restroom
A British family says a recent cruise ship holiday was ruined when their cabin was flooded with foul-smelling water and the travel firm did not offer a new room.
Passenger Kass Stone, 42, of London, is demanding compensation from tourism agency TUI after a $4,400 trip in May on board the Marella Celebration left his children in distress. Stone alleges they were forced to shower in a public spa due to the ankle-deep water.
"Our cabin flooded with waste water, no alternative accommodation [was] offered in spite of persistent stench, wet carpet and overall unhygienic conditions, especially for two young children," the man wrote Tuesday, in a message directed at the TUI Facebook page.
"The cruise was ruined and TUI/Marella have not responded to our complaint over a month later. Is this how you treat customers?" Stone added, attracting a brief PR response. A video clip uploaded to the passenger's account showed the cabin bathroom steeped in water.
Stone, who was traveling with his wife and two children on the Adriatic Affair itinerary, told British tabloid newspaper The Sun the situation left them reluctant to return to their room.
He said additional issues surfaced after dirty water came up via the shower. In response, cruise ship staff fixed the drain but also placed a loud heater into the room in an attempt to dry it out. Stone claimed this did not solve the problem, but instead made the smell worse.
The Sun newspaper described the water as "raw sewage." It remains unclear exactly where the water came from and Stone did not refer to it as such in his Facebook post.
"I don't know exactly what the definition for that [sewage] is, but it was dirty and untreated waste water that stunk as it spewed from the shower drain," he told Newsweek today.
The father said his children—aged 12 and six—were "so embarrassed" having to wash in the public spa and said the travel agency needs to provide more compensation than the $60 onboard credit that was offered. "No reason was given for why we couldn't change rooms, nothing was clearly explained. We were excited about this trip and they robbed it from us," he said.
A TUI rep told Newsweek: "We would like to apologize for the Stone party's experience on their cruise. When the customers raised their concerns on board the ship, our team worked hard to resolve the issue. We understand this must have been a very disappointing experience and we are in contact with the customer to apologize and offer a gesture of goodwill."
The family trip departed from Dubrovnik in Croatia on May 23. According to the TUI website, the trip lasts a total of eight days, passing through popular cities in Slovenia and Italy. Stone is asking for a refund covering the last four days of the cruise holiday, The Mirror reported.
"Since posting on Facebook and Twitter, TUI reps have contacted me," Stone told Newsweek. "I was told they were looking into it and would get back to me, but gave no timeline for that.
"So, essentially, it's the same situation as we were in over a month ago when we made our initial complaint, which we were assured would be responded to in 28 days. We tried to contact them twice before going public. It's a shame that it took making a noise online to get their attention."
TUI describes the Marella Celebration as a "really friendly" option for customers, offering "jazzed-up cabins and contemporary furnishings." The 10-deck ship has more than 630 cabins and five restaurants. "It really knows how to spoil you," the firm says.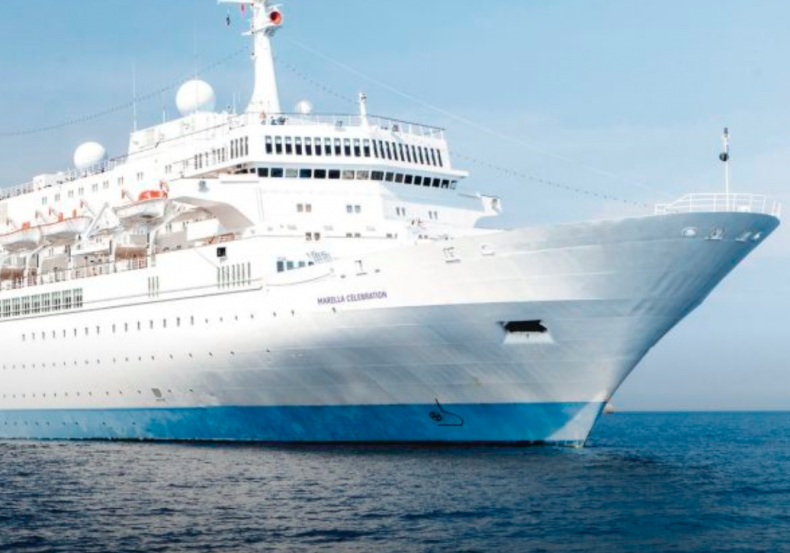 Viral Video Shows Cruise Ship Cabin Fill With Smelly 'Sewage' Water, Forcing Family to Use Public Spa Restroom | News