Cruise Ship Crew Member Plunges Overboard Near Cuba Prompting Multi-vessel Search and Rescue Operation
A multi-vessel search and rescue operation has been launched after a crew member went overboard from a Carnival Cruise Line ship near Cuba, according to officials.
The individual dropped into the water from the Carnival Victory on Thursday according to a statement from the U.S. Coast Guard. The vessel was 30 miles northwest of Cuba, sailing from the island of Cozumel, Mexico, to Miami, when the 37-year-old crew member plunged into the water, the U.S. Coast Guard told the Miami Herald.
The crew member was witnessed going overboard, a spokesperson for Carnival Cruise Line told Newsweek. The company hasn't revealed the name of the crew member.
The liner was on its final leg of a four-day cruise which left from PortMiami on Monday.
In a statement seen by Newsweek, the firm said: "The ship's command immediately returned to the location where the crew member was last seen and initiated search and rescue activities which are ongoing."
Staff alerted the U.S. Coast Guard and other relevant officials to help with the search, and other vessels in the area were also asked to be on the lookout.
The Coast Guard 7th District sent an Air Station Miami HC-144 Ocean Sentry aircraft to aid the operation, as well as the cutter Charles Sexton which is based in Key West, Florida.
Jose Medina, who said on Twitter he was a passenger onboard the Carnival Victory at the time, wrote: "Man overboard on Carnival Victory between Cuba and Florida Keys! Been searching for couple hours now but no Coast Guard yet."
He shared photos which appeared to show staff looking for the missing crew member, as well as a life ring floating in the water.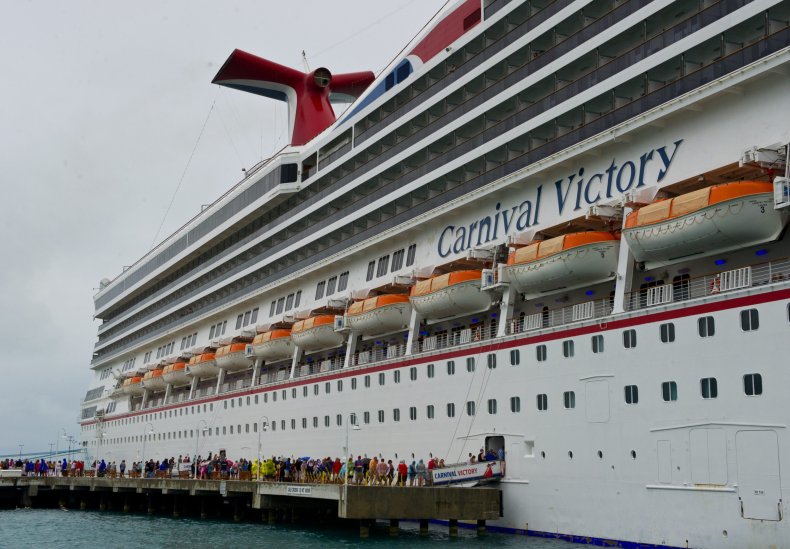 According to Carnival Cruise Line, the 101,509-tonne, 893 feet-long Carnival Victory can hold up to 2,764 passengers and 1,100 onboard crew. Sailing from Miami Florida to the Bahamas in cruises between two to five days in length, the ship is fitted with features including a spa, water slide, as well as bars, restaurants, and a comedy club.
In December 2018, cruise ship passenger Thomas McElhany went overboard off the Carnival Victory 35 miles south of Islamorada, the U.S. Coast Guard said at the time. McElhany's disappearance prompted a 32-hour-long search and rescue operation which spanned 2,086 miles, USA Today reported.
However, the U.S. Coast Guard eventually called off the search. A spokesperson for Carnival told USA Today at the time: "Sadly, all the facts surrounding this unfortunate incident indicate it was an intentional act."
This article has been updated with comment from a Carnival Cruise Line spokesperson.