Cyclone Leaves Cruise Ship Stranded With Hundreds Estimated on Board, Injuries and Widespread Sickness Reported
A P&O cruise scheduled to end in Brisbane, Saturday is stranded some 900 miles away as a tropical storm rages near Australia. Passengers booked on a seven-day round trip fear they won't reach the city till Tuesday, Yahoo7 News reported.
Guests say they experienced three days of rough seas as Tropical Cyclone Oma lashed the Pacific Dawn earlier this week. Photographs taken on board show water sloshing around an upper deck pool as the storm rocked the 1,500 passenger-capacity liner.
Passenger Nakayla Murnane told the outlet Friday that many passengers became sick and some were injured earlier this week.
P&O Cruises held the ship in calmer waters at New Caledonia, a French territory east of Australia, to protect its passengers. It is not clear when the ship will leave for Brisbane, or what route the boat will take to return home. A spokesperson for the cruise company maintained there were no injuries linked to Oma and confirmed P&O is targeting a Tuesday disembark in Brisbane. The ship left Noumea Saturday.
On Friday the company said the vessel was at the territory's capital, Noumea, and would hopefully depart for Brisbane soon. "Pacific Dawn will follow a course that best avoids the weather system to maximise the comfort of guests," the company added in a Facebook post. Cyclone Oma was downgraded to a Category 1 weather system Thursday night.
"It's been a rough week with two kids and I'm currently 22 weeks pregnant," Murnane said. "The first three days there were a lot of sick people and a few injuries. Last night were the calmest waters we've had all cruise, but we are stuck beside the [New Caledonia] coast to stay out of rough seas."
She told Daily Mail Australia the boat had seen "five metre swells just outside of New Caledonia." Rough seas forced the boat to change direction several times, she said, adding that some passengers were leaving the boat to fly home instead.
The cruise company has provided free internet and free drinks for guests, Murnane said. On its Facebook page P&O said passenger safety was "paramount."
The Pacific Dawn is one of a number of cruise ships diverted because of the storm. P&O's Pacific Explorer, Princess Cruises' Sea Princess and Carnival Cruise Line's Carnival Spirit have all had their itineraries altered to avoid the storm, Australia's 9News reported Friday.
Last year, a mother-of-three fell to her death from the Pacific Dawn. Natasha Schofield, 47, fell from an upper deck in April during a family holiday aboard the ship.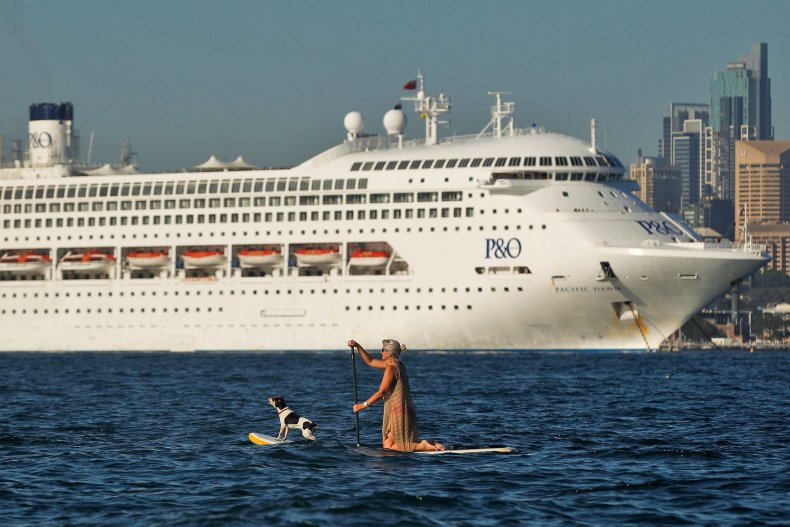 This article has been updated with further information from Carnival Australia.