Cruise Ship Death: Family of Toddler Who Died After Falling Out of 11-storey Window Blame Royal Caribbean, Deny Granddad Dropped Her
The attorney acting for the family of a toddler who died after she fell from a cruise ship window while with her grandfather said there will be "significant blame" on the cruise line for "what appears to be negligence."
Chloe Wiegand, 18 months, plunged from an eleventh-storey window of the Royal Caribbean's Freedom of the Seas cruise ship while it was docked at Puerto Rico's San Juan on Sunday evening. She was sat with her family, including her parents and grandparents, in a dining hall.
Early reports suggested she was dropped by her grandfather, Salvatore Anello, following a statement by police in Puerto Rico that the girl had slipped from his grasp as he held her by a window. The family denies he dropped her. The death is under investigation by local police.
"Prosecutors interviewed the family today and they will now determine if there will be charges," Kiara Hernandez, a spokesperson with the Department of Public Safety, told BuzzFeed News, on the prospect of negligence charges against Anello.
But Michael Winkleman, a maritime attorney representing the family, turned the blame for the little girl's death on the cruise ship company Royal Caribbean. He told NBC that Anello lifted Wiegand up and sat her on a railing by a window, believing there to be glass.
She then went to knock on the window, according to Winkleman, as she often did while watching her brother play ice hockey back home in Indiana, and "the next thing you know, she's gone," the attorney said.
"Why in the world would you leave a window open in an entire glass wall of windows in a kids' area?" Winkleman said. "Why would you have that kind of hidden danger without any warning, without any sign, without any notice?"
He concluded: "I think there is going to be blame and significant blame on the cruise line and I'm going to do everything I can to hold them accountable for what appears to be negligence."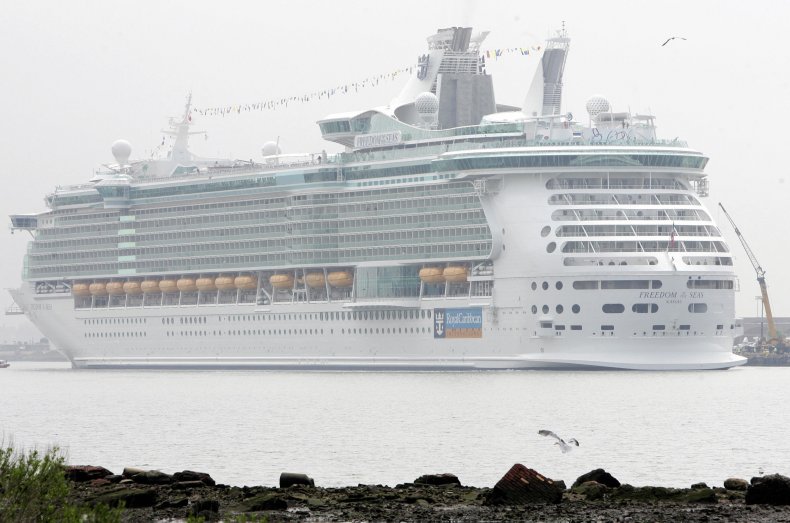 In a press conference on Tuesday, Winkleman described the incident as "preventable" by the cruise ship taking action to warn that a window was open. He also urged the cruise company to turn over surveillance footage so authorities could piece together what happened.
Winkelman pushed back on suggestions of negligence on the part of Anello, with whom he has had one "incredibly tearful conversation" during which the grandfather repeatedly said while crying, "I thought it was like she was at a hockey game."
"If this was the Michael Jackson story, where Michael Jackson's hanging the baby out there, clearly the parent was negligent, no question about it. But here, if you have a wall of glass, I don't think it's unreasonable to put a child there thinking there was glass there," Winkleman said.
Winkleman did not respond immediately to Newsweek's request for comment.
A spokeswoman for Royal Caribbean told Newsweek: "We are assisting local authorities in San Juan, PR, as they make inquiries after an incident aboard Freedom of the Seas on Sunday. We do not have further information to share at this point."
Owen Torres, Royal Caribbean corporate communications manager, told the Royal Caribbean Blog previously: "We are deeply saddened by yesterday's tragic incident, and our hearts go out to the family. We've made our Care Team available to assist the family with any resources they need. Out of respect for their privacy, we do not plan to comment further on the incident."
According to the El Vocero newspaper, Anello and his family members were so distraught by the incident that they had to be sedated at the scene by medics.
One fellow passenger told the Telemundo PR TV station they "heard the screams of the families" after the girl fell. "A cry of pain of that nature does not compare with any other cry," the passenger said, according to The Sun.
Alan Wiegand, the toddler's father, is an officer with the police department in South Bend, Indiana.
"The South Bend Police Department offers its sincerest condolences to Officer Alan Wiegand and his family during this difficult time following the tragic loss of their child while in Puerto Rico," it said in a statement. "The department asks the community to pray for the entire Wiegand family as they grieve and to respect their privacy."
Pete Buttigieg, Mayor of South Bend and a 2020 presidential candidate in the Democratic primary, tweeted: "We are saddened by the terrible accident that took the life of Officer Wiegand's young daughter, and the city is holding this family in our hearts."