American Woman, 92, Rescued From Cruise Ship by Mexican Navy After Suffering From Arterial Hypertension Complications
Mexican Navy personnel medically evacuated a U.S. woman, 92, from a cruise ship bound for Honduras after she experienced complications related to high blood pressure.
Navy and ship crew members helped transfer the woman and her family from the waters off Isla Mujeres to the Naval Station of Puerto Juárez, Riviera Maya News reported
Back on dry land, she was rushed to a hospital in Cancun by ambulance.
The woman experienced brain-related complications of arterial hypertension, or high blood pressure in the arteries. The condition significantly increases the risk of vascular brain disease.
The rescue took place on Norwegian Cruise Line's Norwegian Breakaway liner. The 3,963-passenger capacity ship was traveling on a seven-night round-trip cruise from Miami, Florida to Honduras, Belize and Mexico.
Breakaway is a 1070 foot-long ship launched in 2013 and refurbished in 2018, according to the Norwegian Cruise Line website. The company did not immediately respond to Newsweek's request for comment.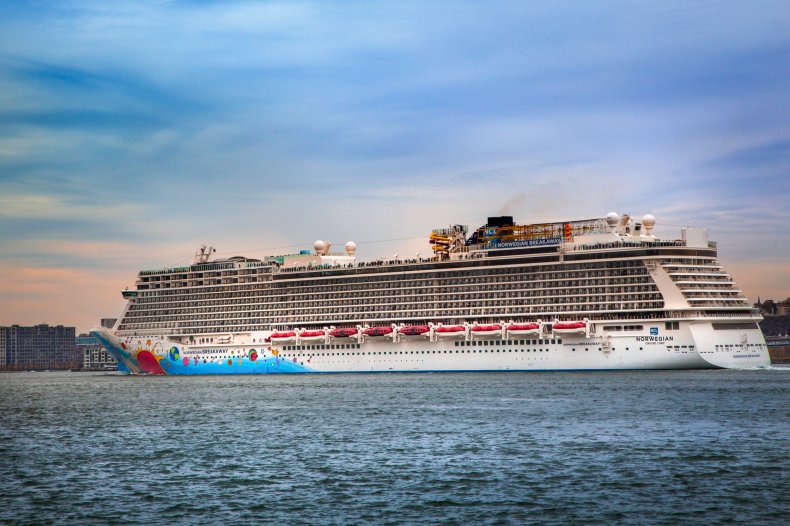 The U.S. Coast Guard recently medically evacuated a seven-year-old girl from a cruise ship sailing roughly 200 miles off the coast of Virginia. The girl had developed abdominal pains aboard Celebrity Cruises' Celebrity Summit.
"Good communication between the cruise ship, aircrew and Coast Guard command centers in New York and Portsmouth allowed us to get this child the help she needed," Petty Officer 1st Class Kelly Badal, a watchstander in the 5th District Command Center, said in a statement.
In January, the uniformed service medically evacuated an elderly woman after she fell and hit her head on Carnival Cruise Lines' Carnival Ecstasy. The ship was sailing about 55 miles from Savannah, Georgia, where the woman was transferred.
The cruise line released a statement which read: "Earlier this week, while the Carnival Ecstasy was sailing on a four-day cruise to the Bahamas, a guest requiring immediate medical attention was debarked from the vessel and taken to a shoreside medical facility for further evaluation and treatment."
In other maritime news, a couple recently made headlines when they were kicked off a cruise ship after losing a passport. Chris Crook said he and his wife were treated like "pieces of meat" during the ordeal.
But the cruise company, Regent Seven Seas Cruises, defended the ship's crew and said staff were following local regulations. A spokesperson for the company said: "We sympathize greatly with Mr and Mrs Crook for the inconvenience caused and curtailment of their holiday, however the decision to disembark Mr Crook was made by Italian immigration officers in accordance with applicable maritime law."