Cruise Ship Line Halts All Trips After 36 Crew, 5 Guests Test Positive for COVID-19
A Norwegian cruise ship line has canceled all trips after 36 crew members and several guests tested positive for coronavirus.
Hurtigruten's ship MS Roald Amundsen was one of the first cruise liners in the world to resume operations after they were halted amid the COVID-19 pandemic earlier this year.
But four crew members were admitted to hospital after testing positive for the virus when the ship docked in the port of Tromsø, north of Norway, on Friday.
Now, Hurtigruten has confirmed that an additional 32 crew members as well as five guests have also tested positive for COVID-19. They said 32 of the confirmed cases are from people from Philippines while the others are Norwegian, French and German.
In a statement on Monday, Hurtigruten's CEO Daniel Skjeldam said the company would be halting all trips indefinitely.
The operations of three ships—MS Roald Amundsen, MS Fridtjof Nansen and MS Spitsbergen—are suspended until further notice, the company said.
"In light of the recent increase in new cases of COVID-19 globally, the only responsible choice is to suspend all expedition sailings until we are absolutely confident, we can carry out our operations in line with all requirements from the Authorities and with the even stricter requirements we have set for ourselves," Skjeldam said.
"The safety and well-being of our guests and crew is Hurtigruten's number one priority. We are now focusing all available efforts in taking care of our guests and colleagues," he added.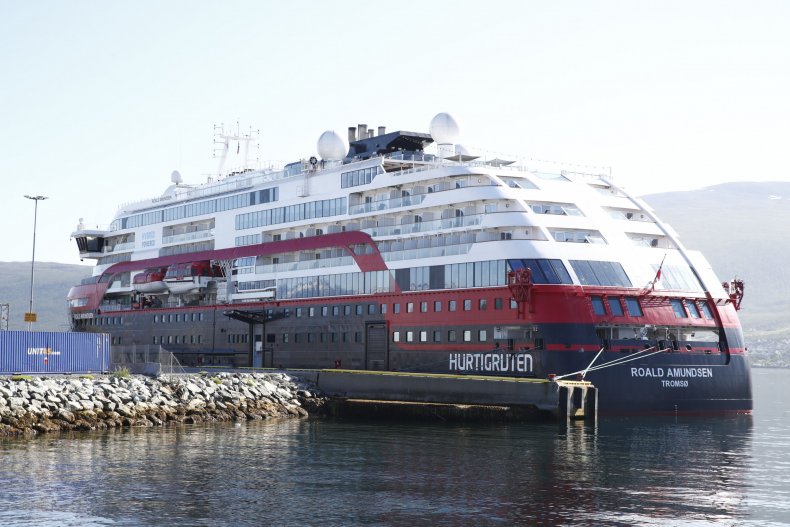 "We are working closely with the Norwegian National and Local Health Authorities for follow-up, information, further testing, and infection tracking."
According to the The Associated Press, all 41 infected crew members and guests have been admitted to the University Hospital of North Norway in Tromsø.
In a statement to the AP, Skjeldam said a preliminary evaluation had determined "a failure in several of our internal procedures."
He added that the company was "now in the process of a full review of all procedures, and all aspects of our own handling."
Skjeldam also apologized for the outbreak, adding: "We have made mistakes. On behalf of all of us in Hurtigruten, I am sorry for what has happened. We take full responsibility."
All 158 crew members on the ship have been tested and 122 were negative, Hurtigruten said.
After the four crew members tested positive, Hurtigruten said it contacted passengers who had traveled on the MS Roald Amundsen on trips that left Bergen for the Arctic archipelago of Svalbard on July 17 and July 24.
The company said 209 guests were on the first voyage and 178 guests on the second. All of those guests will self-quarantine in line with guidelines from health authorities, it added.
MS Roald Amundsen had been scheduled to sail to Svalbard on Friday afternoon, but that voyage was canceled. The next cruise with the ship is not planned until September, Hurtigruten said.
Meanwhile, health officials fear the ship could have infected people in numerous communities along Norway's western coast as some passengers disembarked along the journey.
Norwegian news agency NTB reported that the municipality of Tromsø is urging anyone who traveled on the ship or had any contact with the vessel to get in touch with health authorities.
Hurtigruten has been contacted for additional comment.