Video: Girl, 7, Aboard Cruise Ship With Severe Stomach Pains Medevaced 200 Miles From Coast
The U.S. Coast Guard stepped in after a seven-year-old girl developed abdominal pains on a remote cruise ship on Monday.
Celebrity Cruises' Celebrity Summit was sailing more than 200 miles off the coast of Virginia when crew members reached out for help from the service.

Coast Guard personnel sent an MH-60 Jayhawk helicopter from Air Station Elizabeth City, North Carolina to transport the girl, a parent and a nurse from the ship to a hospital on dry land.
Once the helicopter arrived at the vessel, guardsmen strapped the passengers into a basket and lifted them one-by-one into the helicopter, which was hovering above the ship. They flew them to the Children's Hospital of The King's Daughters in Norfolk, Virginia.

"Good communication between the cruise ship, aircrew and Coast Guard command centers in New York and Portsmouth allowed us to get this child the help she needed," Petty Officer 1st Class Kelly Badal, a watchstander in the 5th District Command Center, said in a statement.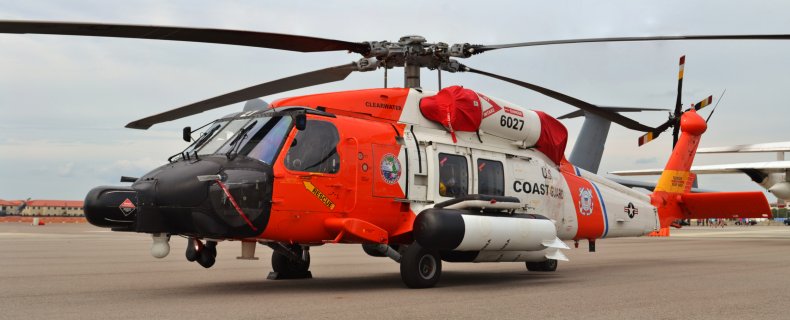 The Celebrity Summit was one day into a seven-day cruise to Bermuda. The ship left a port in New Jersey for Kings Wharf, Bermuda on Sunday, according to CruiseMapper.com.
It previously took passengers on a 10-day Independence Day-themed cruise from New Jersey to Rhode Island to Nova Scotia in Canada and back down to New Jersey via Maine and Massachusetts.
At 965 feet long, the Celebrity Summit can carry more than 2,150 people. It is operated by Celebrity Cruises, a brand owned by Royal Caribbean Cruises Ltd. Celebrity Cruises did not immediately respond to Newsweek's request for comment.
Back in January, the Coast Guard medically evacuated an 80-year old woman from a Carnival Cruise Lines ship. The woman had hit her head in a fall and needed medical attention.
Coast Guard personnel took an MH-65 Dolphin to transfer the woman from the ship to a hospital in Savannah, Georgia, some 55 miles away.
The cruise line issued a statement which read: "Earlier this week, while the Carnival Ecstasy was sailing on a four-day cruise to the Bahamas, a guest requiring immediate medical attention was debarked from the vessel and taken to a shoreside medical facility for further evaluation and treatment."
Also in January, Coast Guard personnel ended the search for a 26-year-old Royal Caribbean staff member working on the Majesty of the Seas. The employee fell from the ship when it was about 40 miles east of Hillsboro Inlet, Florida.
"We've been in contact with the crew member's family throughout our search efforts and know this is a very difficult and painful time for them," local sector chief Commander Jason Aleksak said at the time. "Suspending a search is one of the most difficult decisions we have to make as first responders, and it is never made lightly."