Cruise Ship Passengers Missing after White Island Volcano Erupts in New Zealand
A volcano eruption on an island off the coast of New Zealand has killed at least five people, injured 18 and left up to two dozen unaccounted for, the country's police have said, warning that the death toll was expected to rise.
A thick plume of smoke and ash spewed out of the volcano on White Island about 30 miles off the eastern coast of the North Island's Bay of Plenty region on Monday around 2.10 p.m. local time [9.10 p.m. Sunday ET], Stuff.co.nz reported.
New Zealand Police deputy commissioner John Tims said in a press conference that five people had died and that 23 people had been taken to shore.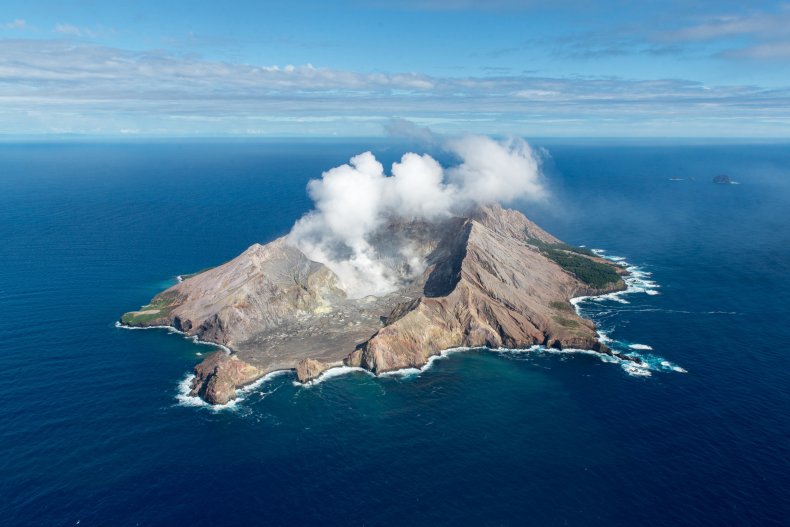 "A number of other people have been taken to hospital. A number of people have burns as a result of the eruption. It is still too early for police to confirm how many people are involved," he said, "including how many are still on the island."
The majority of the estimated 50 tourists visiting White Island were reportedly passengers on the Royal Caribbean 4,905-passenger cruise ship, Ovation of the Seas, according to The Guardian, although exact numbers have not been confirmed.
In a statement to Newsweek, Royal Caribbean spokesperson Melissa Charbonneau said: "We are devastated by today's events and our hearts go out to all those affected by this tragedy.
"We are working together with local authorities, and we are providing all the help and care we can to our guests and their families, including offering medical resources and counseling.
"We are also sending staff members from both our ship and our Sydney and Auckland offices to assist family members however possible. Ovation of the Seas will remain in port as long as needed to assist with the situation," she added.
Visitor Michael Schade told the BBC he had been at the crater only half an hour before the eruption.
"We had just got on the boat...then someone pointed it out and we saw it. I was basically just shocked. The boat turned back and we grabbed some people that were waiting on the pier."
Volcano experts have warned against any further rescue effort for the time being.
"The physical environment is unsafe for us to return to the island," Tims said, according to Stuff.co.nz. "It is a no fly zone at the island at the moment."
"The island is currently covered in ash and volcanic material. We are taking expert advice with regards to the safety of any rescue attempt," he added.
Ken Gledhill from geology institute GNS Science said that it was likely the volcano would quieten down but may erupt again in the next 24 hours, according to Radio New Zealand
Authorities have not confirmed the nationalities of those caught up in the eruption, but The Guardian reported that around 20 Australian citizens were on the island as part of a tour group.
Australian prime minister Scott Morrison tweeted: "Australians have been caught up in this terrible event and we are working to determine their wellbeing."
Known in the Maori language as Whakaari, White Island is privately owned and is one of the South Pacific country's most active volcanoes.
Its last eruption had been in 2001 but there had been recent warnings about increased volcanic activity, with geological information website GeoNet raising the alert on November 18.
Chief executive office of the New Zealand Cruise Association, Kevin O'Sullivan said that the island was a popular destination, attracting tour groups every day.
"Our thoughts are with the people and the families and we hope there will be a happy outcome and that the people will be rescued safe and sound," he told Newsweek.
New Zealand prime minister Jacinda Ardern said: "I know there will be a huge amount of concern and anxiety for those who have loved ones at the island at that time - and I can assure them police are doing everything they can."