A cruise passenger has tested positive for COVID-19 aboard a SeaDream Yacht Club vessel, which embarked on the first Caribbean sailing since cruises were paused in the pandemic.
The passenger on the SeaDream I ship, which left Barbados on Saturday, was confirmed to be infected based on the "preliminary" results of a rapid virus test, the ship's captain, Torbjorn Lund, said Wednesday. Gene Sloan, a writer for The Points Guy travel website who was aboard, reported the captain's ship-wide announcement.
The ship is understood to have 53 passengers. They include 37 Americans who all boarded on Saturday, according to a reporter for Cruise Critic, Sue Bryant, who was also on the ship.
Other passengers included 10 people from the U.K. as well as a number from Austria, Denmark, Germany and Sweden.
The ship, which has 66 crew, was reported to be operating on the assumption that one or more other COVID-19 patients were on board, according to Lund.
"Please allow a bit of extra time for us to adjust for this new situation. We are confident in our routines and medical plans, but they are strict, and we apologize for this inconvenience," Lund said Wednesday.
Tests for all crew members came back negative as of Wednesday, according to Lund.
Sloan tweeted Thursday: "We have been told we will be quarantined in cabins for at least today while they test crew and passengers. But it's unclear for now whether we are facing a much longer quarantine for all or some."
The vessel was docked at Union Island at the time of the announcement. It also visited St. Vincent, Canouan and the Tobago Cays, with offshore trips to empty beaches and no contact with locals during these trips. The ship returned to Barbados on Wednesday evening after the positive test.
Every passenger was required to test negative several days before boarding, as well as on the day of boarding. A third test for all passengers was scheduled to take place Wednesday.
Passengers were required to take a virus test at home before traveling to Barbados and test negative within 72 hours of travel. The company's cruise ship doctor also conducted a test on all passengers at the dock before boarding, according to Bryant.
Masks were required to be worn aboard the ship from Monday evening, but were not required on the first two days of the voyage, according to Sloan.
Some crew members were seen without face coverings in images shared Saturday by Sloan on Twitter.
Newsweek has contacted SeaDream Yacht Club for comment.
In a September statement announcing the launch of its Caribbean sailings, SeaDream Yacht Club outlined its plan to use "three Abbott ID Now testing machines that will test guests [for COVID-19] prior to departure. The goal is to create a COVID-19 negative bubble, where guests can relax and enjoy the safety of the ship.
"In that effort, onshore excursions will also be limited to predesignated places in an organized fashion. Guests will be asked to observe social distancing guidelines and take temperature checks daily.
"New onboard will be the use of an Altapure ultrasonic disinfecting system that can kill any COVID-19 virus in the air. This is in addition to the already stringent sanitation procedures SeaDream has in place."
The latest sailing follows SeaDream Yacht Club's summer cruises in Norway. In September the company said it was able to "successfully implement a comprehensive COVID-19 prevention plan that resulted in zero positive cases during the entire Norwegian summer season."
In August, a SeaDream I passenger from Denmark tested positive on returning home after the trip. The guest showed no symptoms during the cruise.
The company confirmed at the time that it was not aware of any other guests or crew members who were infected or had symptoms.
In late September, a dozen cruise crew members tested positive on the Mein Schiff 6 cruise ship in Greece operated by Germany's TUI Cruises.
The ship had more than 1,500 people on board, including more than 900 passengers. The ship was reported to be the first cruise vessel to dock in Greece after lockdown measures were imposed in March.
The cruise industry came to a halt following the outbreak of COVID-19, with a string of major cruise lines announcing cancellations from March.
Several COVID-19 cases were reported on board cruise ships during the early stages of the outbreak, including the Diamond Princess. The Princess Cruises ship was quarantined in Japan after a passenger from Hong Kong was diagnosed. At least 46 Americans on the Diamond Princess tested positive.
The U.S. Centers for Disease Control and Prevention (CDC) issued a "no sail order" from March 14 to October 29.
From October 30, the CDC adopted a phased approach to resuming cruise operations. The initial phases require cruise lines to "demonstrate adherence to testing, quarantine and isolation, and social distancing requirements to protect crew members, before passenger travel will be allowed to resume in later phases," it said.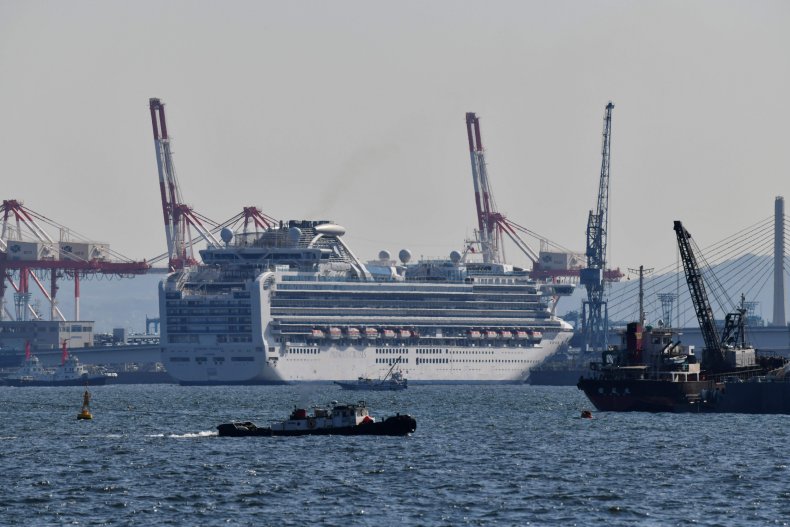 Uncommon Knowledge
Newsweek is committed to challenging conventional wisdom and finding connections in the search for common ground.
Newsweek is committed to challenging conventional wisdom and finding connections in the search for common ground.
About the writer
Soo Kim is a Newsweek SEO Reporter is based in London, UK. She reports on various trends and lifestyle stories, from health, fitness and travel to psychology, relationships and family issues. She is also a South Korea expert who regularly covers Korean culture/entertainment for Newsweek, including the latest K-dramas, films and K-pop news, and is the author of the book How to Live Korean, which is available in eight languages. Soo also covered the COVID-19 pandemic extensively from 2020 through 2021 after joining the general news desk of Newsweek in 2019 from the Daily Telegraph (a U.K. national newspaper) where she was a travel reporter/editor from 2010. She is a graduate of Binghamton University in New York and the journalism school of City University in London, where she earned a Masters in international journalism. Languages spoken: English and Korean.
Follow her on Twitter at @MissSooKim or Instagram at @miss.soo.kim
You can get in touch with Soo by emailing s.kim@newsweek.com