Cruise Ship Passenger With Head Injury Evacuated in Dramatic Mid-sea Rescue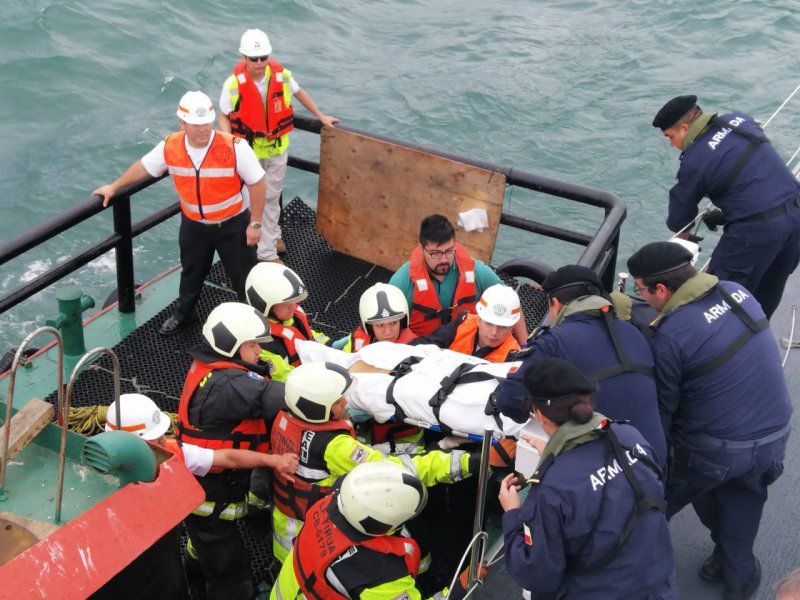 The Chilean navy carried out a dramatic evacuation from a cruise ship off the coast of the South American country after a woman suffered a head injury.
In a statement on Sunday, the Armada de Chile identified the woman as U.S. citizen Sheila Eaton, 66, and said she had suffered a head injury and deep cut on board the Viking Sun cruise ship located off Santa Maria island in Chile.
Eaton was first treated by paramedics on board the ship, and remained conscious despite the injuries. Naval vessels were then called to help transport her to the mainland for further emergency treatment.
The navy said that the emergency transport operation was hampered by high winds.
"In total, there were 11 sailors who participated in the rescue, the maneuver was not exempt from complications, mainly due to the wind conditions in the area," said First Lieutenant Simón Stuven, Commander of the General Service Boat Talcahuano.
"So after an hour and a half and several attempts, we were able to carry out the evacuation of the person on board, together with her husband and a cruise ship doctor. We went to Coronel Bay, where she was disembarked with the support of the Captaincy of Puerto de Coronel and transferred to a hospital," the Navy Officer said.
The Viking Sun is a small cruise liner, 745 feet long and carrying 930 passengers. According to the cruise mapper website, it embarked on a round-the-world cruise from Miami to Tilbury in the U.K on January 3.
The vessel made its first stopover in Chile on February 3 in Punta Arenas. After making its way up the Chilean coast it will continue its tour to the Juan Fernandez and Rapa Nui archipelago en route to Polynesia, according to the PortalPortuario website.
Viking Ocean Cruises, which runs the cruise, did not immediately respond to a request for comment on the incident.
Cruise vessels carrying more than 50 passengers are obliged to have hospital facilities and a doctor on board, but the quality of the facilities can vary.
"If you have any medical concerns, and even if you don't, you should strongly consider purchasing special medical evacuation and repatriation in addition to traditional travel insurance. And make sure the policy means you can be evacuated to a hospital/doctor/medical facility of your choice—not just the hospital at the closest port of call," advised CBS News' travel editor Peter Greenberg in a 2012 article.