Cruise Ship Passengers Trapped in Onboard Elevator Claim They Were Banned From Future Cruises After Clumsy Rescue
A group of cruise ship passengers have claimed they were stuck in a malfunctioning elevator for more than an hour during a vacation. Adding insult to injury, the five guests say they were banned from all future cruises with the company after being freed, according to comments posted online.
The passengers were traveling with Carnival Cruise Line when they became trapped in an elevator on the Carnival Inspiration ship, according to Cruise Law News.
The group were stuck for more than an hour, with one passenger reportedly fainting while waiting to be rescued. But according to accounts posted to Facebook, Carnival staff were insensitive and disinterested towards the stranded guests.
Jacob Burrola posted several photos and videos of the experience to his Facebook page. He claimed that crew members mocked the trapped guests and took videos of them even while one of the passengers fainted. He also said the crew told passengers that "another 45 minutes won't kill anyone after being stuck for over an hour with sick passengers on board."
The officers assisting allegedly suggested the guests were at fault for the malfunction, and told them "not to touch anything," guests writing on Facebook added. "They didn't ask us what happened and they just started trying to pry the doors open with a 'box wrench' which caused it to slip," one passenger explained.
But even after the trapped guests were eventually released, they were banned from all future cruises with Carnival Cruise Lines. Before they left the ship, they were delivered letters signed by the master of the Inspiration, Crescenzo Palomba, and two witnesses—the ship's staff captain and the chief security officer.
"This letter will confirm your discussion with Carnival Cruise Line ("Carnival Inspiration") personnel where you were informed that you will be disembarked from the vessel and not permitted to sail onboard any Carnival Cruise Line vessel in the future," the notice read.
"This decision was based on your actions on the current cruise, which were a violation of the ship rules, interfered with the safety and/or enjoyment of other guests on the ship or caused harm to Carnival."
It warned that any future efforts to book trips with the cruise line "will result in cancellation and a possible loss of deposit monies. You will be responsible for all travel expenses incurred and an invoice will be sent to your home address for payment. Thank you for your cooperation in this matter."
A Carnival Cruise Lines spokesperson told Newsweek there are "always two sides to every story. We had a group of guests stuck in one of our elevators last week for approximately 30-40 minutes. Our onboard team was summoned to provide assistance. Unfortunately, because of the extensive damage to the elevator doors and cabling caused by the guests, the work took longer than expected."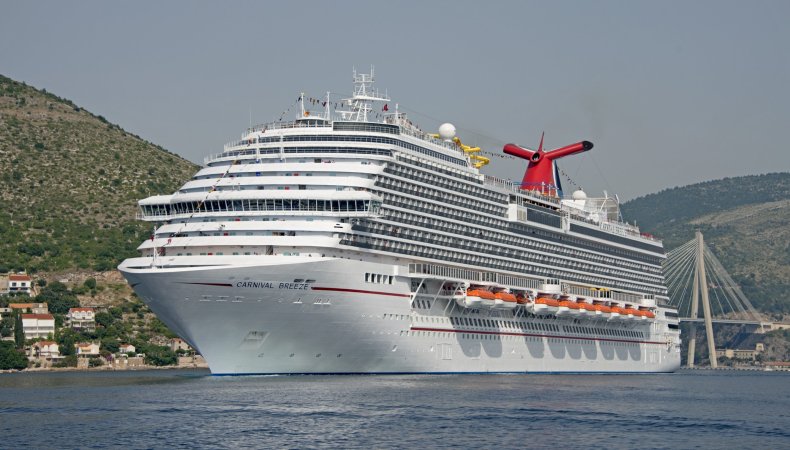 This article has been updated to include a statement from Carnival Cruise Lines.