Cruise Ship Passengers Rescued From Water After Their Taxi Plunges Into Sea
Cruise ship passengers enjoying a Caribbean vacation had to be rescued from the sea on Saturday after a vehicle ended up in the water following a failed maneuver.
The incident took place on the Caribbean island of Saint Martin on Saturday, and involved holidaymakers traveling on Royal Caribbean's Freedom of the Seas cruise ship, Cruise Law News reported.
A video from the scene, posted by Cruceros Puerto Rico, showed a bus half-underwater and lying on its side with the rear doors open. At least two people could also be seen lying on the roadside as emergency personnel provided treatment and bystanders looked on.
According to Cruise Law News, local reports suggested that several bystanders helped rescue those trapped inside the stricken vehicle. Cruise Hive reported that three young people led the effort, and said police described the good Samaritans as local heroes.
The tiny island of Saint Martin is split into two halves. The southern Dutch portion is called St. Maarten, while the northern area is the French St. Martin. According to Cruise Hive, the crash occurred in Marigot Bay in the French part of the island. The Freedom of the Seas was docked at Philipsburg in St. Maarten at the time of the accident.
Royal Caribbean did not immediately respond to Newsweek's request for comment. Though the video of the accident showed injured people being treated, it is not yet clear how many people were hurt or how seriously.
The Freedom of the Seas—which has been in service since 2006 and has a capacity of more than 3,700 people at double occupancy—had been due to leave St. Maarten on Saturday evening. Cruise Law News reported that the accident delayed departure until Sunday. The ship began this cruise when it left its home port of San Juan in Puerto Rico on June 16.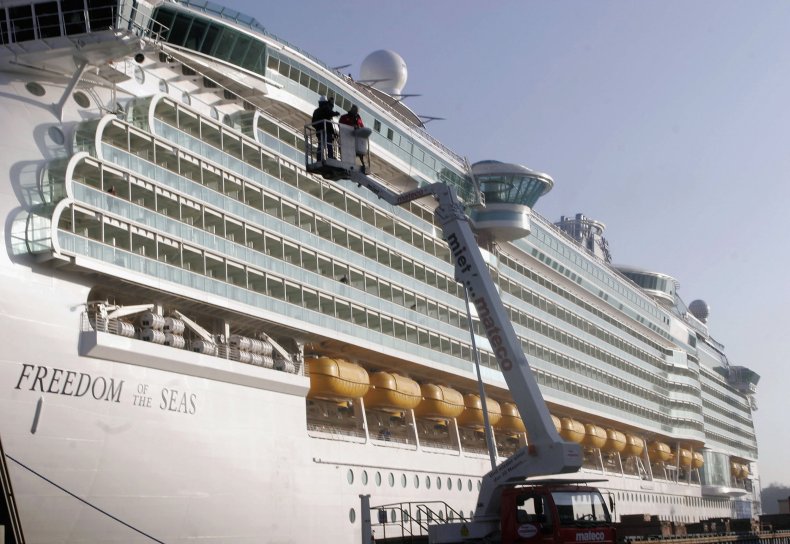 This is not the first time that Royal Caribbean—and Freedom of the Seas specifically—has had to contend with a serious bus accident. In 2012, for example, multiple guests were injured when their tour bus crashed in St. Martin. The passengers had been on their way to a zipline excursion when the accident occurred as the vehicle was traveling down a steep hill.
The driver of the bus lost control, sending the vehicle rolling down the hill into another car. The bus then ran into a ditch and came to rest among trees, which stopped the vehicle rolling any further.
Other vehicle accidents linked to Royal Caribbean vacations have been deadly. In 2017 and 2016, for example, two bus crashes in Mexico and Jamaica involved holidaymakers traveling on Royal Caribbean cruise ships. At least 12 people were killed in the Mexico incident, and one in Jamaica.