Passengers Trapped Aboard Cruise Ship That Canceled San Juan Stop Due to Violent Protests
Cruise ship passengers aboard Royal Caribbean's Empress of the Seas complained of being stuck on the vessel after it was rerouted to Puerto Rico only to cancel a stop in San Juan because of violent protests in the city.
There are demonstrations calling for the resignation of Puerto Rico's Governor Ricardo Rosselló after the leaking of 889 pages of embarrassing private chat messages on the Telegram app in which he makes homophobic and misogynistic remarks. He is refusing to go.
It comes as Puerto Ricans struggle to rebuild in the aftermath of a devastating and deadly hurricane with what they say is insufficient aid from the U.S. government, and to overcome a financial crisis that bankrupted the island.
Emily Berry wrote on Twitter that the "tiny" Royal Caribbean ship was rerouted from Cuba to Puerto Rico and the British Virgin Islands but passengers were then told that, after two days on the boat, they could no longer stop at San Juan. "Poor planning on alternative routes & crap service is making me regret all of this," Berry tweeted.
Through its Twitter account, the cruise ship operator replied: "Due to demonstrations in Old San Juan, we felt it best to not take our guests there today."
"That's your response?" Berry wrote back. "Why not make alternative accommodations?! You realize we are STUCK on a TINY ship already rerouted from Cuba!! We're already upset & that's your response?! This ship is tiny with nothing to do like a prison."
In a subsequent exchange, Royal Caribbean said that the change was "extremely last minute and if it wasn't absolutely necessary, we would've avoided it altogether."
Dawn Batties, who said she is on Empress of the Seas, praised Royal Caribbean for the decision not to stop in Puerto Rico "for our safety & the safety of the crew. So glad RCCL takes this kind of stuff seriously - just another reason to be Loyal to Royal!"
A spokeswoman for Royal Caribbean told Newsweek: "In light of current unrest in San Juan, Puerto Rico, we have canceled today's call to San Juan. Empress of the Seas has been re-routed to Tortola, and our guests will receive refunds for prepaid shore excursions.
"We continue to monitor the situation closely and will make adjustments as necessary to ensure the safety and security of our guests and crew."
Concerned about an upcoming cruise to Puerto Rico, another customer asked if there would be changes to the next Royal Caribbean trips.
"At this time we have not made any future itinerary changes. We're closely monitoring the situation and will notify guests immediately if there is an update," Royal Caribbean replied.
Empress of the Seas, which made its maiden voyage in 1990, is 692 feet long, 100 feet wide, has 11 decks, and can carry 2,270 guests and 668 crew.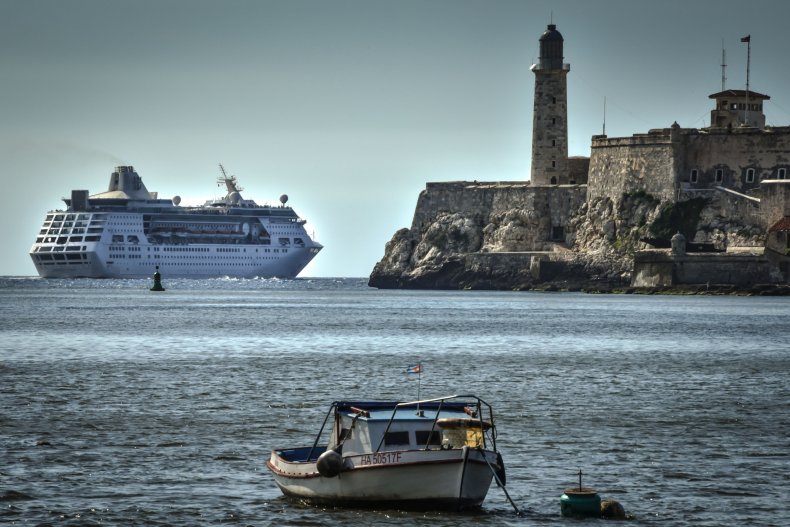 This article was updated with a statement by Royal Caribbean.