Video: Cruise Ship Passengers Cheer As They Watch Plane Crash Survivors Being Rescued at Sea
Passengers on board a cruise ship cheered on the deck as the vessel's crew helped with the dramatic rescue of two plane crash survivors.
The Regal Princess was on a seven-day cruise heading to one of the Virgin Islands, St Thomas, when it was alerted by the U.S. Coast Guard about a private plane ditching on the water.
The pilot and passenger had gone down approximately 23 miles off the coast of the Turks and Caicos on Tuesday.
The Federal Aviation Administration (FAA) was notified about the crash and the U.S. Coast Guard in Miami sent an aircraft and asked the ship's captain for help, the Miami New Times reported.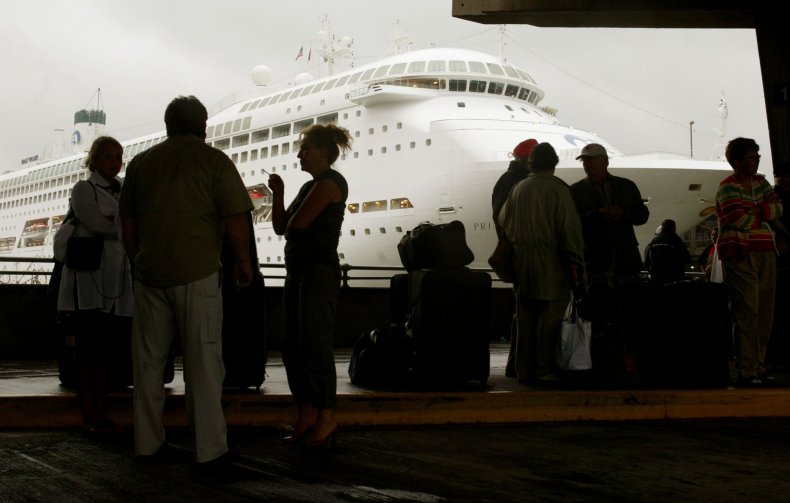 Passengers watched the operation unfold as the cruise ship sent out a dinghy to save the men.
One passenger tweeted: "Amazing while onboard the Regal Princess we just witnessed our crew and the US Coast Guard rescue 2 people from the Caribbean that were victims of a plane crash @PrincessCruises @uscoastguard thank you for being so incredible!!!"
"They were saved! Good job to the #uscoastguardand the #regalprincess crew!" wrote another who captured footage of the rescue.
Another tweeted: "We had some excitement on the Regal Princess this afternoon. Thankfully it ended well with 2 people rescued from a raft that had gone down in a small aircraft. Princess to the rescue!"
Both men were rescued and arrived on board the Regal Princess safely. The ship's captain, told passengers on the intercom that both the pilot and his passenger were "doing good," and they stayed on board until they reached St Thomas.
Coast Guard spokesman Seaman Erik Villa Rodriguez told the New Times: "They recovered them with no injuries reported."
Plane crash rescue at sea. They were saved! Good job to the #uscoastguard and the #regalprincess crew! #cascadetravel #beckworthhvac

Posted by John Becker on Tuesday, March 5, 2019
The cruise line said in a statement to Fox News: "Princess Cruises can confirm that upon request from the US Coast Guard Regal Princess assisted in the rescue of two US citizens whose private aircraft went down southeast of Grand Turk in the Caribbean Sea."
Travelweekly.com reported that cruise ship rescues can occur quite frequently. It cited how in December a Royal Carribean cruise ship rescued two sailors who had been stranded at sea for several weeks.
Last year, a Carnival cruise ship rescued a Norwegian crew member who had plunged off the ship.