Family of Toddler Who Died After Cruise Ship Fall Say Grandfather's Homicide Charges 'Unnecessary and Unfair'
The grandfather of the toddler who fell to her death from a cruise ship has been arrested and charged by police. The move has been met with anger from her family, who hold the cruise line responsible for the tragedy.
On July 7, Salvatore Anello, known as Sam, lifted up 18-month-old Chloe Wiegand to a window when Royal Caribbean's Freedom of the Seas was docked at Puerto Rico. The family said the girl liked to bang on glass.
But the family says that he was unaware that the window was open, and Wiegand slipped through, falling 11 stories to the deck below.
On Monday, Anello, 50, was arrested and charged with negligent homicide before being released on an $80,000 bond, the BBC reported.
The attorney for the family, Michael Winkleman, said that Caribbean was to blame for the tragedy and that it was wrong to arrest Anello.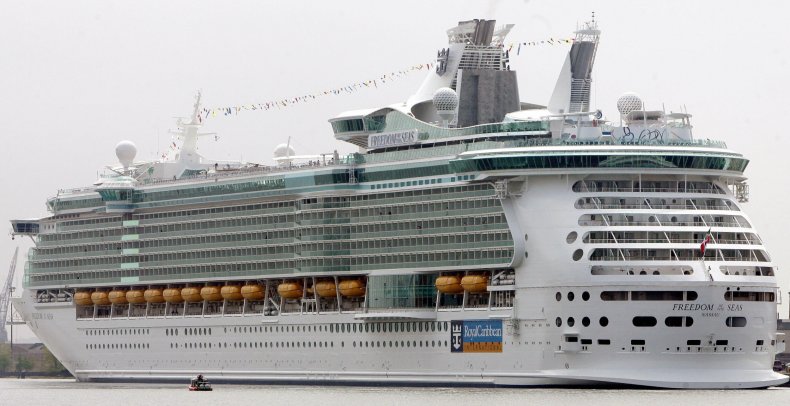 "They find it unnecessary and unfair, and it's really pouring salt on the open wounds of this grieving family," he said, according to CBS News.
"Had Royal Caribbean simply followed the rules and regulations that are designed precisely to prevent children from falling out of windows, we wouldn't be here talking about any of this," Winkleman said.
He said the cruise line has not given them the chance to watch surveillance video of the incident and that the family intends to file a lawsuit.
In a statement to Newsweek, Royal Caribbean said: "This was a tragic incident, and out of respect for the family's privacy, we refer you to authorities for further comment."
Back in July, Chloe's parents Alan and Kimberly Wiegand, from Southbend, Indiana, said they did not blame Anello for Chloe's death.
"The thing that he has repeatedly told us is: 'I believed that there was glass.' He will cry over and over. At no point ever, ever has Sam ever put our kids in danger," Kimberly told NBC program Today.
Alan said of Anello in the same interview: "I mean you can barely look at him without him crying. She was his best friend."
Kimberly said that there were "a million things" the cruise line could have done to make the vessel safer.
She had questioned why there was no protective screen on the 11th floor.
"Come up with some other mechanism to make your guests comfortable, rather than creating a tremendous safety hazard that cost our child her life. This cannot happen to another family," she added.
Anello will appear in court on November 20, USA Today reported.