Cruise Ship Passengers Endured Rocky Extra Day at Sea as Tropical Storm Barry Arrived: 'People Couldn't Walk Straight'
Shaken cruise ship passengers are glad to be back on dry land after their liner got a lashing from Tropical Storm Barry.
One Memphis, Tennessee couple told local outlet Fox 13 they were stranded for an extra day aboard the Carnival Fantasy as it was battered by the storm.
Brittany McKnight—who was enjoying her honeymoon when the storm closed in—told Fox 13 the boat rocked side to side for hours as fellow passengers became sea sick.
The ship was supposed to dock Saturday morning at the Port of Mobile in Alabama after a five-night cruise through the Western Caribbean. But it wasn't safe enough to stop in the port until Sunday.
"I don't think we've ever wanted a vacation to end so quickly," McKnight said, adding: "We have been rocking left-to-right, up-and-down. People couldn't walk straight. People were getting sea sick. At one point, the boat had gone up and down—the room's steward supplies had all fallen off the racks and were down the hallway."
McKnight, who was staying on the sixth level of the 14-deck ship, said she could see water splashing at her window at one particularly rough moment.
"It's something you witness in movies, but you never think it will happen to you," McKnight she added.
The Fantasy's next voyage was cut from five nights to four because of the delay. Guests booked onto the trip were promised a refund on pre-paid costs for their last day, according to Carnival Cruise Line ambassador John Heald. Those who decided not to travel should receive company credit.
A spokesperson for Carnival Cruise Line told Newsweek the company changed its schedule "in the interest of guest and crew safety."
The spokesperson said: "Our protocol is to keep the ship at a safe distance from the storm and wait for authorities to give us the all clear to proceed into port. We have a fleet operations center that tracks and monitors weather related activity and works closely with the ship's command."
Storm Barry reached hurricane strength before it made landfall near Intracoastal City in Louisiana Saturday. Thousands were evacuated from areas expecting floods, the BBC noted. More than 150,000 Louisiana homes had lost power by Sunday, according to AccuWeather. Flights were suspended from the Louis Armstrong New Orleans International Airport on Saturday.
By Saturday evening, the hurricane had weakened to a tropical storm. On Sunday afternoon it weakened further and become a tropical depression. Barry was the first Atlantic hurricane of the 2019 season.
Back in April, the Fantasy made headlines after it diverted from its planned course to rescue 23 people drifting on a broken-down boat roughly 130 nautical miles off the Yucatán Peninsula. The smaller vessel was thought to have been floating for more than three days after it malfunctioned en route from Cuba to Mexico.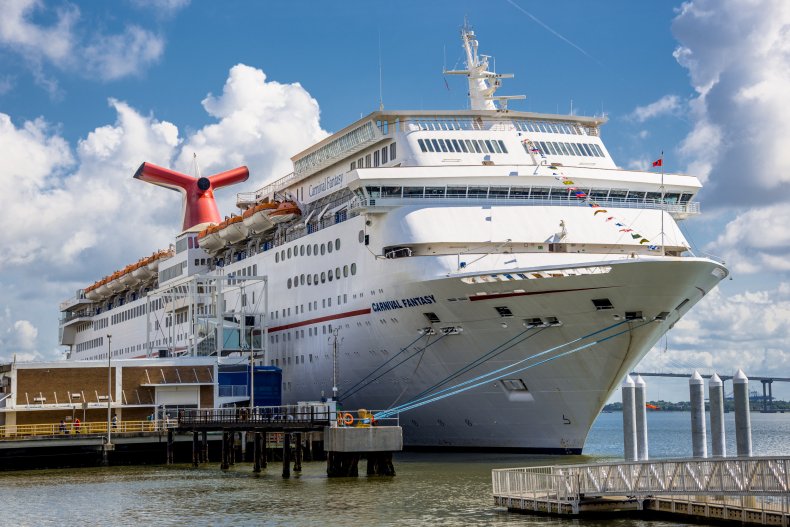 This article has been updated with comment from a Carnival Cruise Line spokesperson.