Granddad of Cruise Ship Toddler Who Plunged out of Window to Her Death Was not Drunk, Lawyer Says: 'Sam Is not a Drinker'
A lawyer for the family of an Indiana toddler who fell to her death from the window of a cruise ship Sunday defended the infant's grandfather at a press conference.
Some early reports suggested her grandfather, Salvatore Anello, was dangling the girl from the window when she fell. But lawyer Michael Winkleman disputed this account.
He also emphasized Anello was not drunk at the time of this incident. Per Buzzfeed News, he told reporters: "There was absolutely no alcohol involved, Sam is not a drinker."
18-month-old Chloe Weigand fell from a window on the 11th deck of Royal Caribbean's Freedom of the Seas Sunday afternoon. The ship was docked at a port in San Juan, Puerto Rico, ahead of a seven-day tour of the Caribbean.
Anello and other family members were so distraught after the incident they had to be sedated, local media reported.
Winkleman told reporters Anello and his granddaughter were in an area designed for kids when he placed her on a railing he believed was bordered by a wall of glass. Anello put Wiegand near the glass so she could bang on it, Winkleman said, explaining that she loved to do so at he brother's hockey games.
Winkleman said Anello didn't realise the glass wall was actually a row of windows, and one of them was open. When Wiegand tried to touch the glass, she slipped and fell from the ship, he claimed.
Calling the incident "preventable," the lawyer questioned Royal Caribbean's role in the incident.
"Why would you ever, in a kid's play area, put windows that passengers can open? We've all had that experience where someone walks into a sliding glass door thinking it's not there. This is the inverse of that," he said.
"It was reasonable for Sam, the grandfather, to think this was all glass because from his perspective it was all glass," he continued.
Winkleman said he had approached Royal Caribbean for surveillance footage of the incident. "A video is worth a thousand words—probably 10,000 words."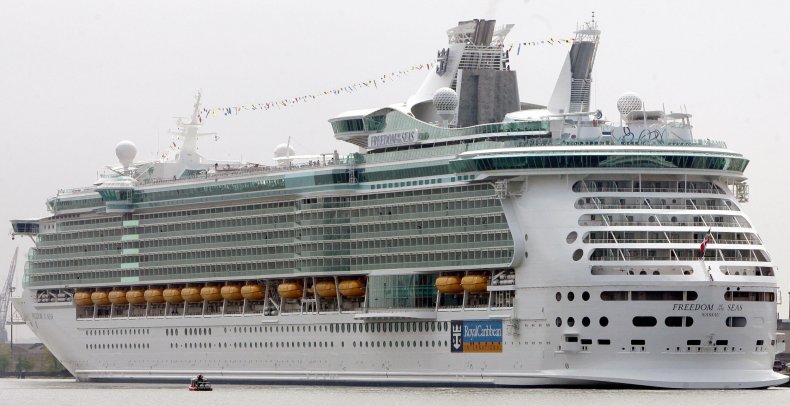 A spokesperson for the cruise company previously told Newsweek that Royal Caribbean was "deeply saddened" by the tragic incident. They said the company's care team is assisting the family, but declined to comment further.
Police in Puerto Rico are investigating as an accident, according to WSBT. Local authorities shared their condolences on Twitter. Puerto Rico's Department of Public Safety, for example, wrote: "We regret the sad event that occurred on the cruise ship Freedom of the Seas and stand in solidarity with the family of the girl who died."
Weigand's father, Alan Wiegand, is a police officer in South Bend. On Twitter, his colleagues asked the local community to pray for the family.
One of Anello's colleagues offered words of support to the grieving grandfather, who is thought to work in IT. Mike Hamann, St Joseph County auditor and head of IT told WSBT: "Sal works in the IT department, he's a very valuable employee. Wonderful, just, would do anything for you. And we're just mourning with him."