Video: Giant Cruise Ship Destroys Pier While Docking After Engine Malfunction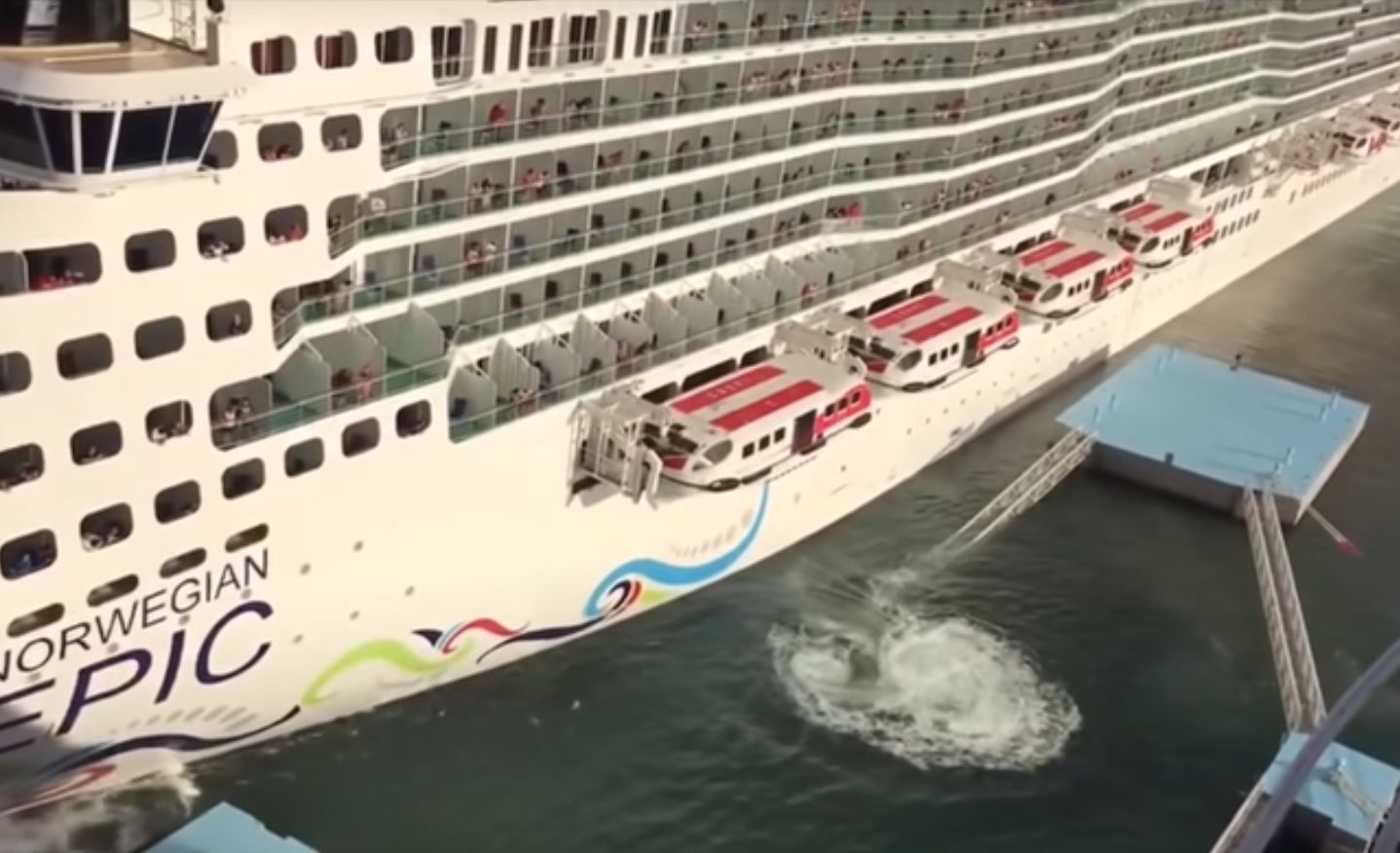 A video posted to YouTube shows the moment the vast Norwegian Epic cruise ship destroyed two mooring points on a pier as it maneuvered into the Port of San Juan, Puerto Rico on February 12.
The incident followed sustained power loss by the Norwegian Epic during its current journey, Cruise Law News reported, causing it to divert on a go-slow to Puerto Rico.
Passengers took to social media to complain about cancelled stops, mechanical issues, and even allege that a fight took place among the cruise ship's crew.
"As Norwegian Epic was maneuvering into Port of San Juan, Puerto Rico with a local pilot on board and the help of two tug boats, prevailing winds caused the ship to veer towards the pier, damaging two mooring points at Pier 3 East," a pokesperson for Norwegian Cruise Line told Newsweek in a statement.
"No injuries have been reported and guests are currently disembarking the ship as previously scheduled. We are working closely with local authorities to assess the damage. This is all the information we have to share at this time."
Norwegian Epic, which left Florida's Port Canaveral on Saturday, was supposed to stop first at Tortola, British Virgin Islands, and then St Thomas, U.S. Virgin Islands.
But the engine problems forced the crew to cancel those two planned stops, disappointing passengers, who expressed their frustration on Twitter.
The final stop at Great Stirrup Cay, Bahamas, is still on the itinerary for the Norwegian Epic, which weighs almost 156,000 tons, can carry 4,100 guests and 1,724 crew, and is 1,081 feet long.
Robbi Lynn tweeted: "This is my first cruise and it's so disappointing. We lose power, limp along at sea, then crash into the pier in San Juan? And then have guest services tell me 'oh well you get 50% off your next cruise'.....no thanks."
Before the pier incident, James Smith tweeted: "I am currently on the Norwegian Epic and we are being rerouted to San Juan Puerto Rico. This is completely unacceptable as we paid for a cruise that goes to Tortola, St Thomas, and Great Stirrup Cay. Tortola and St Thomas have been cut out of the itinerary."
Trisha Haber, another passenger on the cruise ship, claimed on Twitter that two of the vessel's engines had failed. She also alleged that two members of Norwegian Cruise Line had a fight, causing the ship to sound an emergency.
"We have learned that one of the engines wasn't working properly when we left Port Canaveral. We had to be tugged out. We were never notified," Haber said.
"Our second engine failed today [Tuesday]. We have also learned that the Code Bravo sounded on our ship yesterday was due to a couple of NCL employees fighting, which caused an emergency situation (potentially a fire). In short, we are stuck on a cruise ship that isn't functioning and we don't get to take the vacations we paid for.
"What is Norwegian's answer? 50% off our next cruise! This should be criminal. Norwegian knew about a mechanical issue and, instead of fixing the ship before departure, let it run. It is willful negligence.
"Everyone aboard this ship deserves their money back, not a 50% coupon for a cruise most of us will never want to take. The Epic is appropriately named—it is an EPIC FAILURE. Shame on you, Norwegian."
This article was updated with a comment by Norwegian Cruise Line.