Cruz, Rubio and Paul Dominate Foreign Policy Centered GOP Debate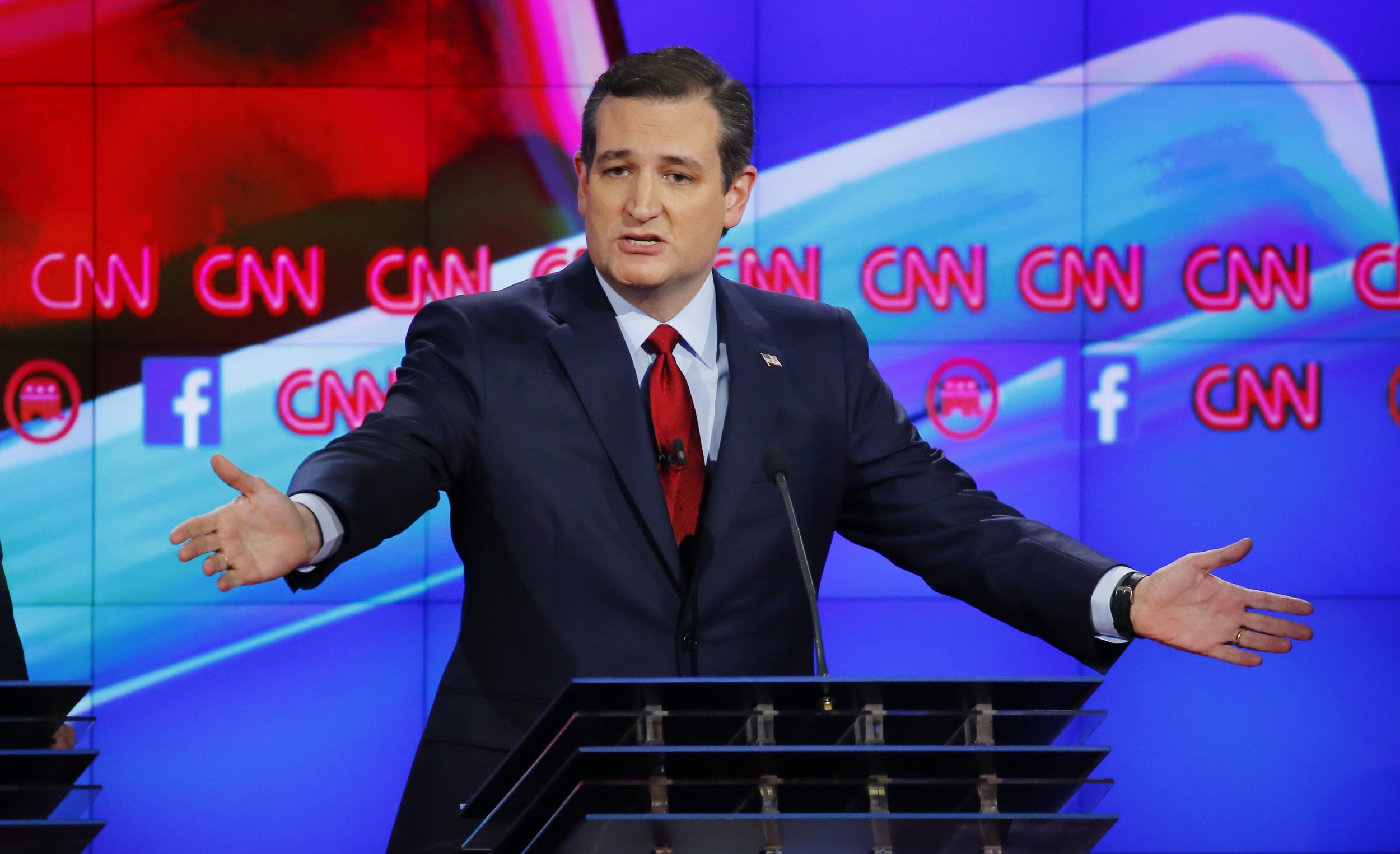 The Republicans' fifth and final presidential debate of 2015 took place at the Venetian hotel in Las Vegas, but it might as well have taken place on the floor of the U.S. Senate in Washington, D.C. That's how much the two-plus hours of back-and-forth were dominated by three sitting senators and their disagreements on national security policy.
In particular, Marco Rubio of Florida and Ted Cruz of Texas exchanged repeated blows over their opposing votes in Congress on things like military funding and the government's bulk collection of American telephone records.
"Three times he voted against the Defense Authorization Act, which is the bill that funds our troops," Rubio said of Cruz, Rubio's primary rival, along with Donald Trump, in the top tier of the Republican contest. "He has also supported, by the way, a budget that is called the containment budget.... You can't carpet bomb ISIS if you don't have planes and bombs to attack them."
Cruz defended that vote as a campaign commitment he made to try and halt the government's authority to detain U.S. citizens, which the authorization bill continued. "Let's be absolutely clear, ISIS and radical Islamic terrorism will face no more determined foe," Cruz said of himself. He then threw a counterpunch, attacking Rubio's neoconservative policies in support of overthrowing dictators in the Middle East. Strongmen like Muammar el-Qaddafi in Libya and Bashar al-Assad in Syria "were assisting us, at least, in fighting Islamic terrorist," Cruz argued.
"The revolt against Qaddafi was not started by the United States; it was started by the Libyan people," Rubio retorted. And he defended his support for U.S. military action in Libya by arguing that the longer the revolt dragged out, the more destabilizing it would have been.
Rubio also tangled with Kentucky Senator Rand Paul over the phone records policy and Rubio's record on immigration. Unlike his two Senate counterparts, Paul has struggled to gain traction in the Republican primary race (and barely made it onto the main debate stage Tuesday, given his low poll numbers). But he gave the most concise summary of the foreign policy divide within the GOP, which was laid bare at the national security-dominated debate Tuesday night.
"These are the fundamental questions of our time," Paul said to cheers from a loud contingent of supporters. "What we have to decide is whether or not regime change is a good idea. It is what the neoconservatives have wanted, it's what most of the people on the stage have wanted. It has not worked. Out of regime change you get chaos. Out of the chaos you have seen repeatedly the rise of radical Islam." When the debate was over Paul told an MSNBC reporter that Rubio and Hillary Clinton had virtually identical foreign policies. "They're both neoconservatives," he said.
In the weeks leading up to the debate, discussion on the campaign trail has been dominated by American concerns about the Islamic State militant group (ISIS) and Republican front-runner Donald Trump's incendiary proposal last week to ban Muslims from coming to the United States. The so-called "undercard" debate, featuring four low-polling candidates, focused intensely on that controversy, but the Republican contenders in the primetime debate largely avoided it.
Former Florida Governor Jeb Bush did scold Trump early on for the proposal, arguing that "banning all Muslims will make it harder for us to do what we need to do which is destroy ISIS."
The Republican field did take on Trump, who continues to lead in national polls, on other issues. Bush had swung and missed against Trump in past debates, which didn't help what has been a lackluster campaign. But he fared much better in their exchanges Tuesday night, refusing to be silenced and retorting to Trump's zingers by responding, more than once, that real estate tycoon wasn't going to succeed in "insulting your way to the presidency."
And the son and brother of two previous GOP presidents got some backup from others on the debate stage. "All the fighting and arguing is not advancing us," Ohio Governor John Kasich interrupted when Trump started disparaging Bush. Former Hewlett Packard CEO Carly Fiorina also chimed in. The polarizing businessman even faced some boos from the audience when he talked about censoring the Internet to prevent ISIS recruiting. And he struggled repeatedly to clarify his foreign policy positions.
Rubio, who shined in previous debates, also stumbled at times in the face of incoming fire, particularly from Cruz and Paul. According to the blog 538.com, with 15 minutes left in the debate, Rubio had been attacked the most of any candidate on stage, even outpacing Trump.
At various points, the other candidates tried to shift the attention away from Rubio and his fellow senators, with limited success. As Rubio and Cruz went back and forth over who is tougher on illegal immigration, Fiorina interjected, "This is why the nation is fed up by the political class. We've been talking about this for 25 minutes!" She was silenced. Earlier, New Jersey Governor Chris Christie mocked an argument between Rubio and Paul. "If your eyes are glazing over like mine, this it's what it's like to be on the floor of the United States Senate." It's just "endless debate," he complained, "from people who've never had to make a consequential decision."
So far this election season, however, voters haven't been attracted to the sort of executive experience Christie and other governors boast. Tuesday's debate is unlikely to change that.