Cruz, Trump and Rubio Throw the Most Punches at Republican Debate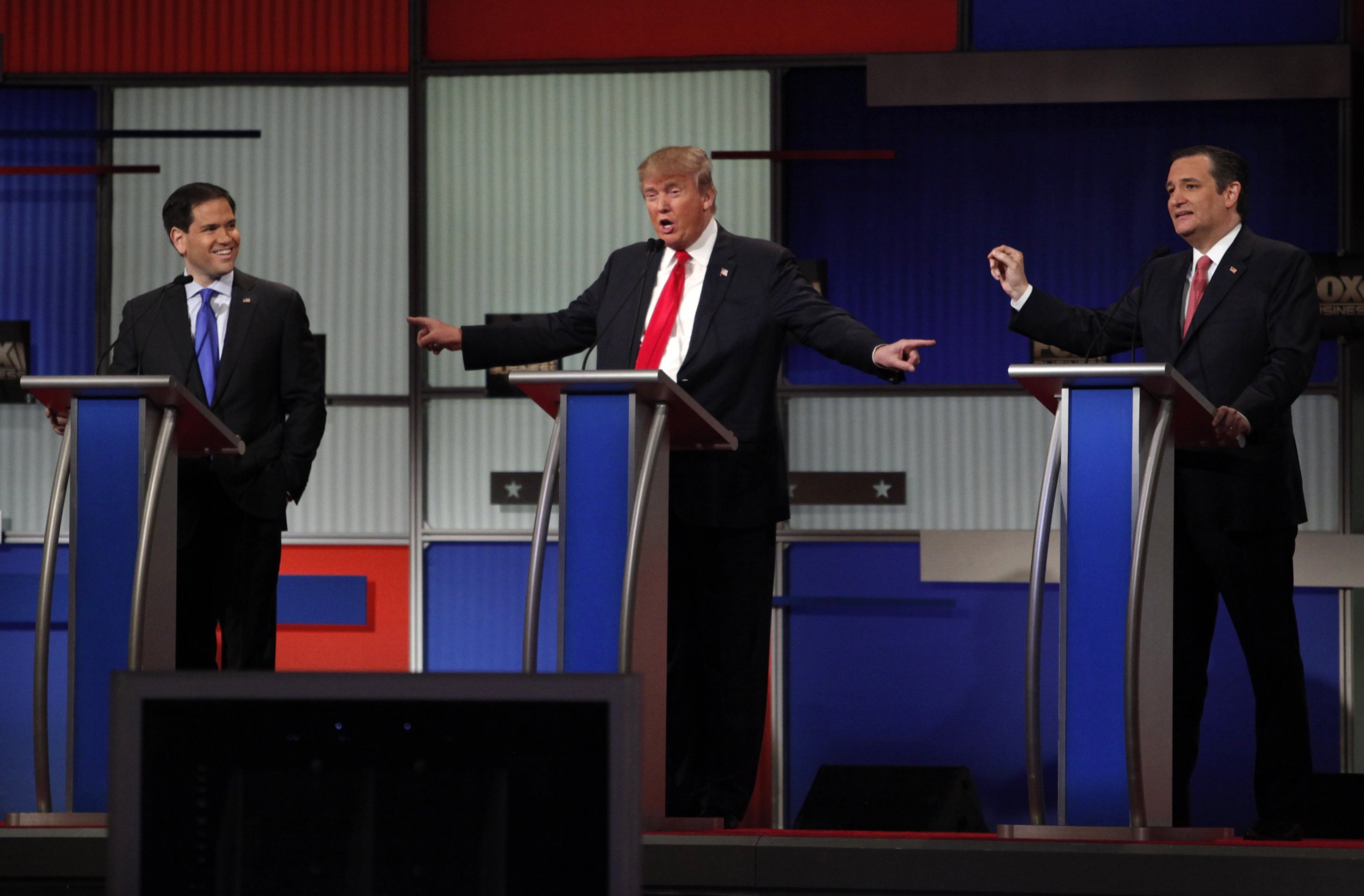 The Republicans presidential debate in South Carolina Thursday night was hyped as a cage fight. But aside from a couple rounds between Donald Trump, Ted Cruz and Marco Rubio, most of the punches were aimed squarely at the Democrats.
The seven Republican candidates on stage—the smallest number yet for a primetime debate—painted an ominous picture of the state of America and its future under a Democratic president. Asked if he was using "fear and terror" to scare people, Trump, the billionaire real estate mogul retorted: "It's not fear and terror. It's reality."
Retired neurosurgeon Ben Carson warned the audience that if a progressive wins the White House in 2016 and is able to pick the next Supreme Court justices, "this nation is over as we know it." Florida Senator Marco Rubio echoed, "If we don't get this election right, there may be no turning back in America."
The one candidate who seemed determined to remain upbeat was Florida Governor Jeb Bush. His campaign has recently begun to frame him as a constructive champion for conservatism, and Thursday night he urged his counterparts to present "a compelling conservative agenda…that doesn't disparage people." And while he warned that it would be "a disaster" if Democratic front-runner Hillary Clinton wins the White House, Bush largely avoided engaging his rivals onstage as he did (with limited success) in past debates.
Bush's pitch: "We need someone with a steady hand being president of the United States."
Others didn't show the same restraint, although, in fairness, several were baited into a face-off with fellow candidates by the Fox Business Network moderators. Florida Senator Ted Cruz, a favorite to win the Iowa caucuses next month, was in the middle of most of the scrums, a sign of his rise to front-runner status, along with Trump. Asked early on about questions Trump has raised about his citizenship. Cruz was born in Canada but his mother is an American citizen so he is one too. But Trump and others have suggested he's not "natural-born" and thus not eligible to be president.
Cruz was well-prepared to retort on Thursday, noting Trump, himself, dismissed the "birther" question, as he called it, earlier this fall. "Since September, the Constitution hasn't changed, but the poll numbers have." Cruz also said, "Under some birther conspiracies, interestingly enough, Donald J. Trump would be disqualified because Donald's mother was born in Scotland."
"On the issue of citizenship, Donald, I'm not going to use your mother's citizenship against you," Cruz added. "You are an American, as is everybody else on this stage."
Trump scored a direct hit on Cruz later in the debate, however, when asked about Cruz's allusion to Trump's "New York values." Harking back to September 11, Trump recalled, "I saw something that no place on earth could have handled more beautifully, more humanely than New York.... We rebuilt downtown Manhattan, and everybody in the world watched, and everybody in the world loved New York and loved New Yorkers. And I have to tell you, that was a very insulting statement that Ted made." Even Cruz applauded at that.
Cruz had to play defense several other times, as well, but never lost his composure. First up was a question about the New York Times report that came out earlier in the day, pointing out that he did not properly disclose a loan he got from Goldman Sachs (where his wife is a managing director) for his 2012 Senate race. Cruz dismissed it as liberal media hype. "Yes, I made a paperwork error," he said.
He also had to fend off attacks from Rubio on his tax proposal and his alleged flip-flopping on things like crop insurance, ethanol subsidies and immigration reform. "That is not consistent conservatism, that is political calculation," Rubio said, part of a lengthy harangue on Cruz's record.
"I appreciate your dumping your oppo research folder on the debate stage," Cruz sneered in one of the most heated moments of the night.
The debate may have been hosted by a business network, but long stretches of it were dominated by foreign policy discussion, particularly how to counter the Islamic State militant group (ISIS). With Kentucky Senator Rand Paul absent (he was left off the primetime stage due to low polling, and boycotted the undercard debate), the candidates largely echoed one another's tough talk on counterterrorism, though they offered few specifics beyond lambasting President Barack Obama.
All but Trump agreed that the country should not ban Muslim immigrants coming to the United States, but instead should focus on specific high-risk populations. Bush described the blanket ban Trump proposed "a signal of weakness not strength."
Trump's response: "I want security for this country, OK? I want security." And he noted that he has "many great Muslim friends."
In the 6 p.m. "happy hour" debate, former CEO Carly Fiorina reaffirmed that she is no fan of Trump. But she also sounded the most like him at one point, declaring, "We should stop allowing refugees into this country." She had most of the other memorable lines in the hour-long forum, which also featured former Pennsylvania Senator Rick Santorum and Arkansas Governor Mike Huckabee. In her opening remarks, Fiorina went straight after Clinton. "Unlike another woman in this race, I actually like spending time with my husband," she said. The personal shot caught even the partisan audience in Charleston by surprise, and an audible "ooohhhh" rose from the crowd. Like Paul, Fiorina was demoted to the undercard, but she opted to show up and dominated most of the exchanges.
Perhaps the best line of the night, however, was uttered by Santorum as he tried to wrap up a pitch about his record in office: "I'm going to take some of Rand Paul's time here for a second."